President Joe Biden addressed the nation on Thursday in an emotional speech responding to multiple terror attacks near the Kabul airport that have left over a dozen U.S. service members and dozens more Afghans dead, with hundreds wounded.
"It's been a tough day," he began, with the American flag behind him. "These American service members who gave their lives ― it's an overused word, but it's totally appropriate here ― were heroes. Heroes who've been engaged in a dangerous, selfless mission to save the lives of others."
"The lives we lost today were lives given in the service of liberty, the service of security, the service of others, in the service of America ― like their fellow brothers and sisters in arms who died defending our vision and our values, the struggle against terrorism. The fallen on this day are part of a great noble company of American heroes."
Before Biden's address, the Pentagon delivered a press briefing in which Marine Corps Gen. Kenneth McKenzie Jr., commander of U.S. Central Command, spoke to reporters. He described at least two suicide bombers and gunmen attacking crowds of Afghans and military near Kabul's airport earlier Thursday ― where the U.S. has been evacuating and facilitating the evacuation of Americans and Afghans in response to the Taliban taking over the country.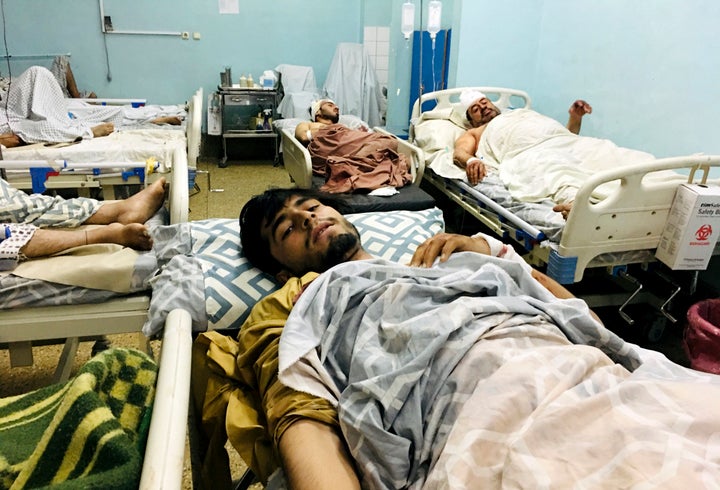 McKenzie said the Pentagon is aware of at least 13 U.S. service members who were killed, with 18 additional service members injured. The general did not have an exact number of Afghans killed and wounded, though he said that U.S. troops are treating some of them at the airport while others have been taken to hospitals.
The second attack was at the nearby Baron Hotel, where Afghans, Britons and Americans were told to gather in recent days before going to the airport for evacuation. McKenzie did not yet know what kind of explosion occurred at the hotel, nor did he have any information on casualties.
Health officials in Kabul say at least 90 Afghans are dead and more than 150 are wounded from the twin blasts, according to CBS News and The Wall Street Journal.
After the initial two explosions, reporters and Afghans on the ground in Kabul began reporting sounds of additional blasts. Taliban spokesperson Zabihullah Mujahid said that the later explosions heard near the airport were carried out by U.S. forces in an attempt to destroy their own equipment.
"To those who carried out this attack, as well as anyone who wishes America harm, know this ― we will not forgive, we will not forget," Biden said. "We will hunt you down and make you pay. I will defend our interests in our people with every measure at my command."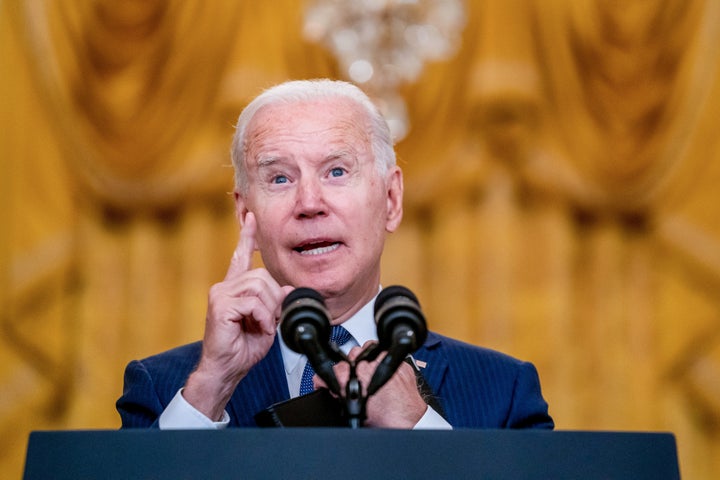 As of Thursday, there are about 5,000 evacuees on the ramp at the airport awaiting airlift, according to the general. Since Aug. 14, more than 104,000 civilians have been evacuated through the airport ― over 66,000 by the U.S. and more than 37,000 by allies and partners, with those numbers including about 5,000 Americans.
The U.S. believes that there are still about 1,000 American citizens left in Afghanistan, though Biden and the Pentagon have stressed that some Americans they identified and contacted have decided to stay in the country.
The Pentagon said the threat by ISIS-K is "very real" and will likely continue. The U.S. military's focus currently is on other "extremely active threat streams" including rocket attacks, which McKenzie said troops have adequate protection against, as well as suicide vehicle attacks and suicide walk-in attacks.
McKenzie said that since Aug. 14, the U.S. has been sharing some information on ISIS-K with the Taliban, which has condemned the explosions and views the Islamic State affiliate as an obstacle to its own ability to rule. According to the general, the Taliban has been able to conduct searches based on that information and has already potentially thwarted some attacks. The U.S. military has also reached out to the Taliban about pushing out the security perimeter around the airport.
"I don't think there's anything to convince me that [the Taliban] let it happen," McKenzie said of the attacks, stressing that it is in the group's interest to allow the U.S. to safely continue evacuations. Biden agreed with the general in his speech.
"No one trusts them. We're just counting on their self-interest to continue to generate their activities," Biden said. "It's in their self-interest that we leave when we said and that we get as many people out as we can. ... So it's not a matter of trust, it's a matter of mutual self-interest."
Biden said that he has ordered his commanders to develop operational plans to strike ISIS-K assets, leadership and facilities. But he stressed that the U.S. is still committed to leaving Afghanistan by the Aug. 31 deadline.
"We will respond with force and precision at our time, at the place we choose, at the moment of our choosing," Biden said. "Here's what you need to know: ISIS terrorists will not win. We will rescue the Americans, we will get our Afghan allies, and our mission will go on. America will not be intimidated, and I have the utmost confidence in our brave service members who continue to execute this mission with courage and honor to save lives and get Americans, our partners, our Afghan allies out of Afghanistan."
S.V. Dáte contributed to this report.
This is a developing story. Check back for updates.
Popular in the Community