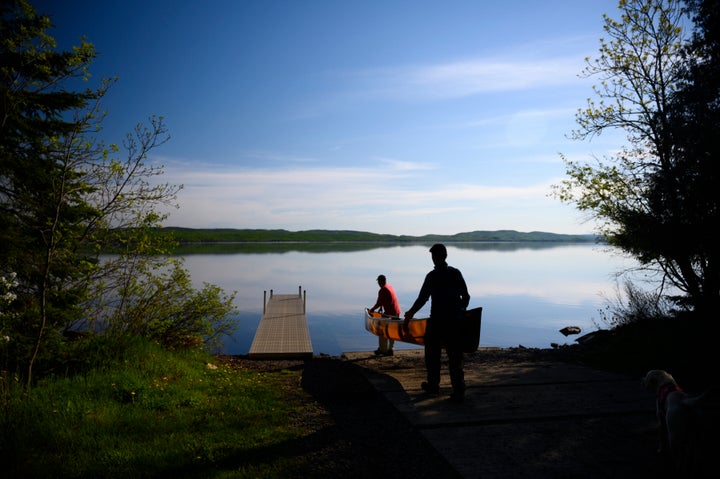 The Biden administration imposed a 20-year ban on new mineral development across 225,000 acres of national forest land adjacent to Minnesota's iconic Boundary Waters Canoe Area Wilderness.
The order, which Interior Secretary Deb Haaland signed Thursday morning, delivers a potentially fatal blow to Chilean mining giant Antofagasta's plans for a $1.7 billion underground copper-nickel mine on the doorstep of the 1.09 million-acre Boundary Waters — one of the most visited wilderness areas in the country.
Biden administration officials told reporters during a briefing Thursday that the withdrawal addresses public concerns that mining in the region could forever spoil the vast network of federally protected rivers, lakes and creeks, and harm the area's thriving tourism industry.
"Protecting a place like Boundary Waters is key to supporting the health of the
watershed and its surrounding wildlife, upholding our Tribal trust and treaty responsibilities, and boosting the local recreation economy," Haaland said in a statement. "With an eye toward protecting this special place for future generations, I have made this decision using the best-available science and extensive public input."
The decision follows a 15-month study of potential impacts to natural and cultural resources, during which time no new mining activity was allowed. The U.S. Forest Service submitted an application to the interior department last year seeking a 20-year mining ban.
No existing mineral leases are impacted by Thursday's order. The Biden administration previously canceled a pair of mineral leases held by Twin Metals Minnesota that dated back to the 1960s, concluding that the Trump administration skirted legal obligations when it renewed the leases in 2019.
Twin Metals is a wholly owned subsidiary of Antofagasta. The Trump family has ties to Andrónico Luksic, the Chilean billionaire behind the mine.
The process of extracting sulfide-bearing minerals like the copper and nickel eyed by Twin Metals can trigger the release of toxic sulfuric acid that can persist indefinitely. Twin Metals has maintained that its design and the "unique geology" will prevent such acid mine drainage from occurring.
The Interior Department said its decision was informed by more than 200,000 public comments and in consultation with area tribes. An agency official stressed during Thursday's briefing that the Boundary Waters is "irreplaceable" and that the risks from upstream mineral development are "simply too high."
"The Biden-Harris administration has been clear in our commitment to ensuring this country can mine for the minerals that are necessary to shift to a clean energy economy," the official said. "But we have to do so in a responsible manner, and that includes balancing our commitment to ensure we protect some of our country's most spectacular outdoor places for future generations. The Boundary Waters and its surrounding watershed are one of those places."
Twin Metals Minnesota said it was "disappointed and stunned" by the decision.
"This region sits on top of one of the world's largest deposits of critical minerals that are vital in meeting our nation's goals to transition to a clean energy future, to create American jobs, to strengthen our national security and to bolster domestic supply chains," the company said in a statement. "We believe our project plays a critical role in addressing all of these priorities, and we remain committed to enforcing Twin Metals' rights."
Democratic lawmakers and environmental groups applauded Haaland's order.
Rep. Betty McCollum (D-Minn.) said the move will safeguard the area from toxic pollution and "preserve America's most visited wilderness area for the next generation." But she noted that a future administration could reverse the ban and pledged to reintroduce legislation this Congress to permanently protect the site.
Becky Rom, national chair of the Campaign to Save the Boundary Waters, called the order "a massive win for Boundary Waters protection."
"You don't allow America's most toxic industry next to America's most popular Wilderness," she said. "The Boundary Waters is a paradise of woods and water. It is an ecological marvel, a world-class outdoor destination, and an economic engine for hundreds of businesses and many thousands of people."
Popular in the Community