President Joe Biden slammed former President Donald Trump for not building "a damn thing" during his presidency.
Biden's handling of the economy is one concern many voters have as they consider whom to pick on the ballot next year. In a Labor Day speech on Monday to Sheet Metal Workers' Local 19 in his native state of Pennsylvania, Biden sought to address that concern as he compared his presidency to Trump's, referring to him multiple times as the "last guy."
"Guess what? The great real estate builder, the last guy, he didn't build a damn thing. Under my predecessor, infrastructure week became a punchline. On my watch, infrastructure has been a decade, and it's a headline."
(In November 2021, Biden signed a $1 trillion bipartisan infrastructure deal into law that funds projects for years to come.)
"How many times have we heard, 'This is Infrastructure Week,' over the last four years?" Biden said in April 2021. "About every second week is 'Infrastructure Week,' but no infrastructure was built."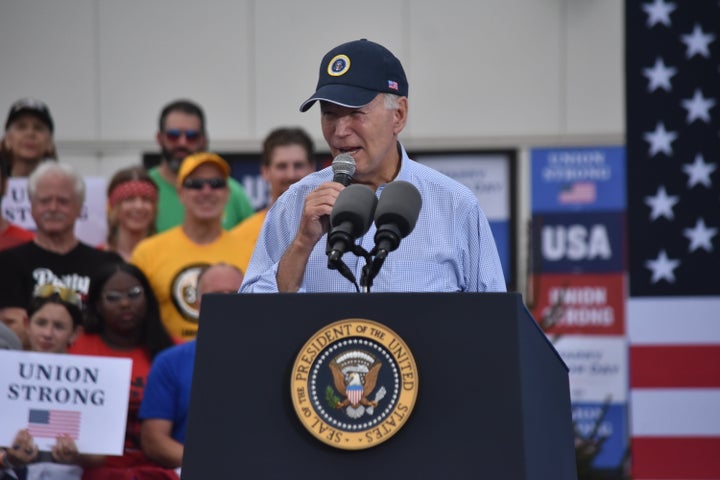 In his speech Monday, Biden continued to take aim at Trump.
"The guy who held this job before me was just one of two presidents in history ... who left office with fewer jobs in America than when he got elected to office," Biden said. "By the way, you know who the other one was? Herbert Hoover. Isn't that kind of coincidental?"
Biden went on to say that the country's economy is "stronger" than other countries'.
"All I hear from my friends on the other side is what they say is wrong with America," Biden said. "They keep telling us America's failing. They're wrong. I've got news for them: America has the strongest economy in the world right now, today."
Support HuffPost
The Stakes Have Never Been Higher
Popular in the Community