President-elect Joe Biden on Monday announced he's nominating California Attorney General Xavier Becerra to lead the next administration's Department of Health and Human Services, a surprise to many who believed the former Democratic congressman would be chosen to head the Justice Department.
The selection of Becerra — first reported by The New York Times and CNN on Sunday — is a victory for the Congressional Hispanic Caucus, which he used to lead. If confirmed, Becerra will be the first Latino to hold the position of HHS secretary.
Biden on Monday also announced his picks for several other key roles on his health team, including bringing back Vivek Murthy as surgeon general, nominating Dr. Rochelle Walensky to lead the Centers for Disease Control and Prevention, and tapping Dr. Anthony Fauci to be his chief medical adviser on COVID-19.
"This trusted and accomplished team of leaders will bring the highest level of integrity, scientific rigor, and crisis-management experience to one of the toughest challenges America has ever faced — getting the pandemic under control so that the American people can get back to work, back to their lives, and back to their loved ones," Biden said in a statement.
"Everybody's eager to see a Cabinet that reflects America," Rep. Vicente Gonzalez (D-Texas) said in an interview with HuffPost last week. "It would be a huge missed opportunity and disappointment if President Biden failed us in that regard."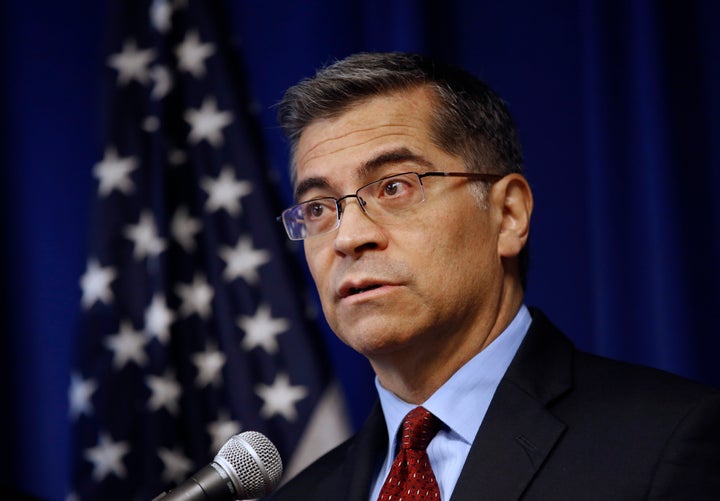 The Congressional Hispanic Caucus called on Biden last week to choose New Mexico Gov. Michelle Lujan Grisham to lead HHS, saying the former state health secretary and only Latina governor "has the vision and drive to see through large projects and effectively lead large organizations."
But that possibility fizzled Wednesday after a source close to the transition team told reporters that Lujan Grisham was no longer a front-runner for health secretary and had turned down an offer to lead Biden's Interior Department.
Sen.-elect Ben Ray Luján (D-N.M.) confronted incoming White House chief of staff Ron Klain and other senior Biden officials for their treatment of Lujan Grisham in a call between transition leaders and caucus members on Thursday. Klain apologized for the leaks from the transition about the New Mexico governor, according to a Democrat with knowledge of the call.
Dozens of caucus members sent a letter to Biden on Wednesday arguing for the president-elect to pick either Becerra or Democratic National Committee chair Tom Perez to be the U.S. attorney general. Becerra created a name for himself mainly on issues of criminal justice and immigration, which would have made him an unsurprising choice for the Justice Department.
But the California attorney general also has a record on health care, most recently acting as the leading Democratic defender of the Affordable Care Act against the latest lawsuit by Republican attorneys general. In addition, he has helped lead his party's charge for women's health and defended LGBTQ access to health care by fighting the Trump administration's "conscience rule," which allowed health providers to refuse treatment to patients for their own moral or religious reasons.
"I'm not sure you could find anyone who has been a stronger defender of the ACA, access to reproductive health care and immigrant rights during the last four years," Larry Levitt, executive vice president at the Henry J. Kaiser Family Foundation, told HuffPost.
As California attorney general, Becerra has also aggressively cracked down on mergers and consolidations in health care as a way to push companies to compete on prices. In 2018, he joined an antitrust lawsuit against Sutter Health accusing the company of using its market power to drive up health care costs in Northern California. He secured a $575 million settlement from Sutter at the end of 2019.
Becerra also sought and supported California legislation that would have given the state's attorney general more power to review mergers involving for-profit health care providers. That legislation did not pass, but reformers have been hoping to try again next year.
"Becerra was a health care champion in Congress and then he was very active as attorney general of California in using the tools of that office to protect people's health care ― and deal with issues of cost, quality and equity," Anthony Wright, executive director of California's statewide consumer advocacy group Health Access, told HuffPost.
"It went well beyond just checking the boxes of what he had to do," Wright added. "He was very aggressive about it."
"He's not a health policy wonk, but most HHS secretaries aren't and don't need to be," Levitt said. "He's a seasoned political hand and shown an ability to speak to the public about complex health issues."
Jonathan Cohn and Hayley Miller contributed reporting.