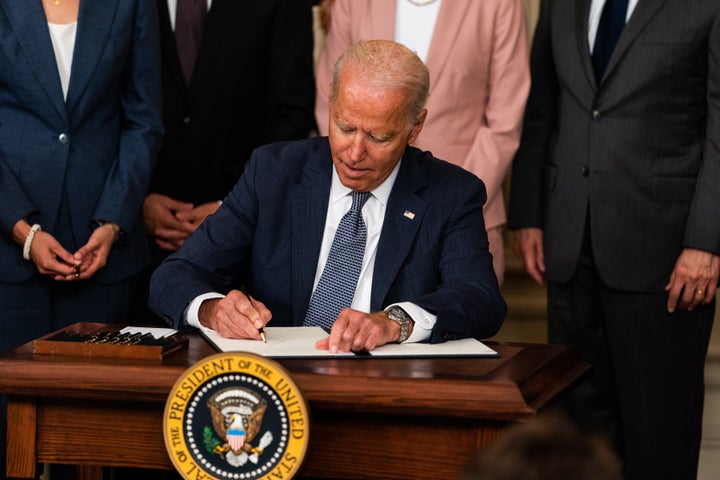 President Joe Biden on Wednesday asked Congress to pass legislation cracking down on so-called junk fees — hidden costs attached to airline and concert tickets, vacation packages, and television and telephone bills.
Biden's proposal would crack down on excessive fees for tickets to concerts and sporting events, which can make up more than 20% of the face value of a ticket; ban airlines from charging additional fees for family members to sit alongside their young children; eliminate "exorbitant" fees for canceling television and telephone packages early, which can top $200; and require hotels and resorts to disclose nightly resort fees to consumers upfront.
The administration estimates these and other junk fees cost Americans billions of dollars a year, with Biden describing the four fees targeted by the legislation "as four of the most frustrating charges Americans face."
"The bottom line is this: These unfair fees add up," Biden said. "It's a basic question of fairness."
In a fact sheet explaining the proposal, the administration emphasized junk fees harm businesses as well as consumers: "This will not only save Americans billions a year, but make our markets more competitive — creating a more even playing field so that businesses that price in a fair and transparent manner no longer lose sales to companies that disguise their actual prices with hidden fees."
The administration rolled out two other announcements at Wednesday's meeting: a crackdown on credit card late fees and a report laying out how Congress should approach regulating online app stores.
The Consumer Financial Protection Bureau is set to propose a rule blocking credit card companies from charging late fees that exceed the cost to collect late payments, which the agency estimates could save consumers $9 billion a year.
The bureau wants to lower the maximum late fee from $41 down to $8, and limit late fees to 25% of a customer's minimum credit card payment.
"Over a decade ago, Congress banned excessive credit card late fees, but companies have exploited a regulatory loophole that has allowed them to escape scrutiny for charging an otherwise illegal junk fee," said Rohit Chopra, the agency's director. "Today's proposed rule seeks to save families billions of dollars and ensure the credit card market is fair and competitive."
Chopra told reporters on a conference call previewing the announcement that the rule could be in place by 2024.
Lastly, the National Telecommunications and Information Administration is releasing a report on how to improve competition in the app economy. The report recommends many of the steps included in the Open App Markets Act, which failed to pass Congress last year amid intense lobbying efforts against it from Apple and Google — the two companies that dominate the app market.
Popular in the Community