WASHINGTON — President Joe Biden on Wednesday encouraged Americans who do not want a COVID-19 vaccine to get one anyway by reminding them that small businesses can take a full tax credit against paid time off they provide for the vaccination and, if need be, recovery afterward.
"I'm calling on every employer, large and small, in every state, to give employees the time off they need, with pay, to get vaccinated. And any time they need, with pay, to recover, if they're feeling under the weather after the shot," Biden said in brief remarks from the Eisenhower Executive Office Building next door to the White House. "No working American should lose a single dollar from their paycheck because they chose to fulfill their patriotic duty of getting vaccinated."
He said conversations with people across the country made him realize that some people cannot afford to take time from work to get a vaccine. "Every employee should get paid leave to get a shot. And businesses should know they can provide it without a hit to their bottom line," he said.
Under the $1.9 trillion American Rescue Plan, which Congress passed and Biden signed into law last month, businesses with 500 employees or fewer can claim a tax credit for as much as $511 a day for paid time off they provide to their employees, up to 10 days for vaccinations and recovery time per employee.
A senior administration official who spoke on condition of anonymity said a quarter of Americans who say they will not get vaccinated may consider doing so if they know they would not lose money.
"No one should have to lose pay to be vaccinated," the official said, adding that Biden will call on small businesses — who in total account for nearly half of all private sector employment — to encourage their workers to get the vaccine.
Most large employers already have paid time off for sick days.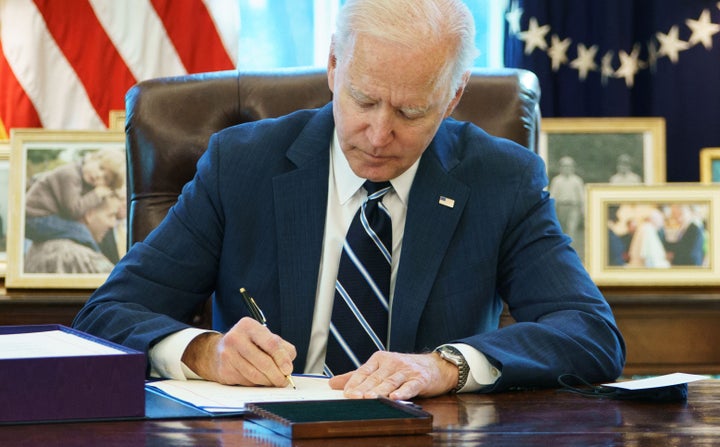 A Quinnipiac University survey last week found that 27% of Americans — and nearly half of Republicans — do not want to get a vaccine against the virus that has killed 568,532 in this country and 3 million around the world; 68% said they had already been vaccinated or intend to be.
According to the Centers for Disease Control and Prevention, 213 million doses of COVID-19 vaccines have already been administered in the United States, with 132 million Americans age 18 and over, or 51%, having at least one dose, and 86 million, or 33%, being fully vaccinated.
Biden took office with the stated goal of delivering 100 million doses of vaccines in his first 100 days in office, and then increased that to 200 million doses when the early target was easily reached more than a month ago.
Biden on Wednesday also took credit for having ramped up the vaccination rate since taking office, and thanked his COVID-19 team, federal agencies, state and local governments, retired health care workers who volunteered to administer shots and everyday Americans for lining up to get vaccinated.
"This is an American achievement, a powerful demonstration of unity and resolve, what unity can do for us," he said.
He also urged every American 16 and over to get vaccinated as soon as possible, now that the elderly, health care workers, teachers, police and firefighters have been largely taken care of.
"If you've been waiting for your turn, wait no longer," the president added.
A HuffPost Guide To Coronavirus
Popular in the Community