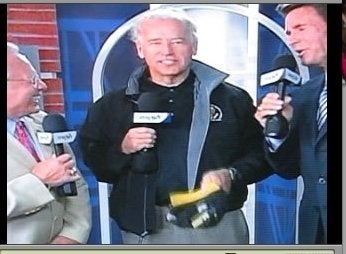 About an hour after throwing out the ceremonial first pitch at the Orioles-Yankees Opening Day game, Vice President Joseph Biden went up to the announcers booth and brought the house down, poking fun at the anonymity of his office, mocking his own baldness, and making a well-timed joke about former V.P. Dan Quayle's failures as a speller.
Biden, appearing in a baseball cap and casual attire, was in the booth alongside Hall of Fame pitcher Jim Palmer, who is known, alternatively, for his great and colorful head of hair. After a bit of banter about the state of sports and the economy, the subject moved to politics. Pointing to Palmer's scalp, the V.P. blurted out: "If I had this guy's hair, I might have had a shot in the primaries." Removing his cap, Biden added: "You know... Look, there ain't a whole lot there."
Palmer and fellow announcer Gary Thorne loved it. Telling Biden he was handling the responsibilities of his job well, the Delaware Democrat said of the gig: "No one ever remembers your name. It's okay."
When Palmer told Biden that they were going to have him do some of the game's play-by-play announcing but had decided against it, the vice president replied: "Good. Good."
Told that Dan Quayle had done as much and asked by Thorne if he would reconsider his decision, Biden chimed in: "Hell no. And I can't spell potato either."
Earlier in the day, Biden had thrown out the ceremonial first pitch at Camden Yards. And while the toss was a bit high for the traditional strike zone, it did make it into the catcher's mitt. "I'm so happy it got across the plate," Biden said of his toss. "I was more worried about that than the debate."
"Everyone knows you can talk," said Palmer, in reference to the vice president's gift (or curse) for gab.
"The question is, could I throw?" replied Biden.
<0--758--hh>0--758--hh>
From there, the booth got into a conversation that veered between the worlds of sports and politics. Biden talked about how he gave up dreams of a future in athletics relatively early in life. "I couldn't make it in pro sports so I figure: 'what the hell, I might as well be a vice president.'" Later, he quipped of his career choice: "It's a lot easier, especially the 'vice' part."
It wouldn't be the last time he was self-deprecating when it came to his job. Told that it had been 76 days since the administration came into office, he replied: "Seems longer, doesn't it?"
Asked later why he chose to be vice president, Biden went into his usual refrain: that he insisted on being a respected voice in the White House and someone the president turned to for advise. "There is so much on the plate," he added, "there is plenty to give away. But I'm honored to serve with him and hopefully my experience all these years can be of some help."
The conversation did turn serious at one point, with Biden devling into a bit of self-congratulation for the fast start and early accomplishments of the administration in which he serves.
"I think we are doing very well. We inherited a mess, which is not to blame anybody, but those are the facts. The economy was in the dumps; internationally we were in bad shape. I think the president had a great trip to Europe this time around. The NATO allies are finally starting to pony up in Afghanistan, we got the recovery package done. I think you're going to see things moving," he said. "We got out of the blocks awful quick. Everyone talked about how long it took us to get that recovery package to create jobs. Well, you know, we did it in about 45 days. That has never happened before. Look, there is a long way to go. I'm not declaring victory or anything. This is a long haul and we will be judged at the end of the day as to whether or not middle class incomes begin to rise by the time we are done with this job. If the economy comes back but the middle class doesn't, then we've failed."
Calling all HuffPost superfans!
Sign up for membership to become a founding member and help shape HuffPost's next chapter