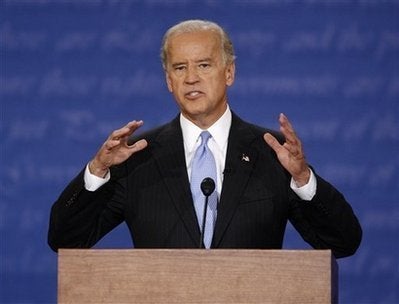 Scroll down for more on the CBS and Fox News focus groups.
During the course of the debate, CNN was running a viewer response line for uncommitted voters in Ohio. Overall the numbers reflected a very strong performance for Biden. And while Palin scored well, at times, among this crowd, the dial lines indicated that she remains a controversial figure among females in that state.
Biden repeatedly won high accolades on a wide range of topics. His remarks about the personal trials of having a wife and daughter die in a car accident sent responses from both male and females through the roof. His dig at Dick Cheney -- "the most dangerous Vice President in history" -- and his pledge to end the war in Iraq were similarly popular. When he defended Obama from Palin's attacks, he was held in equally high regard.
Much of the time, dial responses sunk when Palin began speaking. Respondents were generally unenthusiastic when she defended McCain. Her defense of the surge generated what was, at best, a flat response. She did have some high moments -- her final statement, her defense of Israel and her call to explore off shore drilling were all popular positions.
Following the debate, only one member of the focus group said they had decided to support the McCain-Palin ticket based on the debate; a half-dozen or more said they would now back Obama and Biden.
On the other hand, Frank Luntz just quizzed his focus group on FOX (which was, strangely enough, sponsored by Budweiser, owned by Anheuser-Busch, of which Cindy McCain's Hensley company is the third largest distributor). Nearly all of them thought Palin did an excellent job and, perhaps, won the debate. When she talked about responsibility -- both on Wall Street and in Washington - the dial numbers went extremely high. Many respondents, meanwhile, said she came off as a "regular American." However, only three respondents in the group said they had moved towards voting for the McCain-Palin ticket.
CBS Focus Group: Biden Wins Early numbers from a nationally representative poll of 473 uncommitted voters give Biden a significant edge: 46 percent say he won compared to 21 percent for Palin. Thirty-three percent said it was a tie.
Eighteen percent of previously uncommitted percent say they are now committed to the Obama-Biden ticket. Ten percent say they are now committed to McCain-Palin. Seventy-one percent are still uncommitted.

Both candidates improved their overall image tonight. Fifty-three percent of those surveyed say they now have a better impression of Biden. Five percent say they have a worse opinion of the Delaware senator, while 42 percent say they debate did not change their opinion.

Fifty-five percent say they now have a better opinion of Palin. Fourteen percent say they have a worse opinion, while 30 percent say their opinion hasn't changed.

After the debate, 66 percent see Palin as knowledgeable about important issues - up from 43 percent before the debate. But Biden still has the advantage on this - 98 percent saw him as knowledgeable after the debate. That figure was 79 percent before the debate.
Popular in the Community