Democratic nominee and former Vice President Joe Biden declared that "we are going to win this race" and claimed a broad public mandate in a speech to the nation as he continued to inch toward victory Friday. Earlier in the day, he overtook President Donald Trump's once-sizable leads in Georgia and Pennsylvania. Vote totals released in swing states throughout Friday continued to bolster Biden's position and reduce Trump's chances of victory to the near-impossible.
Voters "have given us a mandate for action on COVID, the economy, climate change, systemic racism," Biden said in a speech that urged calm and patience.
Biden leads Trump nationwide by more than 4 million votes, a margin that will surely increase as the remaining states, particularly California, conclude their counts. Biden received 50.53% of the total votes cast, compared with Trump's 47.81%. Should the final results reflect that lead, Biden will join Barack Obama as the only presidential candidate in decades to win a first term with a popular majority, unlike President Bill Clinton in 1992, President George W. Bush in 2000 and Trump himself in 2016.
Scroll down or click here for the latest updates.
As states worked on their official tallies, Trump and his allies continued to lash out and accuse Democrats of fraud ― without offering any evidence. On Thursday evening, Trump hosted a brazenly dishonest press conference at which he baselessly insisted that Democrats were "trying to steal" and "rig" the election.
Trump did not appear in public on Friday but continued his furious, fact-free attacks on the democratic process on Twitter. As anticipation built for Biden's speech in the afternoon, Trump tweeted that "Joe Biden should not wrongfully claim the office of the President. I could make that claim also. Legal proceedings are just now beginning!"
The Trump campaign, as it warned it would, has filed multiple last-ditch legal challenges in swing states. In Michigan and Pennsylvania, the campaign wants election officials to stop counting ballots until it receives "meaningful" access to ballot-counting sites and a review of ballots already counted, according to The Associated Press. And in Georgia, the campaign is demanding that state law regarding absentee ballots be followed.
But judges in at least three states — Georgia, Michigan and Pennsylvania — have already rejected the campaign lawsuits.
Meanwhile, Republican leaders alternately embraced Trump's baseless claims of fraud or began to distance themselves from the president as his likely loss became clear.
Sen. Pat Toomey (R-Pa.) said Friday morning that Trump's fraud allegations were "very disturbing" and there was "simply no evidence" for them. But some potential contenders for the 2024 Republican presidential nomination took a different approach. Nikki Haley, who served as U.S. ambassador to the United Nations under Trump, tweeted a call on Friday for more "transparency" in the vote-counting process, while Sen. Ted Cruz (R-Texas) baselessly declared Thursday night on Fox News that election officials in Pennsylvania were "setting the stage to potentially steal an election."
For the latest results, maps and more, check out HuffPost's elections hub.
Questions remain around five states.
Arizona: The Associated Press and Fox News both projected a victory for Biden on election night, but no other network has since. Although the gap has narrowed during continued vote-tallying, Biden still leads by about 20,000 votes.

Georgia: Biden took the lead over Trump early Friday morning by more than 4,000 votes, with votes still left to be counted. The state will be headed to a recount, Georgia's secretary of state said Friday.

Nevada: Biden leads by about 22,000 votes, with an estimated 30,000 ballots still uncounted. Daily updates will come at 12 p.m. Eastern time, including on weekends. Biden is heavily favored to win the state at this point.

North Carolina: Trump leads by more than 75,000 votes, with an estimated 95% of votes counted. He appears to be in a strong position to win the state.

Pennsylvania: Biden leads by around 31,000 votes, having eliminated Trump's lead as the week went on. Biden is heavily favored to win the state at this point, which would be sufficient to deliver him the presidency.
Trump's path to a second term has become virtually nonexistent. To hold on to the White House, he would need to win Arizona, Georgia, North Carolina and Pennsylvania. In only one of those states — North Carolina — does he appear strongly favored to win.
Biden, on the other hand, can secure the electoral votes to win the presidency in numerous ways: a victory in Pennsylvania would put him over the top, as would wins in any of the two other remaining states.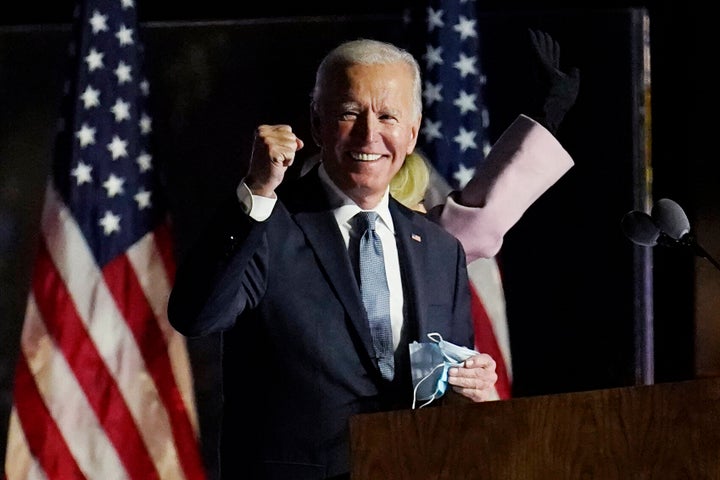 The current Electoral College tally is complicated by the fact that news outlets have not agreed on whether to call Arizona. The AP, which HuffPost relies on for its projected results, and Fox News called Arizona for Biden on election night. However, some outlets still have not done so. It's possible that Biden will get to 270 votes per AP projections without a formal concession from the Trump campaign or an end to legal challenges.
Read live updates on the election below. (Note: An ad blocker may prevent you from seeing the blog, so if you're using one, please pause or turn it off.)
Popular in the Community