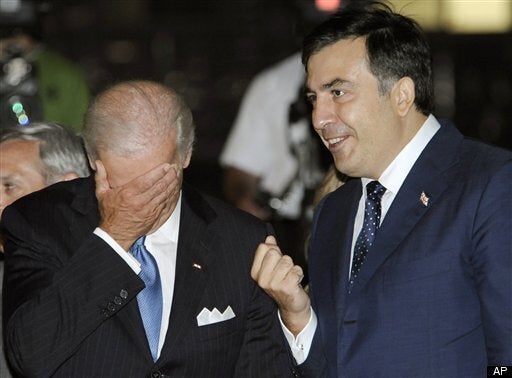 In apparent response to Vice President Joe Biden's visit to former Soviet nations this week, reports emerged of a tit-for-tat diplomat expulsion between Russia and Georgia, which Russia's foreign minister claims is nothing but a PR stunt by the Georgian government, The Moscow Times reports:
Foreign Minister Sergei Lavrov on Wednesday confirmed that two diplomats from each country had their accreditations removed but said it had happened "some months ago" and that Tbilisi had asked Moscow to keep the matter secret.

"The Georgians had asked us not to publicize it, yet now they did it themselves and I have difficulties telling you why," Lavrov told reporters in Thailand, Interfax reported.

Deputy Foreign Minister Georgy Karasin suggested that the report's timing was connected with Biden's arrival Wednesday for talks with the government of President Mikheil Saakashvili.
Biden's visit, first to Ukraine and then to Georgia, has been aimed at reassuring the Caucus states that they have the full support of the US in light of Russian aggression during the Russia-Georgia conflict last year. According to Reuters:
Biden arrived from Ukraine on the second leg of a trip designed to reassure the two former Soviet republics they have not been abandoned in U.S. President Barack Obama's drive to "reset" relations with Russia.

Biden said he had come "to send an unequivocal, clear, simple message to all who will listen and those who even don't want to listen: that America stands with you at this moment and will continue to stand with you."
While in Ukraine, Biden rejected Russia's 'sphere of influence' and reaffirmed all sovereign nations' right to make their own choices regarding who they maintain ties with.
Watch:
REAL LIFE. REAL NEWS. REAL VOICES.
Help us tell more of the stories that matter from voices that too often remain unheard.