President Joe Biden said Wednesday that the guilty verdicts for three men in the murder of Ahmaud Arbery "reflect our justice system doing its job" ― but he stressed that the country still has a long road ahead in the fight for racial justice.
In Brunswick, Georgia, a jury found Travis McMichael, Gregory McMichael and William "Roddie" Bryan guilty of felony murder in the February 2020 death of Arbery, a 25-year-old Black man who was out jogging when the men chased him down and attacked him. The case sparked national outrage and helped fuel last year's racial justice protests, which contributed to the killers, all of whom are white, eventually getting charged.
"Ahmaud Arbery's killing ― witnessed by the world on video ― is a devastating reminder of how far we have to go in the fight for racial justice in this country," Biden said in a statement. "Mr. Arbery should be here today, celebrating the holidays with his mother, Wanda Cooper Jones, and his father, Marcus Arbery. Nothing can bring Mr. Arbery back to his family and to his community, but the verdict ensures that those who committed this horrible crime will be punished."
The jury that convicted the men consisted of 11 white members and one Black member. The composition of the jury had initially stirred controversy over potential racial bias.
After the verdict, Wanda Cooper-Jones, Arbery's mother, said she "never saw this day back in 2020" and that she "never thought this day would come, but God is good."
"While the guilty verdicts reflect our justice system doing its job, that alone is not enough," Biden said in his statement. "Instead, we must recommit ourselves to building a future of unity and shared strength, where no one fears violence because of the color of their skin."
Vice President Kamala Harris released her own statement on the verdicts, saying she shares "in that pain" that Arbery's family and community feel in his absence.
"Ahmaud Arbery was a son. He was a brother. He was a friend. His life had meaning. We will not forget him. We honor him best by continuing the fight for justice."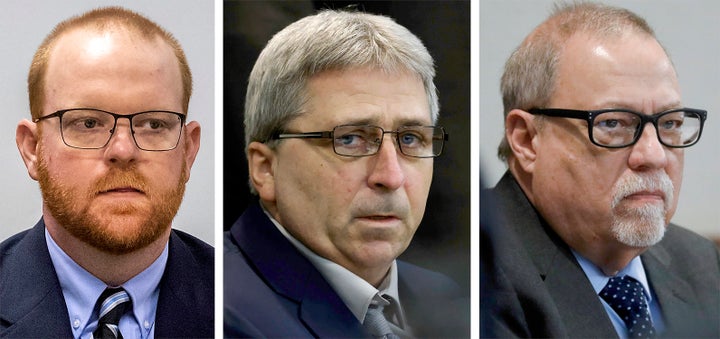 "A modern day lynching, in broad daylight on an American neighborhood street, was excused initially by law enforcement who accepted the world of the lynch mob without question," leaders of the National Urban League said in a joint statement.
"Thanks to faithful prayer and a skilled prosecution, we are relieved to know that the jury was able to see the truth and hold these killers accountable for the senseless murder of Ahmaud Arbery," the NUL leaders said. "Still, we must dedicate ourselves to shining the light of scrutiny on what happened in this case to ensure that racially-motivated vigilante violence never again is condoned or tolerated."
"While the verdict in Kenosha will leave many Americans feeling angry and concerned, myself included, we must acknowledge that the jury has spoken," he said last week. "I know that we're not going to heal our country's wounds overnight, but I remain steadfast in my commitment to do everything in my power to ensure that every American is treated equally, with fairness and dignity, under the law."
Popular in the Community