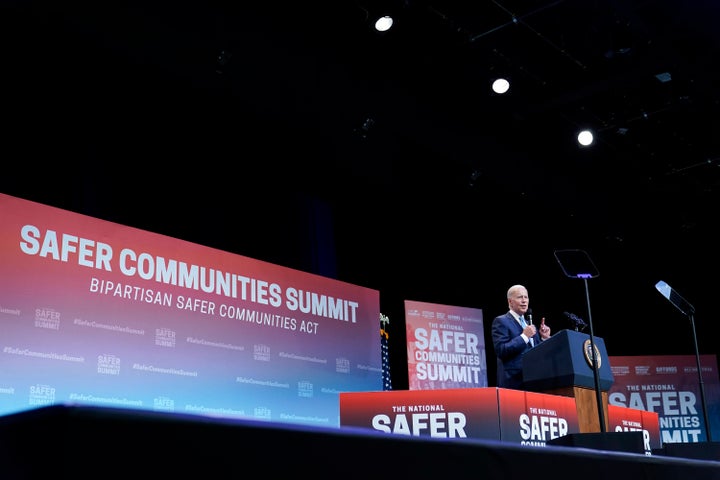 WASHINGTON — President Joe Biden on Friday announced the creation of the Office of Gun Violence Prevention within the White House, in an effort to advance one of his top priorities amid continued opposition by the influential gun lobby.
"After every mass shooting, we hear a simple message, the same message all over the country," Biden said during a Rose Garden ceremony. "Do something, please do something, do something."
Biden said that the creation of the new office is simply the latest action he has taken and that he will continue to do what he can, including pushing a new ban on assault weapons and high-capacity ammunition magazines.
"Let me be very clear. If the members of the Congress refuse to act, then we'll need to elect new members of Congress that will," he said to cheers from an audience of Democratic members of Congress and gun violence activists.
The office will be overseen by Vice President Kamala Harris and run by Feldman, who will serve as the office's director. Coming to the White House as deputy directors of the office are Rob Wilcox, from the Everytown for Gun Safety group, and Greg Jackson, from Community Justice Action Fund.
The office is designed to coordinate efforts across executive branch agencies to implement provisions of Biden's 2022 gun violence legislation and has been pushed for by gun control advocates for years.
Among the Rose Garden guests was Georgia congresswoman Lucy McBath, who lost her son in a shooting in 2012. "In an instant, I was robbed of every dream that a mother holds for her child," she told reporters earlier Friday at the White House daily briefing. "My story is becoming far too common in the United States.... A hundred families a day are living their worst nightmare."
Guns have become the leading cause of death for American children, with nearly 1,300 dying from firearms so far this year. The mortality rate for childhood gun deaths in the U.S. is 70 times that in Canada, the country with the next highest rate.
More broadly, the United States is on pace to see the largest number of people killed in mass shootings since 2006, according to a database maintained by The Associated Press and USA Today, in partnership with Northeastern University. As of this week, there have been at least 35 mass killings in the U.S. so far in 2023. These have killed at least 171 people, not including shooters who died.
Since taking office, Biden has urged Congress to renew a ban on assault-style weapons that lapsed under former President George W. Bush, but he was unable to push one through even when Democrats had control of both chambers during his first two years.
He was, however, able to persuade Congress to pass the Bipartisan Safer Communities Act in 2022. Despite its modest provisions that largely centered around expanding pre-purchase background checks, it nevertheless became the most sweeping piece of firearm legislation to become law in decades.
Support HuffPost
The Stakes Have Never Been Higher
Popular in the Community