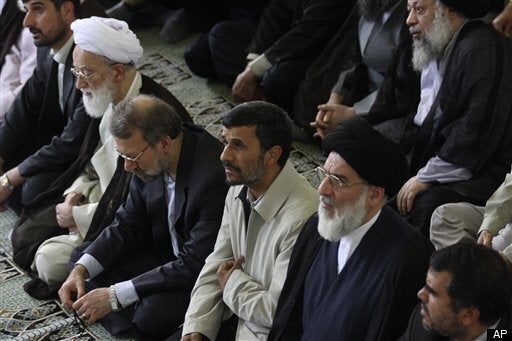 "We will consider the Americans responsible in any adventure launched by the Zionist entity," Larijani said in Doha, the capital of Qatar, on Monday during an official visit.

"No politician or person in the world can imagine that the Zionist entity can lead an operation without getting the green light from the United States."
"We cannot dictate to another sovereign nation what they can and cannot do when they make a determination, if they make a determination, that they're existentially threatened."
"If the Netanyahu government decides to take a course of action different than the one being pursued now, that is their sovereign right to do that. That is not our choice. But there is no pressure from any nation that's going to alter our behavior as to how to proceed."
However, via Greg Sargent, President Obama has since weighed in, speaking to CNN, to remove from the table any implicit US consent for an Israeli attack: "We have said directly to the Israelis that it is important to try and resolve this in an international setting in a way that does not create major conflict in the Middle East."
Obama also told CNN that the US has "absolutely not" given Israel permission to unilaterally attack Iran.
However, Biden is not without his supporters. Israel's controversial right-wing foreign minister, Avigdor Lieberman, agreed with Biden's remarks, weighing them as "logical". According to the AP:
"I think he said things that are very logical," he said. "Israel is a sovereign state and at the end of the day, the government of Israel has sole responsibility for its security and future, not anybody else."

"Sometimes there are disputes between friends, but at the end of the day the decision is ours."
However, according to the AP report, most other Israel officials have abstained from comment, suggesting that they do not regard Biden's statement as a "green light" for any preemptive military action against Iran.
This is perhaps explained by the fact that the Netanyahu government in Israel is purposefully not querying the US, so as to maintain the freedom that comes with not having been explicitly told "no". Reported by the Washington Times:
Prime Minister Benjamin Netanyahu and his top deputies have not formally asked for U.S. aid or permission for possible military strikes on Iran's nuclear program, fearing the White House would not approve, two Israeli officials said.
REAL LIFE. REAL NEWS. REAL VOICES.
Help us tell more of the stories that matter from voices that too often remain unheard.