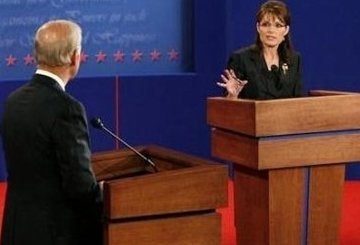 Before last night's VP debate, Stanford law professor Larry Lessig said, "The only advantage Biden has is knowledge and experience. He needs to show that, without saying that." For listeners who see this a serious conversation as to who might be a president of the United States, Biden demonstrated impressive knowledge, and insights and wisdom that were rooted in his extensive experience. He was a grown-up, talking to grown ups. Tina Fey -- I mean Sarah Palin, seemed like a 44-year-old mom auditioning for a spunky character in a neighborhood play. The charm of the Palin performance is that she can continue the parody, and laugh with us at herself, with cues to make sure we all know what a hoot this all is.
Gwen Ifill was effectively reduced to a time keeper by the McCain camp assaults on her character. The pundits who reported on the show (debate) seemed also often intimidated by the increasingly direct attacks on the media by the McCain campaign. I personally have grown tired of eight years of allowing stupid, uninformed and reckless political figures intimidate the country as we move from one blunder to another, dissipating our standing in the world and our competitiveness at home. Is it too much to ask the media to act like grown ups too, and realize we are not casting the lead to Annie get your gun?
Calling all HuffPost superfans!
Sign up for membership to become a founding member and help shape HuffPost's next chapter