The general counsel of the National Labor Relations Board issued a memo Wednesday arguing that certain college athletes are workers eligible to bargain collectively, warning the NCAA and universities not to run afoul of their rights.
Jennifer Abruzzo, who was nominated by President Joe Biden and confirmed by the Senate in July, said she would pursue cases against schools, conferences or other entities that tell players they don't have the same rights as other private-sector workers. The memo affirms that athletes have the right to protest and demand better pay and working conditions without retaliation from their universities, even if they don't have union representation.
Together with recent court rulings and new state laws, it is the latest sign of a major shift in the government's legal and political view of the NCAA's treatment of college athletes, and the organization's long-held position that "amateurism" rules should provide its member schools with an absolute defense against any claim that players deserve greater compensation and labor rights.
Abruzzo argued that common interpretations of labor law already made it clear that college athletes deserve employment rights. But "significant developments" in the law, NCAA rules and the societal view of college athletes over the last two years, she argued, have further demonstrated that the traditional view of "amateurism" is a dated concept and should not be used to restrict athletes' rights.
""If players at academic institutions feel like they want to choose a union to represent them in discussions with their employer over wages or working conditions ... then they should be filing [union representation] petitions.""
The NLRB's general counsel acts as a kind of prosecutor, charging employers who commit "unfair labor practices" by violating workers' rights. The memo puts private colleges and universities around the country on notice that they should not try to classify players as "student athletes" who aren't covered by the National Labor Relations Act, the 1935 law outlining collective bargaining in the private sector.
Abruzzo's memo would only apply to private schools, not the public universities that make up a large share of big-time college sports. (Public universities would be governed by their respective states' collective bargaining laws.) But private universities compete with public ones, so its implications for the NCAA writ large are significant.
The memo makes clear Abruzzo's position that certain college players should be eligible to form unions, akin to the one football players on scholarship at Northwestern University tried to create in 2015. The NLRB's regional offices that oversee elections take their cues from the general counsel, so Abruzzo's position could open the door to future attempts by players to unionize.
If any such players filed a union election petition with the NLRB, it could force the five-member board in Washington to review the decision in the Northwestern case, which put an end to the players' bid to unionize, but dodged the central question of whether college players were employees under the law.
Abruzzo said in an interview with HuffPost on Wednesday that the board at the time "punted" on the decision, and that it would likely have to revisit the issue and address her position.
"Had I been on the board I might have done something differently," she said of the 2015 decision. "If players at academic institutions feel like they want to choose a union to represent them in discussions with their employer over wages or working conditions ... then they should be filing [union representation] petitions."
Significantly, Abruzzo wrote in her memo that she would "consider pursuing a joint employer theory" in which the NCAA itself, and not just its member schools, was an employer. Such a theory could not only rope the NCAA into unfair labor practice cases, it could possibly open the door to athletes at different private schools unionizing together under the NCAA.
Abruzzo said she issued the memo because she wanted people to know the rights of college athletes. "I did want to put the players on notice, but also institutions and the public generally," she said.
In the memo, she also eschewed the term "student athlete," because she believes it was created to propagate the false idea that college athletes are not workers with rights.
"The term has been conceived, in my mind and in others', to try to preclude collective activity. It's nomenclature right now that I hope people shift away from," she said in the interview. "More important than the term is whether employers, particular institutions, which could include conferences and the NCAA, are leading these players to believe, by word or deed, that they are in fact not covered by the statute."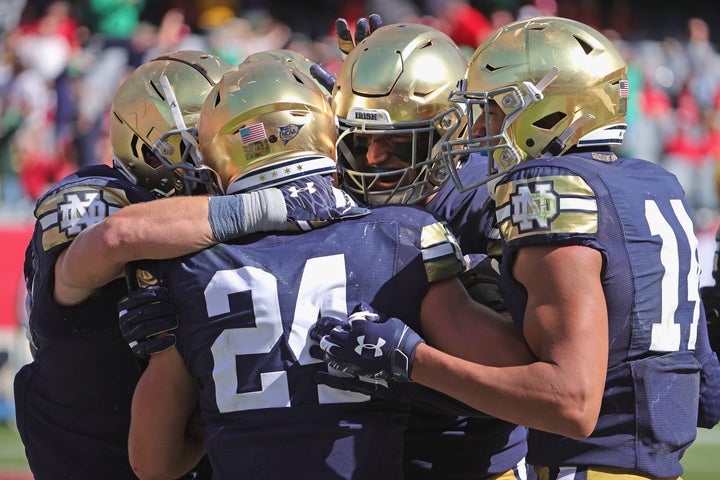 In explaining how the legal ground had shifted in college sports, Abruzzo referenced in her memo the Supreme Court's June decision in NCAA v. Alston, a landmark case in which the court unanimously ruled that the NCAA and its member schools violated federal antitrust laws by capping the education-related compensation and benefits athletes can receive. The court declined to grant the NCAA immunity from antitrust law.
While that ruling does not allow schools to offer salaries or other forms of direct compensation, it set the stage for seismic shifts in the relationship between college athletes and their universities. Justice Brett Kavanaugh's concurring opinion opened the door for even broader challenges against the organization.
"The NCAA's business model would be flatly illegal in almost any other industry in America," Kavanaugh wrote, calling into question the legality of the rest of its rules that limit compensation. Kavanaugh explicitly entertained the idea of college athletes as employees, writing that future players "could potentially engage in collective bargaining" to negotiate a fairer share of the revenues they produce.
Later that month, the NCAA altered its rules to allow players to profit from the use of their names, images and likenesses off the field, a change driven by a 2019 law California passed to legalize such payments. Many states have since approved similar laws or adopted regulations to comply with the NCAA's new rules, allowing college athletes to sign endorsement deals with companies outside the scope of their universities and profit from the use of their image for the first time.
That makes college athletes "much more similar to professional athletes who are employed by a team to play a sport, while simultaneously pursuing business ventures to capitalize on their fame and increase their income," Abruzzo wrote.
Other developments unrelated to compensation have also made it clearer that athletes should be classified as employees: Over the last year, college athletes across the country have orchestrated demonstrations for racial justice after the police killing of George Floyd, a Black man, in Minneapolis. During the pandemic, players organized to share their input on restarting competition and on participation rules related to the public health crisis. (The players' platform — which was developed by athletes from all five of college football's major conferences — called for extensive health and safety protocols to protect players during the pandemic, the option to opt out of a season without losing eligibility or scholarships, and a collaborative process between athletes and administrators that would eventually lead to the creation of a college players' association.)
Both types of protest were related to "terms and conditions of employment," Abruzzo wrote. She argued that preventing players from addressing Black Lives Matter or other social issues would violate their rights to engage in "protected concerted activity" i.e., workers trying to improve their working conditions.
The memo reflects a stark turnaround at the NLRB from the years of former President Donald Trump. Biden fired Trump's general counsel appointee, Peter Robb — who took a restrictive view of workers' rights — on his first day in office in January.
Abruzzo's memo on college athletes suggests a broader philosophy in which collective bargaining rights extend to more workers, not fewer, and the government aggressively protects them.
"I think it's incumbent upon this agency to broadly construe its congressional mandate to protect the rights of workers in this country," she said. "That means ensuring as many workers in this country fall under our jurisdiction."
Popular in the Community