The U.S. will impose sanctions on military officials in Myanmar who overthrew the southeast Asian nation's civilian government earlier this month, President Joe Biden said on Wednesday at the White House.
"The military must relinquish power ... and demonstrate respect for the will of the people of Burma," Biden said, using another name for the country.
The targets will likely include senior general Min Aung Hlaing, who directed the Feb. 1 coup and now effectively rules over Myanmar's 53 million people. Army forces have clashed with protesters and are detaining ministers, lawmakers, journalists and other key figures ― including Aung San Suu Kyi, a longtime advocate for democracy in Myanmar whose previous decade-plus detention drew major international attention. She won the Nobel Peace Prize in 1991.
Biden warned the military against harming the tens of thousands of demonstrators challenging the takeover, some of whom have already been seriously injured.
The army toppled Suu Kyi's elected government after it swept polls held in November and then refused to question the results, which dealt a major blow to a military-backed political party.
Biden's measures will block top military officers and their families from travel to the U.S. and business with American entities. The president emphasized that the restrictions and possible additional steps have bipartisan support — name-checking Senate Minority Leader Mitch McConnell (R-Ky.), a proponent of democracy in Myanmar — and said he plans to rally international pressure on the generals from U.S. partners.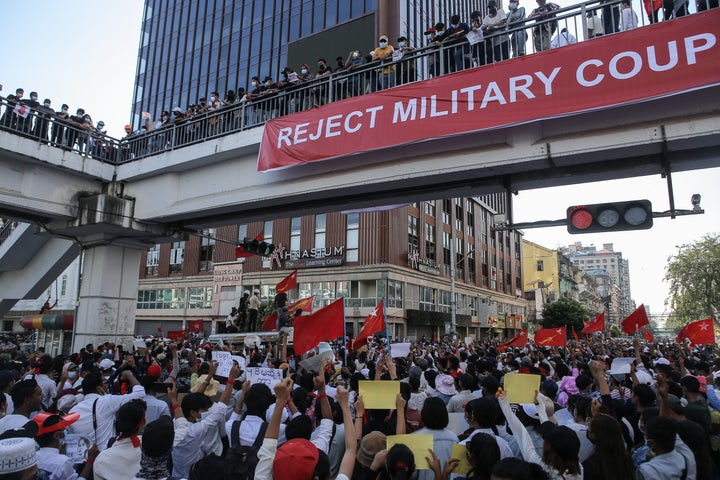 It's the latest sign in the first month of Biden's presidency that he intends to deliver on his campaign promise to reassert American support for democracy abroad, in contrast to former President Donald Trump, who courted dictators and downplayed global human rights crises. Biden said his aides will soon raise Myanmar at the United Nations Human Rights Council — a body Trump withdrew the U.S. from.
Biden administration officials are also examining how to reshape the American relationship with Saudi Arabia, a historically repressive regime that, while Trump was president, carried out striking new excesses like killing Saudi journalist Jamal Khashoggi.
There's some evidence already that the new pressure from Washington is working: Earlier on Wednesday, the Saudis released Loujain Alhathloul, an activist who had brutally detained for more than three years.
In Myanmar, the U.S.'s influence is more limited, however.
Western governments largely shunned the country for decades over the military's extended rule, until President Barack Obama began easing American sanctions as the generals signaled they were willing to ease their grip, including by releasing Suu Kyi in 2010 and holding elections in 2015. That means the officers have few personal ties stateside that would be affected by sanctions, and the government-to-government relationships remain limited.
The U.S. has also struggled to deal with Myanmar in recent years after celebrating its nascent steps away from authoritarian rule.
Burmese forces launched a horrifying campaign against the country's Rohingya ethnic minority in 2017, carrying out massacres, sexual violence and home demolitions and forcing hundreds of thousands to flee to neighboring Bangladesh. Rights groups call the effort a "genocide."
Suu Kyi, who was the country's de facto leader and was long seen in Washington as the great hope for a democratic turn in Myanmar, repeatedly defended the military assault, sparking outrage worldwide.
Trump sanctioned four Burmese officers, including coup leader Min Aung Hlaing, over the atrocities against the Rohingya.
Watchdog groups say the U.S.'s hesitation to stop that crackdown by the military allowed the generals to remain ambitious and aggressive, paving the way for the coup.
The Biden administration will face intense scrutiny over its Myanmar policy, particularly from Congress — and will have a difficult task internationally as well, because the military has previously been backed by China and Russia.
Popular in the Community