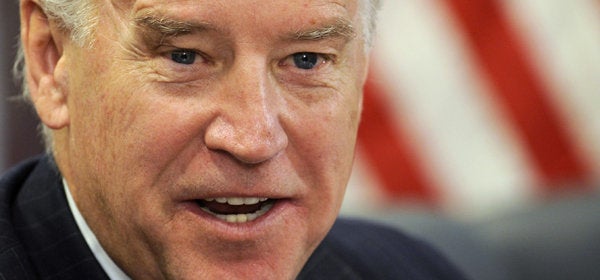 The Obama transition team made a mistake by not consulting with Democratic Sen. Dianne Feinstein of California before choosing Leon Panetta to head the Central Intelligence Agency, Vice President-elect Joe Biden said Tuesday.
While visiting the Senate, Biden was asked if Feinstein, the incoming intelligence committee chair, should have been part of the process. "I'm still a Senate man and I always think this way: I think it's always good to talk to the requisite members of Congress," said Biden. "I think it was just a mistake."
But Biden offered high praise for Panetta and said he is "totally qualified" for the CIA spot. "He's been a consumer of intelligence for a long time. He was chief of staff [in the Clinton White House]. He understands the agency. Leon Panetta will do a first rate job. He's a great manager. He understands the community and I think he'll make a great director of the CIA. I've been here for I don't know how many of them and I think he'll be as good as any we've had."
"I understand their thinking" in choosing Panetta, Feinstein explained, describing herself as "very respectful of the president's authority ... this is the man [Obama has chosen]."

I asked Feinstein whether her reticence about Panetta's lack of ties to the CIA would be mitigated by having Steven Kappes, her preferred choice for CIA director, stay on as the agency's No 2. "I believe very strongly" that Kappes should stay, Feinstein said, adding that Panetta's standing would be "very much enhanced" were Kappes to stay his deputy.
Sen. Russ Feingold (D-WI), however, declared himself "pleased" with the choice in a statement. He added that "there are few people of whom I have a higher opinion" than Panetta.
"I am pleased by reports of the nomination of Leon Panetta to be the next CIA Director. These reports indicate that President-elect Obama recognizes the need for fresh leadership for the intelligence community. Leon Panetta has a long and distinguished career in public service and there are few people of whom I have a higher opinion. He has been a strong voice opposing the interrogation practices authorized by the Bush Administration and he is well-equipped to restore our national security, which has been undermined by the current administration's policies. I look forward to closely examining his record, hearing his plans for protecting our nation against al Qaeda and other threats, and learning how he will help restore the rule of law after years of lawlessness that have undermined our national security."
Support HuffPost
The Stakes Have Never Been Higher
Popular in the Community