Rep. Nancy Pelosi (D-Calif.), New Mexico Gov. Susana Martinez (R) and Georgetown University President John DeGioia will join Biden, attending his first papal installation, during the two-hour Mass in St. Peter's Square. But it's Biden and Pelosi, both Catholics with liberal positions on abortion rights and contraception, who have set off a flurry of criticism in anti-abortion media and among anti-abortion Catholics.
"Vice President Biden and Nancy Pelosi should certainly not receive Communion, either at the papal installation or anywhere else. Communion means 'union,' and they are not in union with the Church on the most fundamental moral issue of the right to life," said the Rev. Frank Pavone, founder of Priests for Life, a U.S.-based Catholic anti-abortion organization. "Should they receive at this ceremony, there will be a public uproar, and rightly so."
Like Pope Emeritus Benedict XVI, Francis has spoken strongly against abortion, and as the president of Argentina's bishops when he was the archbishop of Buenos Aires, he warned against distributing communion to pro-abortion rights politicians.
"We should be conscious that people cannot receive holy communion and at the same time act or speak against the commandments, in particular when abortion, euthanasia, and other serious crimes against life and family are facilitated," Latin American bishops, including Francis, said in a 2007 statement issued after a general conference in Aparecida, Brazil. "This responsibility applies particularly to legislators, governors, and health professionals."
A Vatican spokesman said Monday that Francis won't personally be distributing communion -- the wafer and wine that Catholics believe transform into the blood and body of Christ when consecrated during Mass -- but that it will instead done by 500 priests assisting. And even though it's clear where he has stood on communion for pro-abortion rights politicians, papal precedent means it's unlikely that Biden, Pelosi or others who have supported keeping abortion legal will be denied the church's central sacraments. At a papal Mass in Washington during Benedict's visit to the U.S. in 2008, Pelosi, then-Sen. John Kerry (Mass.) and then-Sen. Chris Dodd (Conn.), both pro-abortion rights Democrats, received communion from local priests.
When Pelosi met Benedict in 2009, the Vatican released a statement saying the pope spoke to her about the "requirement of the natural moral law and the Church's consistent teaching on the dignity of human life from conception to natural death which enjoin all Catholics." Biden also met Benedict in 2011, but the details of their conversation were not released.
Biden and Pelosi could abstain from communion at the installation Mass. The vice president's press office did not reply to question about whether he plans to receive communion. A Pelosi spokesman also did not respond.
Both leaders have been loudly criticized by U.S. church leaders for their abortion positions and Biden has been banned from receiving communion in a some dioceses. In October, Bishop Michael Sheridan of Colorado Springs, Colo., said Biden would not receive communion if he went to Mass in his diocese during the presidential campaign. In an interview, Sheridan cited church Canon 915, which he described as saying "a Catholic politician who publicly espouses positions that are contrary, not just to any teachings of the Church, but to serious moral teachings, should not receive Holy Communion until they recant those positions publicly." During Biden's first vice presidential campaign in 2008, the former bishop of his hometown, Scranton, Pa., also said he would deny Biden communion.
But Cardinal Donald Wuerl of Washington, part of the conclave that elected Francis, has said he would offer Pelosi communion despite her views on abortion because he didn't believe communion should be used as a weapon. "We never -– the Church just didn't use Communion this way. It wasn't a part of the way we do things, and it wasn't a way we convinced Catholic politicians to appropriate the faith and live it and apply it; the challenge has always been to convince people," Wuerl said in a 2010 interview. His position would logically extend to Biden. The vice president's bishop, Francis Malooly of Wilmington, Del., has also said he would not deny communion to Biden.
There are 132 delegations that will attend the papal installation, which starts at 9:30 a.m. Roman time on Tuesday. The Vatican has prepared for large crowds, with some officials estimating that up to 1 million people may attend. On Monday, Vatican spokesman, the Rev. Thomas Rosica, said the church has not officially invited any foreign delegations, but "those who wish to come are welcome, no one is refused."
In addition to the White House delegation, the House of Representatives has sent a delegation that includes Reps. Chris Smith (R-N.J.), Sean Duffy (R-Wis.), Anna Eshoo (D-Calif.), Rosa DeLauro (D-Conn.), Jeff Fortenberry (R-Neb.), Ruben Hinojosa (D-Texas), Loretta Sanchez (D-Calif.), Jim Langevin (D-R.I.) and Daniel Lipinski (D-Ill.). House Chaplain Patrick Conroy, who like Francis is a Jesuit priest, will also join the group.
In a recent television interview, Archbishop of Hartford Henry Mansell suggested that DeLauro, a pro-abortion rights Catholic, also shouldn't ask to receive communion at the papal Mass, but indicated that he personally would not deny her communion. Politicians "should not go [to receive communion] if they support abortion," he said, but he added that he does not "make decisions at the altar rail. ... I don't examine their minds and conscience but we might speak about it later on."
The issue of of who should receive communion was less controversial during Benedict's installation Mass in 2005, when the White House delegation was largely made up anti-abortion Catholics. The delegation included then-Florida Gov. Jeb Bush, then-Maryland Lt. Gov. Michael Steele, Knights of Columbus CEO Carl Anderson; Frank Hanley, president emeritus of the International Union of Operating Engineers, and Helen Alvary, who was an associate professor of law at Catholic University of America.
UPDATE: March 19 -- The White House has confirmed that Biden and Pelosi received communion during the papal Mass.
Before You Go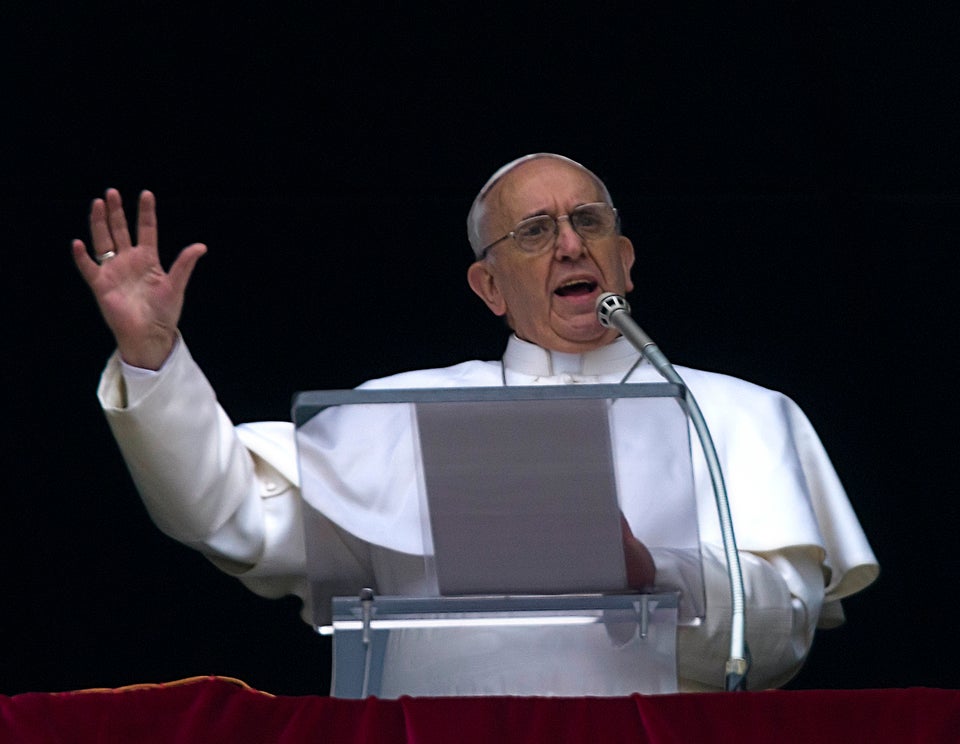 Pope Francis Angelus Prayer In St. Peter's Square
Popular in the Community