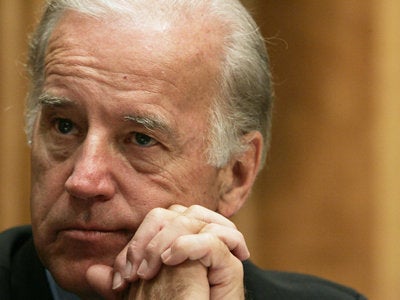 Minutes after he was chosen as Barack Obama's vice-presidential pick, Sen. Joseph Biden (D-Del) revealed that he has begun writing a 50,000-word acceptance speech, aides to the senator confirmed today.
The address, which Mr. Biden has been working on around the clock, is an abridged version of a 200,000-word acceptance speech that Mr. Biden wrote when he ran for President in 1988.
According to those familiar with the speech, the Delaware senator will begin delivering the speech on Wednesday night of the Democratic convention and conclude it on Thursday night.
Representatives of television news divisions said they were undecided as to how to cover the Biden speech, but none were willing to commit to covering the speech live in its entirety.
"We may wind up airing some of it on CNBC or maybe the USA Network, and then cut away to something else," said Carol Foyler on NBC News. "We're basically going to treat it like the hammer throw."
Mr. Biden, who was accused of plagiarizing a speech by a British politician when he ran for President in 1988, is unlikely to get caught doing that this time, according to one aide: "If there are some plagiarized bits in this speech, he'll stick them at the end after the audience has lost consciousness."
Andy Borowitz is a comedian and writer whose work appears in The New Yorker and The New York Times, and at his award-winning humor site, BorowitzReport.com. He hosts "Countdown to the Election, with special guests Joy Behar (The View) and Jeffrey Toobin (CNN, bestselling author of "The Nine") at the 92nd Street Y in NYC on October 22 at 8 PM. Student tickets half-price. For tickets go to 92y.org.
REAL LIFE. REAL NEWS. REAL VOICES.
Help us tell more of the stories that matter from voices that too often remain unheard.