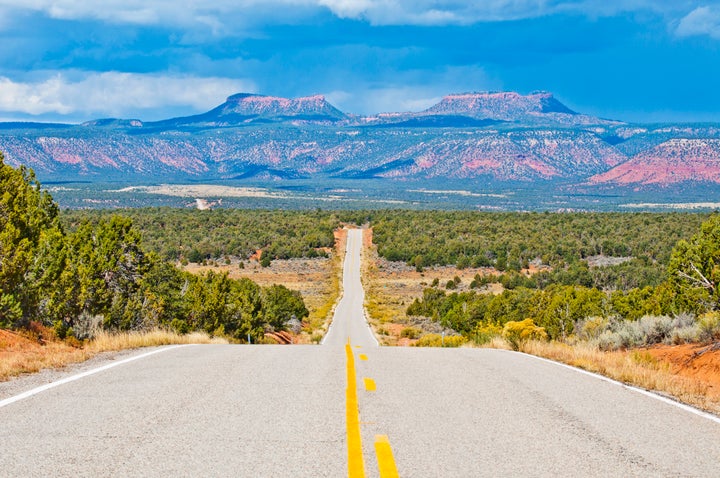 President Joe Biden signed proclamations Friday reversing former President Donald Trump's rollbacks of three national monuments — two in Utah and a third off the East Coast — restoring them to their original boundaries and reinstating more stringent protections.
The long-anticipated move fulfills a commitment that Biden and Vice President Kamala Harris made on the campaign trail. Their plan for tribal nations, released exactly one year ago today, included a commitment to "take immediate steps to reverse the Trump administration's assaults on America's natural treasures," including orders that drastically shrunk the Bears Ears and Grand Staircase-Escalante national monuments.
Five tribes — the Navajo Nation, the Hopi Tribe, the Ute Mountain Ute Tribe, the Pueblo of Zuni and the Ute Indian Tribe — consider the Bears Ears landscape sacred. It is home to more than 100,000 known cultural and archaeological sites, including ancient rock art panels and cliff dwellings.
"The protection of public lands must not become a pendulum that swings back and forth depending on who is in public office," Biden said at a signing ceremony Friday afternoon outside the White House. "It's not a partisan issue."
Biden emphasized that his actions are part of a broader administrative effort to safeguard vital ecosystems and combat global climate change.
"These protections provide a bridge to our past, but they also build a bridge to a safer, more sustainable future — one where we strengthen our economy and pass on a healthy planet to our children and our grandchildren," he said.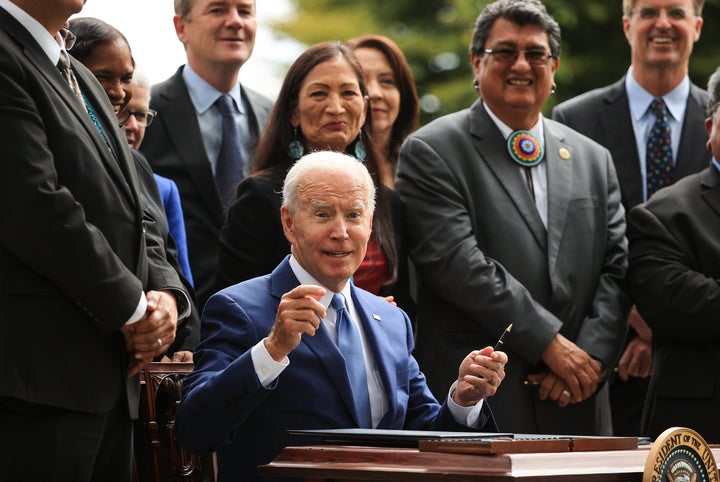 In 2017, Trump carved more than 2 million acres from the Utah sites — the largest rollback of federal land protections in U.S. history — and opened the door for oil, gas and mineral development. The boundary of Bears Ears, a 1.35 million-acre landscape named after a pair of twin buttes, was shrunk by 85%. The nearby 1.87 million-acre Grand Staircase-Escalante ― the largest land national monument in the country, rich in both archeological and paleontological resources ― was cut roughly in half.
Biden's orders restore both Utah monuments to their original footprint while retaining approximately 11,000 acres that Trump added to Bears Ears in 2017. They also reinstated prohibitions on commercial fishing within Northeast Canyons and Seamounts Marine National Monument, a 4,900-square-mile protected site off the East Coast, that Trump lifted in 2020.
Native American tribes and environmental groups had grown increasingly frustrated with Biden in recent weeks over what they saw as delayed action. In a Sept. 22 letter to the president, the Bears Ears Inter-Tribal Coalition, made up of the five Native American tribes that petitioned the Obama administration to establish Bears Ears, called on Biden to take "immediate action" to restore the monument and expand its boundary.
"The longer action is not taken, real harm, much permanent, is occurring on this sacred landscape," wrote coalition co-chairs Clark Tenakhongva, vice chairman of the Hopi Tribe, and Henry Stevens Jr., a representative of the Navajo Nation.
Dozens of progressive organizations sent their own letter Thursday in support of the coalition's demands.
"President Biden did the right thing restoring the Bears Ears National Monument," Shaun Chapoose, a coalition member and chairman of the Ute Indian Tribe Business Committee, said in a statement. "For us, the Monument never went away. We will always return to these lands to manage and care for our sacred sites, waters, and medicines. The Monument represents a historic opportunity for the federal government to learn and incorporate our tribal land management practices that we developed over centuries and are needed more now than ever."
Utah Republicans, however, were quick to condemn Biden's action. In a joint statement, the Utah congressional delegation called it "a devastating blow" to ongoing efforts to pinpoint a permanent, legislative solution.
"Yet again, Utah's national monuments are being used as a political football between administrations," Sen. Mitt Romney (R-Utah) wrote on Twitter.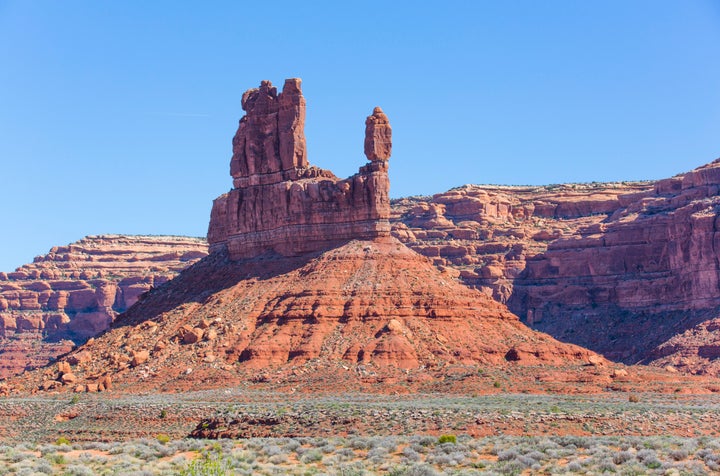 On his first day in office, Biden signed an executive order that directed the Interior Department to review Trump's decision to gut the sites, and to recommend whether to undo the changes.
Interior Secretary Deb Haaland submitted a report to the White House back in June, advising Biden to reexpand Bears Ears and Grand Staircase-Escalante as well as reinstate fishing restrictions in Northeast Canyons and Seamounts Marine National Monument. It took Biden nearly four months to act on her recommendation.
"I know there's a lot of folks who are anxious," Haaland told HuffPost on a call with reporters in late September. "I have every confidence that President Biden will do what he promises."
At Friday's signing ceremony, Haaland fought back tears as she thanked Biden and recalled spending time in Bears Ears.
"Bears Ears is a living landscape," she said. "When I've been there, I've felt the warmth and joy of ancestors who've cared for this special place since time immemorial."
Haaland's first trip as interior secretary was to the Utah monuments in April. There, she visited ancient petroglyphs and cliff dwellings and met with monument stakeholders, including tribal leaders who felt ignored and betrayed by the Trump administration's sham review and subsequent rollbacks.
"This is a place that must be protected in perpetuity for every American and every child of the world," Haaland said. "Today's announcement, it's not just about national monuments. It's about this administration centering the voices of Indigenous people and affirming the shared stewardship of this landscape with tribal nations."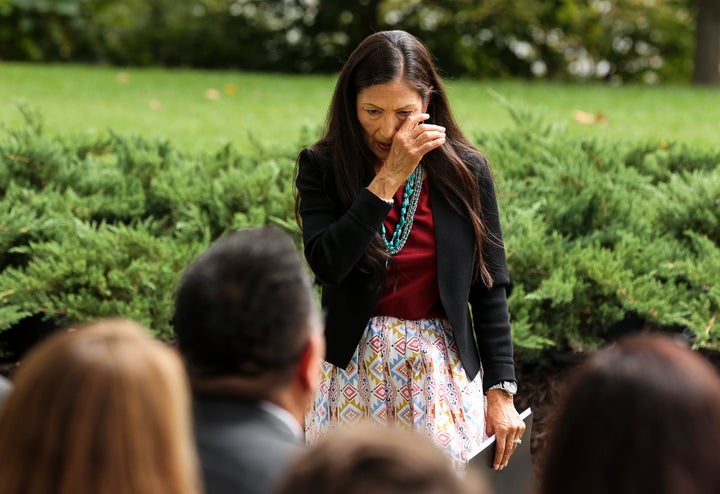 "The historical connection between Indigenous peoples and Bears Ears is undeniable; our Native American ancestors sustained themselves on the landscape since time immemorial and evidence of their rich lives is everywhere one looks," Haaland said in a statement ahead of Friday's signing ceremony. "This living landscape must be protected so that all Americans have the profound opportunity to learn and cherish our history."
A member of the Pueblo of Laguna of New Mexico, Haaland made history in March when she became the first Native American Cabinet secretary in U.S. history and the first Native American to lead the 172-year-old Interior Department. Her confirmation was a historic moment for Indigenous communities across the country, and Haaland has made investing in Indian Country a top priority.
In the nearly four years since Trump's rollbacks, hundreds of thousands of acres, and the archeological and cultural sites found on them, have been at increased risk from ballooning visitation and potential extractive development. The Trump-era rollback carved an estimated 74% of the known cultural and archaeological sites out of the Bears Ears boundary, according to the local conservation group Friends of Cedar Mesa. One archeologist told HuffPost that stripping these sites of the protections that the monument designation afforded was a "worst-case scenario."
In its recent letter to Biden, the tribal coalition included photos of rock art — a pair of human handprints — in Bears Ears before and after vandals covered it in mud. Since December, at least eight new hardrock mining claims have been staked on lands that Trump removed from Bears Ears, according to the coalition.
"Each day that passes without national monument protection for numerous sacred sites and irreplaceable cultural resources risks desecration, looting, vandalism, and misinformed visitation to an area that contains the exact kind of antiquities that inspired the creation of the Antiquities Act," the coalition's recent letter to Biden read. "These artifacts, considered by us to be messages our ancestors meant for us to see and incorporate as lessons into our present, are literally being erased."
Biden's proclamation on Bears Ears commits additional resources, including rangers and new informational signage, in order to better protect the area's resources and manage growing visitation.
Trump and his team repeatedly insisted their monument rollbacks were meant solely to correct what they described as a "federal land grab," rather than boosting energy and mineral development — claims that media reporting and internal documents contradicted.
In a video post to Twitter, former Interior Secretary Ryan Zinke, who spearheaded the Trump-era rollbacks, called Biden's decision "a slap in the face of trying to work with states and communities." When Zinke called on Trump to shrink Bears Ears in 2017, the Bears Ears Inter-Tribal Coalition condemned it as "a slap in the face to the members of our Tribes and an affront to Indian people all across the country."
While Trump's changes to the Utah monuments garnered the most attention, those made to Northeast Canyons and Seamounts Marine National Monument were equally dramatic. The site, located about 130 miles off Cape Cod, is home to ancient seafloor canyons and seamounts, endangered whales, deep ocean corals and numerous migratory fish species. Greenlighting commercial fishing undermined the very purpose of the designation: to protect and restore fisheries and other ocean resources.
"Protecting the New England marine monument is a win-win for both fishermen and healthy oceans, sustaining strong fisheries for years to come," Gib Brogan, a senior campaign manager at ocean advocacy group Oceana, said in a statement. "By permanently prohibiting destructive fishing in the Northeast Canyons and Seamounts and reinstating the protections, the hundreds of marine mammals that swim there will have reduced risk in the monument, including the critically endangered North Atlantic right whale."
Popular in the Community