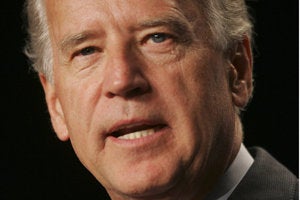 Joseph Biden, in a barnburner speech Wednesday morning, attacked John McCain on all aspects of foreign policy -- including the Republican's unwillingness to commit to a meeting with the prime minister of Spain.
"Last week, John McCain said he would not meet with the leader of Spain. Now folks, he would not meet with the leader of a NATO ally. A NATO ally who has Spanish forces in Afghanistan, who has forces fighting side by side with the U.S." said Biden. "Ladies and gentlemen, what kind of judgment is that? What kind of bluster is that? Ladies and gentleman, John McCain's notion about how to deal with our allies as well as adversaries is something I just don't understand. How in God's name will we deal with Russia, without a united NATO. Ladies and gentleman, John McCain has gotten it wrong on so many fundamental issues."
Biden was responding to an interview, last week, in which McCain seemed confused as to who exactly was the prime minister of Spain. Asked four times by a Spanish radio station whether he would meet with Jose Luis Rodriguez Zapatero, McCain simply said he would not welcome those willing to do harm to America. A day after the infamous interview, the Senator's foreign policy adviser Randy Scheunemann insisted that McCain meant what he said: he would not commit to sitting down with the Spanish leader.
On Wednesday, Biden belittled McCain for this as well as other "misguided" foreign policy positions. On Iran, the Delaware Democrat noted that "five former secretaries of state, including Henry Kissinger and Colin Powell," believe direct talks with country are in our interest. "John McCain" who opposes such dialogue, Biden added, "is the one who doesn't get it. So much for judgment."
On Iraq, Biden noted that now even the Bush administration and prime minister Nouri al-Malaki acknowledge -- to differing degrees -- the importance of having a time frame for troop withdrawal. "Only John McCain says no," he added. "John McCain is the only odd man out with Barack's plan."
And on Afghanistan, Biden ripped his Republican opponent for continually underestimating the significance of that country in the broader war on terror.
"In the run up to the war in Iraq, while Barack and I were saying this is going to be a disaster if we did not do things fundamentally different than what we were doing, John insisted, like Dick Cheney, that we would be greeted as liberators," said the Democratic vice presidential nominee, "that we didn't need a lot of troops... that victory was imminent. Then, he said he wasn't worried about Afghanistan... that we would 'muddle through' ... and then he declared Afghanistan to be 'a remarkable success.'"
The speech, delivered in Cincinnati, Ohio, had multiple crescendos, with Biden shifting between touting Obama's judgment and ridiculing McCain's. While much of the language had been used before on the stump, Biden's attacks were sharper in tone and more up-to-date than they have been in the past.
Since it comes amidst a week of terrible news on the economic front, it remains to be seen how this address will resonate. But keep in mind, on Friday, McCain and Obama will debate issues of foreign policy. And Biden's main goal, it seemed, was to set the stage for voters to feel comfortable with Obama leading the nation in the international arena.
"Ladies and gentleman," he concluded, "Barack Obama is ready to be Commander in Chief of the United States of America."
Calling all HuffPost superfans!
Sign up for membership to become a founding member and help shape HuffPost's next chapter