President Joe Biden, in a speech marking the anniversary of the 2021 U.S. Capitol riot, blasted the "shadow of lies" that led to a failed insurrection meant to nullify his election victory over Donald Trump, and condemned Republicans who continue to indulge Trump's falsehoods.
Biden's speech, delivered from Statuary Hall in the U.S. Capitol, amounted to a count-by-count debunking of Trump's lies about supposed widespread election fraud and what happened on Jan. 6. He noted that election officials across the country, as well as Trump's own attorney general, agreed Biden had won one of the most scrutinized elections in history.
"You can't love your country only when you win," Biden said. "You can't obey the law only when it is convenient. You can't be patriotic when you embrace and enable lies."
Biden did not use the event to push the Democratic Party's sweeping voting rights legislation ― he plans to travel to Georgia to deliver a speech on the proposed law next week.
"At this moment we must decide what kind of nation we are going to be," Biden said in Thursday's remarks. "Are we going to be a nation that accepts political violence as a norm? Are we going to be a nation where we allow partisan election officials to overturn the legally expressed will of the people? Are we going to be a nation that lives not by the light of the truth but in the shadow of lies?"
"We cannot allow ourselves to be that kind of nation," he concluded.
Biden returned to one of the signature themes of his presidency, framing the fight over Trump's lies as part of a struggle against authoritarianism around the world.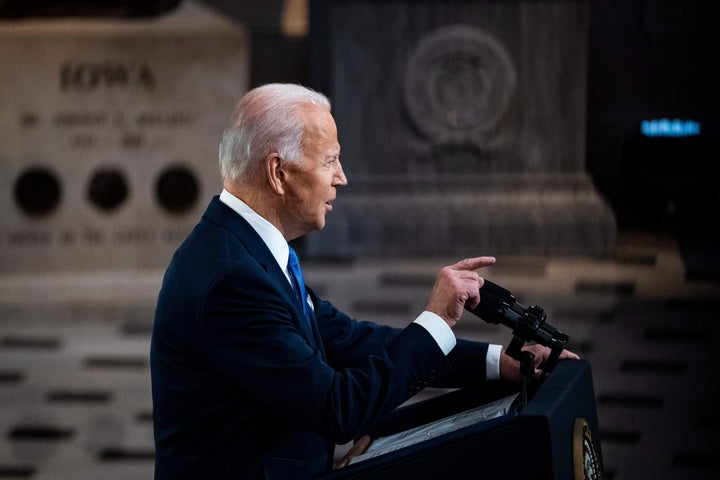 "We're engaged in a new struggle between democracy and autocracy, between the aspirations of the many and the greed of the few, between people's right of self-determination and self-serving autocrats," he said. "In China, Russia and beyond, they're betting democracy's days are numbered."
Biden never mentioned Trump by name, instead referring to him as a "defeated former president." He told reporters after the speech that he'd avoided using Trump's name because he "did not want to turn it into a contemporary political battle."
But the political battle came regardless. Trump released a statement claiming Biden was aiming "to further divide America."
Trump had announced his own plan to hold a press conference on Thursday, but he canceled that event after realizing it was unlikely to draw extensive television coverage.
Biden's speech is one of several planned events at the Capitol to commemorate the day of the attack and the ultimate certification of the Electoral College vote. Included on the schedule are a prayer vigil, a discussion with historians and a moment of silence. Across the country, right-wing groups are holding their own vigils intended to celebrate the rioters ― though mainstream congressional Republicans are largely avoiding those events.
Popular in the Community