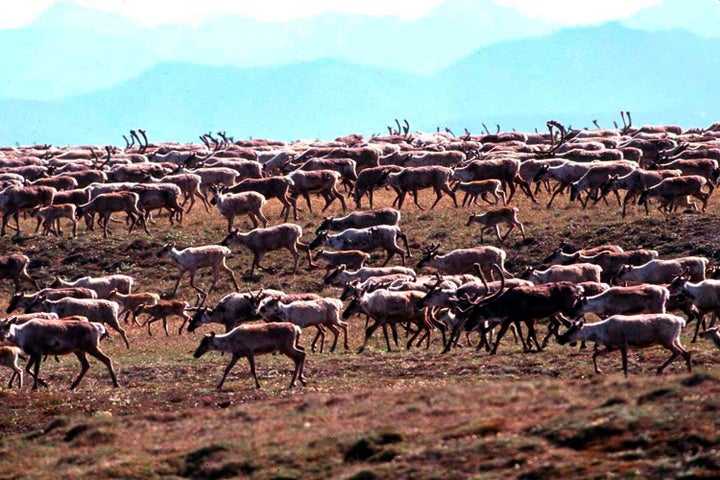 The Biden administration on Tuesday suspended all Trump-era oil and gas leases in Alaska's Arctic National Wildlife Refuge pending its own review of how fossil fuel drilling would impact the remote landscape.
The move, which Politico first reported, is a first step toward fulfilling the president's campaign promise to "reverse the Trump administration's assaults on America's natural treasures, including by reversing Trump's attacks on the Arctic National Wildlife Refuge."
The announcement comes days after Biden administration drew outrage from climate and environmental groups after throwing its support behind the so-called Willow Project, a massive, 30-year oil and gas project in Alaska's National Petroleum Reserve. Many view that project as wildly out of sync with Biden's pledge to transition the country away from planet-warming fossil fuels.
Former President Donald Trump and his team made greenlighting oil development in the Arctic refuge a top priority, and in its final two weeks in office followed through on selling off drilling rights. The lease sale was a major flop, with just three entities — two small oil companies and an Alaska state-owned economic development corporation ― bidding on roughly half of the 1.09 million acres up for grabs. The sale brought in just $14.4 million, less than 1% of the administration's estimate that oil and gas development in the refuge would generate $1.8 billion in federal revenue over a decade.
The Biden review will determine whether approved leases "should be reaffirmed, voided, or subject to additional mitigation measures," the Interior Department said in its announcement.
The refuge, often described as "America's Serengeti," covers more than 19 million acres. It is home to polar bears, caribou, moose and hundreds of species of migratory birds and is sacred to the Gwich'in people, an Indigenous tribe of northern Alaska and Canada.
Republicans and energy companies have tried for decades to gain access to the oil reserves beneath the refuge's coastal plain, known as the "1002 Area." The GOP tax law that Congress passed in late 2017 included a provision, introduced by Sen. Lisa Murkowski (R-Alaska), requiring the Interior Department to approve at least two lease sales for drilling — each covering no less than 400,000 acres.
Indigenous and conservation groups applauded Tuesday's news as a step in the right direction, but urged Biden to make it permanent.
"The Gwich'in Nation is grateful and heartened by the news that the Biden administration has acted again on its commitment to protecting sacred lands and the Gwich'in way of life," Bernadette Demientieff, executive director of the Gwich'in Steering Committee, said in a statement. "After fighting so hard to protect these lands and the Porcupine caribou herd, trusting the guidance of our ancestors and elders, and the allyship of people around the world, we can now look for further action by the administration and to Congress to repeal the leasing program."
The White House declined to comment Tuesday.
Support HuffPost
The Stakes Have Never Been Higher
Popular in the Community