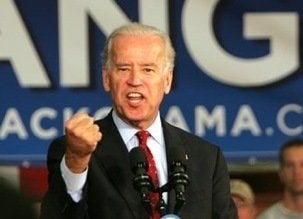 (AP) - Vice President Joe Biden went to the state where he was born Tuesday to plead to a university crowd to take tea party candidates seriously, or lose the opportunity to build on the progress Democrats have made the past two years.
With Republicans pointing to net job losses since President Barack Obama took office, Biden warned that Democrats will lose an election if voters are driven by anger over how they have fared during the recession.
"Folks, if we allow this to be a referendum on whether people are happy about where they are now, we will lose and we will deserve to lose," Biden told a crowd of more than a thousand on the campus of Penn State, Pennsylvania's largest university.
Democrats, he said, must make the election a choice between their progress and a "Republican tea party" that will bring Obama's agenda to a screeching halt if they take back the House and Senate.
"If we don't taken them seriously, they mean what they say," Biden said. "And the only thing that can allow them to win is our apathy or our anger, instead of going out there and making this is a choice."
Biden's speech was timed to coincide with similar appearances by Obama and other Democrats to try to rekindle the enthusiasm of young voters five weeks away from the Nov. 2 midterm election.
This year, Pennsylvania is a priority for the national parties because of its closely contested race for the U.S. Senate seat being vacated by Arlen Specter.
A Quinnipiac University poll last week showed Republican Pat Toomey with an apparent lead over Democrat Joe Sestak in that race.
Biden touted a variety of steps made by the Obama administration to help younger voters, such as protecting college students from the predatory practices of credit card companies, allowing them to remain insured by their parents' health care plans until they're 26 and expanding access to college grants and loans.
Two Penn State students in the crowd, Andrew Goga and David Knoppers, both 20, cited "politics as usual" and mudslinging as reasons why enthusiasm among the college crowd has waned since Obama was elected in 2008.
"Everyone was so excited for Obama because he was young and promised change, and now everyone realizes it was politics as usual," said Goga.
A union bricklayer at the event, Jamie Yurick, 33, showed up with his wife, two small children and a number of other members of an area labor council. The two biggest hurdles he said he has in convincing his union brothers to vote for Democrats is assuring them they won't lose their guns and that the economy is cyclical and turning around.
Calling all HuffPost superfans!
Sign up for membership to become a founding member and help shape HuffPost's next chapter