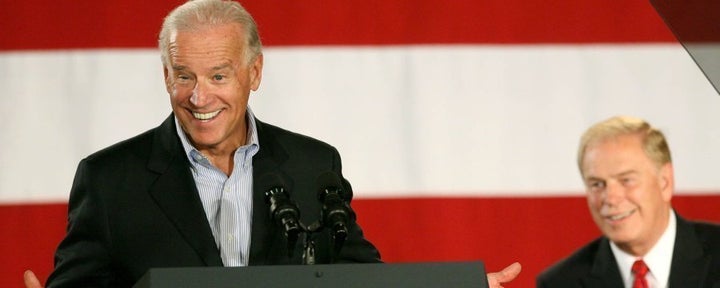 UPDATE: The reporter who was kept in a closet during a fundraiser by Joe Biden's staff wrote a blog post on Monday, explaining what happened to him.
Scott Powers said he went into the closet (the Biden team called it a "storage" space) voluntarily, and was offered food. He wrote, "I sat to wait, mistakenly thinking it would be only a few minutes. The door wasn't locked, though every time I opened it and stepped out to see what was going on a staffer told me I couldn't come out yet. He'd let me know."
Powers said he grew "impatient and annoyed," and sent a picture of the room to his editor, who wrote a blog post which said he had been "consigned to a storage closet" and prevented from leaving.
ORIGINAL POST: Joe Biden's communications team apologized to a reporter after his staff kept the journalist in a closet during a fundraiser last week.
Scott Powers, a writer for the Orlando Sentinel, was serving as the pool reporter for a fundraiser in Florida, where Biden was appearing to raise money on behalf of Sen. Bill Nelson on Wednesday. Powers arrived before Biden did. But to keep him from talking to the many high-profile guests at the event, a member of Biden's staff placed Powers in a storage closet and stood guard outside the door until she deemed it "safe" for Powers to emerge.
Powers relayed this story to the Sentinel on Wednesday, but it only gained widespread attention over the weekend, after he spoke to other news outlets about his ordeal.
According to ABC News' Jake Tapper, Biden spokeswoman Elizabeth Alexander sent a note to Powers reading, "Scott - You have our sincere apologies for the lack of a better hold room today." (A hold room is a place where reporters are directed to stay in during events at private functions.) In a note to ABC on Sunday, Alexander said that the incident was "the unfortunate mistake of an inexperienced staffer and the Vice President's office has made sure it will never happen again."
Powers was also scheduled to speak to "Good Morning America" on Monday.
Related
Popular in the Community