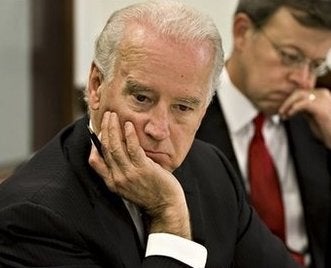 Politico's Mike Allen is previewing an article set to appear in Sunday's Las Vegas Sun about Harry Reid's efforts to roll back the Vice President's expanded role under Dick Cheney by barring Joe Biden from Senate Democratic caucus meetings:
"The new Congress will reassert its constitutional independence from the White House by barring the vice president from joining in internal Senate deliberations, Senate Majority Leader Harry Reid said in an interview with The Sun. The move is intended to restore checks and balances to a system that tilted heavily toward the White House in the Bush presidency. By giving Vice President Dick Cheney regular access to Senate Republican caucuses, at times with White House advisers in tow, party unity became more important to many Republicans than upholding their responsibilities to provide legislative oversight of the executive, experts say. Asked if Vice-President Joe Biden will be allowed to attend Senate Democratic caucus meetings, Reid said: 'Absolutely not.'" Must credit Las Vegas Sun. Full story 2 a.m. Sunday at http://www.lasvegassun.com/
ABC's Jake Tapper reports that the Biden camp has already signaled their agreement with Reid:
Biden spokesperson Elizabeth Alexander notes that Biden had "no intention" of going to the meetings anyway and there is no conflict at all between him and Reid.

"Vice President-elect Biden had no intention of continuing this practice started by Vice President Cheney of regularly attending internal legislative branch meetings," she told ABC News. "He firmly believes in restoring the Office of the vice president to its historical role. He and Sen. Reid see eye to eye on this."
Popular in the Community