At every rally on the campaign trail, Vice President-elect Joe Biden concluded his speeches with the inspirational words of his father.

"Any time you get knocked down, champ, get up!" Biden recalled his father telling him as a young boy.

Clearly the refrain resonated with Biden's granddaughters.
It seems President-elect Barack Obama's children were not the only ones promised a dog after the presidential election. Biden's wife, Jill, made the same assurance to her husband if he and Obama, his running mate, won the election.

Jill Biden had taped pictures of different dogs on the back of the seat in front of Biden on his campaign plane to inspire the candidate as he crisscrossed the country in the final sprint to election day, according to published reports during the campaign.

Saturday, Biden selected a three-month-old male German shepherd from one of Brown's litters, a puppy that will turn out to be a "big boy," Brown said with a chuckle.

"He is the nicest person on this earth," Brown said about her meeting with Biden, the Democratic senator from Delaware, now getting ready to take over the office of vice president.

....Biden's granddaughters will name the puppy, Brown said the vice president-elect told her.
The statement from Biden's office, according to Us Weekly: "The Vice President-elect previously owned three other German Shepherds so he's familiar with the breed and its personality."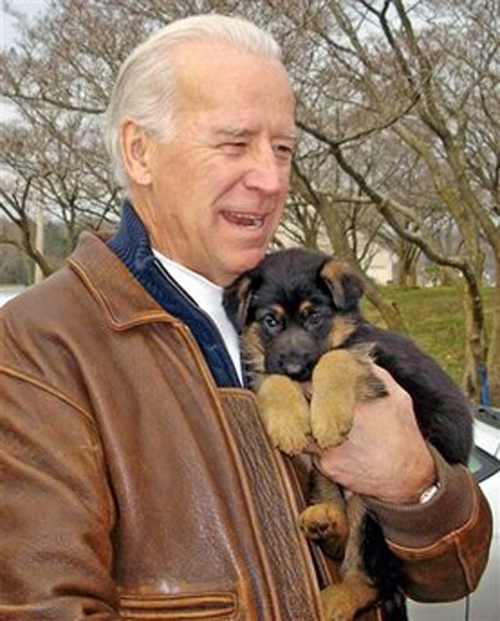 And these photos of the dog from the Daily Local News: