Pattie Mallette, also know as "Justin Bieber's Mom," came to New York this week to meet with teens at Covenant House, a youth homeless shelter that aims to provide essential services to homeless and runaway teens. Mallette might be known for her pop star son, and her two million plus twitter followers who refer to her as "mom," might be a result from her son's fame, but she is taking a valuable opportunity from it all.
Mallette's childhood was anything from glamorous. From sexual abuse to depression to drug use, which all cumulated, leading to her become a teen mom. In a new version of her New York Times bestselling book, Nowhere but Up: The Story of Justin Bieber's Mom, Mallette with A.J. Gregory rewrote the intense book for a teen audience. Sharing her personal stories of struggles, she hopes to inspire teens and show them that no matter if you have hit rock bottom, there's always a way up.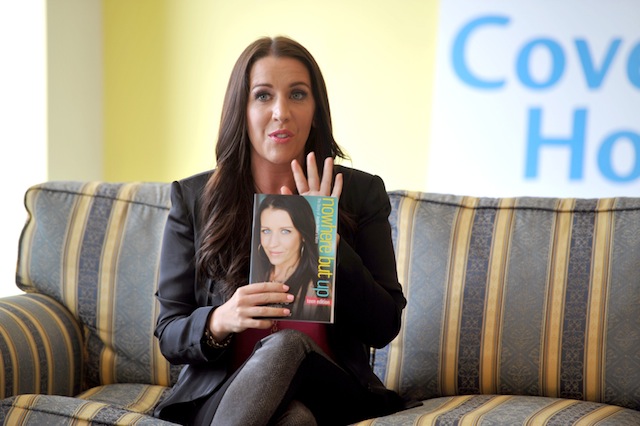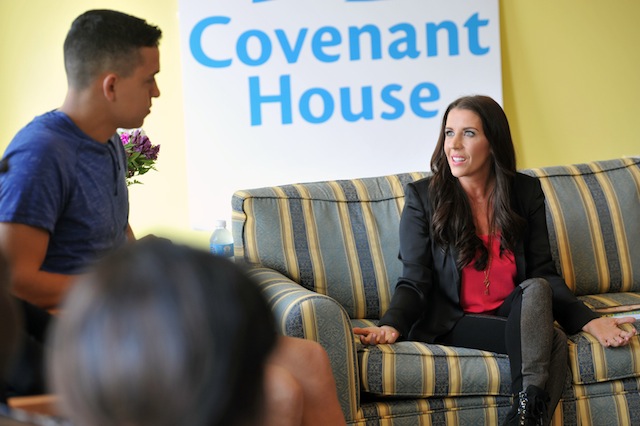 Pattie Mallette sat down with me for an in-depth interview.
Hi Pattie. Thank you for chatting with me for a bit. Your book originally debuted in September of 2012, why did you feel the need to do a teen edition of the book?
With so many teenagers and over two million twitter followers that call me mom, I just feel a responsibility to be able to respond to that and I just have a real heart for them.
You just finished one of your meet and greet here at Covenant House in NYC, is that something you are going to continue to do to promote your book?
Yes, it's definitely something that I want to do, I have been doing this even before I had a book so it's just something that I enjoy doing.
In your book, it states that you overcame a lot as a teen. Can you relate to some of the teens that you just met upstairs?
Definitely. I just visited the Dream Center, which is similar to Covenant House in many ways and I remember my first response, in tears, on my tour, thinking, "wow, this was me back then," and it's so amazing to see a place like this that takes in teenagers and helps them get on their feet.
You stayed in a place similar to Covenant House as a teen, correct?
Yes, I stayed in a crisis pregnancy center when I was pregnant with Justin.
There are a lot of heavy topics in your book, which you managed to overcome. Focusing on just one of them, lets talk about depression. What are some warning signs teens should look out for and what should they do if they feel they are depressed?
Well I think there is a difference between being sad and being depressed, and when your sadness is really prolonged and really intensified, it's something to pay attention to and maybe it's time to see a professional. There's so many symptoms and warning signs, and I think if you suspect it, it's important to talk to someone.
Some of the teens upstairs brought their babies with them, or talked about their personal stories of being teen parents. How did that make you feel?
I can just relate so much, they were me. My heart just breaks for them but it's also really moving and exciting to know that they have an amazing place like this that helps them be successful.
You have a lot of twitter followers, and they are all relatively young, most likely due to the fact that your son is Justin Bieber, was that important factor for you wanting to inspire young people?
Obviously they are because of him! One of the most amazing things to me about the platform that Justin has is now the ability for me to be able to use it to do good. I've always wanted to help inspire people through telling my story and now I get to do that on a much larger scale. I'm always having teenagers tweet me and ask me for advice, or ask questions or share their stories with me. And since I always had people share their stories with me when I was younger, I felt it was really important for me to let them know that I've been where they are.
Justin wrote the foreword of your book, and he said a lot of amazing things about you. That was pretty special for you, right?
Yes, it's really important for me to have his support in what I am doing especially since he is such a big part of my story but just the words that he used and to hear him say that I'm the strongest woman he's ever met, really moved me.
Justin is an adult now. Do you still give him advice or does he listen to your guidance anymore?
You know, as your adult child moves out and goes off to college or whatever they do, your parenting style changes. Of course I still talk to him, and I call him everyday and I text him, and yes, we talk. I definitely let him know what I think, and he knows how I feel about it all.
So who or what do you credit to your overcoming of your troubled youth?
I credit some amazing people that stepped up to be involved in my life and also my faith plays a big part in it all. I just refused to give up and I really fought for me.
In the new version of the book, there are added sidebars and discussion questions for teens in the back. Is there more to it?
It's still me telling my story, but I imagined myself talking to a teenager when I wrote it, so it's age appropriate. Some of the rougher details are left out, but essentially it's my story with added statistics and resources like hotlines for them to be able to find.
You've also taken this all a step further and helped start a new foundation. Tell me more about Round 2 Foundation.
The idea behind Round 2 is that when you get knocked down in round one of life, we can help with round two. We are going to be doing all kinds of things, some dealing with addiction, cutting, teen pregnancies, etc. One of the first campaigns we are doing is called, Speak Up, Listen Up. We are really encouraging people to stop keeping things bottled up inside and to share their story with someone. One of the first things that we want to do is provide counseling for those who can't afford it.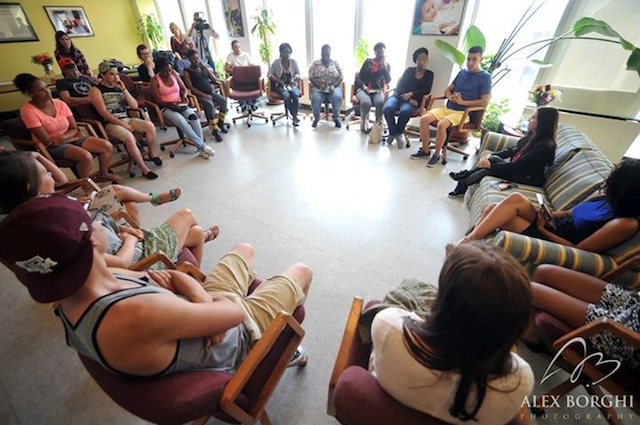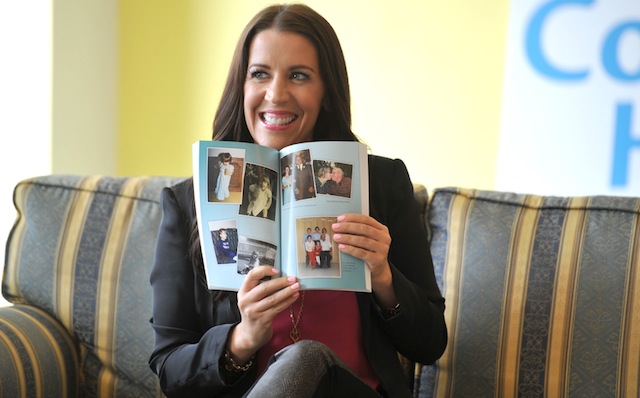 Mallette's new book is on sale now.
Photos courtesy of Alex Borghi.
Calling all HuffPost superfans!
Sign up for membership to become a founding member and help shape HuffPost's next chapter