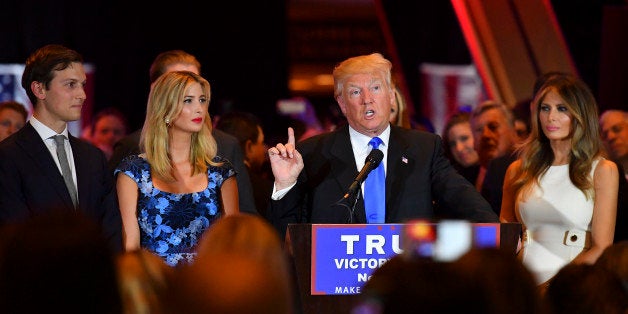 Businessman Donald Trump is the Republican Party's presumptive nominee for president, but can he unite the party? Now that Texas Senator Ted Cruz has suspended his campaign, can he endorse the man he called a "pathological liar" and "utterly amoral"? Now that Governor Kasich is suspending his campaign, will the party come together and enthusiastically support its standard-barer?
In his victory speech Tuesday night, Trump had nothing but praise for the man he only hours earlier called "lying" Ted Cruz. "He is one tough competitor," Trump said. "He is a smart tough guy." But Cruz did not mention Trump's name in his concession speech. Instead, he positioned himself as the leader of the conservative movement. "I am not suspending our fight to defend the Constitution, to defend the Judea-Christian values that built America," he said. "Our efforts will continue and I give you my word that I will continue this fight with all of my strength and all of my ability."
Republican National Committee Chairman Reince Preibus is going to have an enormous challenge bringing his party together. Right after Trump was declared the winner in Indiana Tuesday evening, Preibus tweeted, "@realDonaldTrump will be presumptive @GOP nominee, we all need to unite and focus on defeating @HillaryClinton." However, the burden of uniting the GOP will fall heaviest on Trump, who told NBC's Today, "I am confident that I can unite much of it." But he added, "Honestly, there are some people I really don't want. I don't think it's necessary. People would be voting for me, they're not voting for the party."
Fortunately for Trump, this is politics, so even his harshest critics within the party will unashamedly put principle aside and endorse him if they believe it helps them in some way. Who better than the author of The Art of the Deal to win people over. But Trump's no holds barred campaign has burned a lot of bridges with large segments of the general population.
For instance, Trump will have to negotiate with Latinos, many of whom he has alienated with his constant attacks on Mexico. "When Mexico sends its people, they're not sending their best," he said in his presidential campaign announcement last June. "They're sending people that have lots of problems, and they're bringing those problems with us. They're bringing drugs. They're bringing crime. They're rapists. And some, I assume, are good people," he added.
Latino groups project at least 13.1 million Hispanics will vote this election compared to about 10 million in 2008. A record 27.3 million Latinos will be eligible to vote, up from 19.5 million eight years ago. In a recent national poll of Hispanics conducted by Latino Decisions, 79% of the respondents had a very unfavorable opinion of Trump. This result is ominous because Republican Mitt Romney received only 27% of the Latino vote in his huge loss to President Barack Obama in 2012. It is hard to believe that Trump could do as well this November as Romney did four years ago. And Trump will never reach the 37% mark that President George W. Bush received in his contested victory in 2000.
Women do not like Trump. According to a Gallup poll released last month Trump had a 70% unfavorable rating with women as compared to a 23% favorable rating. Trump has made numerous comments that have outraged women. Of then opponent Carly Fiorina, Trump said, "Look at that face. Would anyone vote for that?" Trump also called for women to be punished for getting abortions in an interview with MSNBC in March, but reversed his position after the firestorm he created. Overall, Trump is going to have to deal with this problem because considerably more women vote in national elections than do men. And winning only the white male blue-collar vote is not enough to win the presidency.
In his Trump tirade Tuesday, Senator Cruz pointed out that the Back to the Future character, Biff Tannen, was based on Trump, a "caricature of a braggadocios, arrogant buffoon." He concluded, "We are looking, potentially, at the Biff Tannen presidency."
You can never count anyone out, least of all Donald Trump. And November is a long way off, so anything can happen. However, if the campaign is limited to debates over woman's issues, foreign policy and actual experience with Congress and the executive branch, likely Democratic opponent Hillary Clinton will have the advantage.
But Trump is unpredictable and unconventional. And the battlefield is littered with candidates who thought they could beat him. Guess Donald Trump is no buffoon.
REAL LIFE. REAL NEWS. REAL VOICES.
Help us tell more of the stories that matter from voices that too often remain unheard.