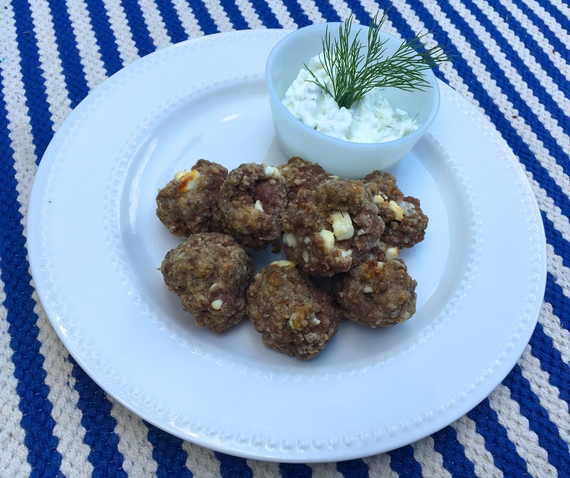 Greek-themed food is my favorite thing right now! It is the pregnancy craving of the moment. If it has feta cheese in it, I'm there! Tzatziki sauce, kalamatas...even better!! Bifteki is a Greek food I have made several times before. It is, by definition, simply a Greek stuffed hamburger. You really can't go wrong with that type of dish! It would be hard not to please anyone with cheese-stuffed beef.
Tonight, I decided to change up the recipe a bit. Instead of doing the larger Biftekis as usual, I cooked a more fun, bite-sized version of this Greek favorite. Here is what I came up with:
Recipe:
1 lb.Ground Beef
1 container Feta Cheese
1 Egg
1/2 cup Plain Bread Crumbs
1 clove minced Garlic
1 Tbsp chopped Fresh Dill
1/2 teaspoon Cumin
Salt and Pepper to taste
1. Preheat the oven to 400 degrees.
2. Mix all ingredients with your hand in a large mixing bowl.
3. Line a sided roasting pan or cookie sheet with parchment paper.
4. Form meatballs (about golf ball size) out of the mixture and place onto the pan.
5. Bake in the oven for 15-20 minutes and serve hot.
1 cup Plain Greek Yogurt
1/2 Cucumber (peeled)
1 clove Garlic
about 1 Tbsp Fresh Dill
1. In a food processor, blend the cucumber, garlic and dill until just ground up.
2. Blot mixture with a paper towel to soak in excess moisture.
3. In a decorative bowl, combine the yogurt with the cucumber mixture and serve.
I served mine with toasted naan and very ripe tomato slices. Not pictured: sautéed whole okra from the farmer's market. This meal was the essence of summer!
I know what its like to have just no ideas for what to cook for dinner on a weeknight. It still happens to me frequently, and I write a food blog! Ha! This whole meal was pretty simple to throw together. Try it out soon on your family and see if you can't please even the pickiest palates!