On the first media day for the upcoming college football season, Big 12 Football Commissioner Bob Bowlsby opened his press conference with a clear yet paradoxical message: The Big 12 is dedicated to ending sexual assault on college campuses, but there's only so much to be done considering intoxicated, hormonally-charged college kids are always going to commit at least a little rape.
But let it suffice to say as it pertains to all of our institutions, we are very committed as a group of 10 schools to eradicating sexual assault on our campuses. It almost goes without saying that when you combine alcohol and drugs and raging hormones and the experiences of 18 to 22 years old, it's probably unrealistic to think that these kinds of things are never going to happen.
Let's make this clear: Alcohol, drugs, "raging hormones," and the "experiences" a college student face do not cause rape. A perpetrator taking advantage of an intoxicated person causes rape. Putting substance usage and "raging hormones" at the forefront as to why rape occurs leads to victim-blaming, which then serves to diminish the sickening reality of a perpetrator's crime.
To say that "we are very committed as a group of 10 schools to eradicating sexual assault" and immediately follow up by stating that commitment isn't actually realistic because college kids like to drink, do drugs and party, is highly contradictory. And, from Bowlsby's position, it's irresponsible.
One would hope that the Big 12 commissioner would attempt to gain an understanding of campus sexual assault dynamics beyond the popular yet misguided and highly contrived "reasons" why campus rape happens. One would hope that, as a man with daughters, he'd know better. One would hope that the Big 12 commissioner, of all people, would educate himself in light of Baylor's sexual assault scandal, because it's literally part of his job.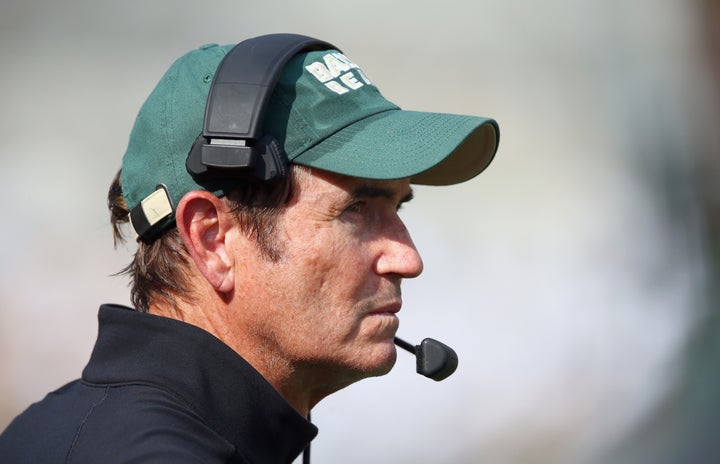 Bowlsby told Sports Illustrated that he knows more about the scandal than the public does after meeting with the school's administration. But he hasn't released any additional information.
If the Big 12 chooses to reveal more graphic or disturbing details beyond the cursory Baylor report, Bowlsby must learn why and how campus sexual assault actually happens, or else he'll simply view and disseminate that information from the same ill-informed lens.
When the men at the top don't understand campus sexual assault, that's how rape culture perpetuates. Right now, Bowlsby is one of those men.
Related
Popular in the Community