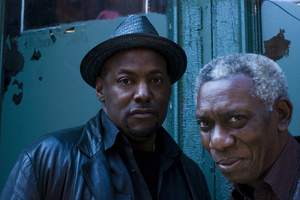 Artist: Tomás Doncker Band
Album: Big Apple Blues
Genre: Blues, Soul
Release Date: October 21, 2014
Reviewer: Brandi Andres
Rating: 8.2
From the big-hitting opening of Big Apple Blues' title track, to the Motown-esque groove of the album's last song, "Fun City", Tomás Doncker's soulful voice and musical arrangements reverberate in the ear like a fervent preacher reciting scripture on a Sunday at church. It's moving. Add to that the lyrical injection of Pulitzer Prize-winning poet Yusef Komunyakaa and you get an album that's faithfully committed to making the kind of impact that leaves a lasting impression on its listeners.
A long-time fixture in New York's music scene, Doncker made a name for himself as a guitarist in the genre-busting "no wave" movement of the 1980s. He's since collaborated as a musician, producer and song writer with a variety of iconic artists, the likes of Bonnie Raitt, Meshell Ndegeocello and Yoko Ono. This is the second time Doncker has worked with Komunyakaa (the first was on the Ndegeocello project), whom New York Times' Bruce Weber once called a "Wordsworthian type," with a "worldly, philosophic mind."
Fast forward some time down the road, and Doncker is now working to define his own genre-inclusive "global soul" style, which he says is a "unified rhythm of heart beats creating a positive, spiritually uplifting force for good." While the concept of this new style sounds lovely, there's no denying that the music on this album leans heavily toward an instrumental blend of urban and southern blues, rather than a global sound. Big Apple Blues is, after all, a follow-up to Doncker's 2014 album Moanin' at Midnight: The Howlin' Wolf Project, inspired by the Chicago blues legend.
Regardless of what the style is called, one thing is sure, the songs lend themselves to a believably entertaining live performance. To get a real feel for the album, you'll have to give it a few listens. It's not a one and done kind of thing.
Doncker's instrument of choice is electric guitar, and he plays it as competently as any professional should with a few edgy riffs and wailing notes to complement the bluesy sound. Some sounds can even be likened to Jimi Hendrix. Aside from a few minor pitch problems in Doncker's vocal embellishments, which likely could have been tweaked in editing, the raw vocals are rich and sincere.
Many of the songs are doused with a sort of melancholy that's reminiscent of the blues, but the thought-provoking lyrics also have the ability to invoke a tinge of hope, as is the case in "The New Day." The album's tenth track, "Fun City," invites a sense of nostalgia, as it depicts the demise of the once-spectacular scene of NYC's 42nd Street, which is now ruled by corporate culture.
With the addition of some smooth accompaniments, including harmonica, keyboards, horns and strings, to fill out the sound, Big Apple Blues serves up an appetizing platter of tunes about life's ups and downs in the big city.
Calling all HuffPost superfans!
Sign up for membership to become a founding member and help shape HuffPost's next chapter