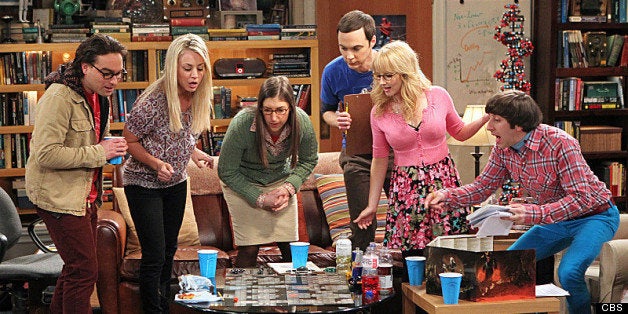 Even without most of its cast in attendance, "The Big Bang Theory" managed to pack Comic-Con's second largest room with a panel featuring the writers and executive producers, and showrunner Steve Molaro admitted that while there's no set formula for the series' runaway success, he believes it's a combination of cast, writing and syndication that has seen "Big Bang" get even bigger.
What are your feelings on Season 6 in hindsight? What stood out for you from the year?
Galecki: It's my personal favorite season. I think [Steve's] said this before -- it's less about the relationships with science and more about the relationships. And after five or so seasons of doing a lot of science jargon, it's really nice, just selfishly as an actor, to play some really nice subtly emotional scenes.
Molaro: And those things aren't going away -- the geekery, the science, that'll always be in the background, but it's nice to explore these characters and let them grow and let their relationships grow. There were some really nice moments between all of them in Season 6 I think.
Galecki: It was time, it was earned, and you have to, in this format of comedy I think, really earn that.
What can we expect from Season 7?
Molaro: We will see Leonard on the ship ...
Galecki: Shot on location in the North Sea, I hope?
Molaro: Shot in the North Sea of Burbank. He comes back pretty quickly. In Leonard's absence, Penny [Kaley Cuoco] and Sheldon [Jim Parsons] become closer. Early on, we'll see Bernadette and Amy [Mayim Bialik] spend some time alone without Penny and take a little trip together. Kooth [Kunal Nayyar] can speak to women without alcohol now, so we're poking at that.
What about Bernadette and Howard's (Simon Helberg) relationship? Could there be a baby on the way?
Galecki: [Turns to Rauch] On the show.
Rauch: Oh, I just wanted to ask him about my personal life -- am I pregnant, Steve? [Laughs.]
Molaro: Bernadette's not in any rush to have children, and I think the same goes for us on the show. It changes things. Maybe someday.
Galecki: We could jump five or six years!
Molaro: No rush into babies for anyone at this time
Any plans to bring any of the characters' previously unseen family members into the fold any time soon?
Molaro: There are no immediate plans, but there are certainly characters that we would love to see someday. We've met Penny's dad, we've never met Penny's mom; Leonard's got a sister and a brother and a dad; Sheldon's got Meemaw; there are quite a few people floating around. We met Bernadette's parents, and Howard's mom, we certainly know well.
Galecki: There was a scene that we shot, and I don't know whether we reshot it -- I think it just got trimmed in editing -- a telephone conversation between Leonard and his mother, and there was mention that his father had passed.
Molaro: Did he pass or did they get divorced?
Galecki: I feel like you cut ... it got re-edited and that part was lifted out of the conversation and I was so excited. And that's when I pitched Lewis Black to be on the show, in the hopes that you guys would cast him as Leonard's dad. I just thought that his fire and [Christine] Baranski's ice would just be really fun to play with. And then they put him in a scene that I wasn't even in as a professor. [Laughs.] I need a father figure personally, is what it is.
Rauch: I'll be your father figure.
Galecki: [Singing] Put your tiny hand in mine
Rauch: [Singing] The cat's in the cradle and the silver spoon …
Things just took a turn ...
Galecki and Rauch: They always do. [Laugh.]
Sheldon and Amy went a lot further in their relationship than I think anyone was expecting last season, thanks to that Dungeons and Dragons episode. Is it going to keep chugging along as it has been?
Molaro: I think it will keep going along at their snail's pace which, to Sheldon, is not a snail's pace at all. So it's all the perspective you're looking at it from.
Do you foresee them ever actually having sex? There seem to be a few people in the fanbase who are vehemently against that idea.
Molaro: It's a subject that people have a lot of strong feelings about. It comes up [in the writers' room]. There's no definitive plan in place, but they're heading towards something and we'll just watch where it goes. Sometimes we let the characters tell us where it feels like they want to go, and we've made it this far doing that.
"The Big Bang Theory" is still earning Emmy nominations and actually building on its audience, which rarely happens to a show in its sixth season. What do you think it is that's still hooking people and actually attracting new viewers? Do you feel like you've found your groove in terms of the acting and writing?
Galecki: I don't know if anyone knows where the groove is -- there's no recipe. It's a group that doesn't rest on any laurels and so any of this attention or these accolades, it just raises the bar for us to work harder. We've never been, and I don't think it's a group that ever feel[s] like, "Now we can relax." We'll show up even earlier.
Molaro: I think it's a little bit of everything -- it's this incredible cast; I think we hit some really strong character growth in Season 6; it's on in syndication a lot which has brought new eyeballs. It's hard to pin down exactly why, but it's a mix of all those things.
You guys have already had some incredible guest stars. Is there anyone else you're still hoping for in Season 7?
Rauch: I really want that Johnny Galecki guy.
Molaro: Overrated. [Laughs.] Zachary Quinto has said to us that he'd be very interested in being on the show -- we would love to have him. There's nothing set in place yet but we're hopeful that that can happen.
Galecki: I think if Howard's father ever shows up, it's gotta be Ringo Starr.
Molaro: As Ringo?
Galecki: Maybe he was touring ...
Rauch: It's hard to top the ones we've had.
Galecki: Arianna Huffington. I do, by the way, have a long-running, massive crush on Arianna.
Rauch: Kaley has brought up that she would love Lisa Kudrow to play her mother, and I think that's a fantastic casting choice. Bob Newhart was such a highlight for me.
Molaro: You're very into pornography, are there any porn stars you'd like?
Rauch: I've invited Ron Jeremy to be on this show so many times. I've asked Jenna Jameson to stand in for me, and nothing.
Molaro: That was a joke, in case it didn't translate in print.
Rauch: I was able to name two porn stars!
PHOTO GALLERY
'The Big Bang Theory'
Calling all HuffPost superfans!
Sign up for membership to become a founding member and help shape HuffPost's next chapter