The seventh meeting of the Big Bang Forum, a private gathering of music, media and entertainment executives discussing important new trends, evolving technologies and the future, took place on the first of June. The latest session was especially exhilarating; with eye opening presentations and one of the most well respected and engaged audiences we've ever had. The overarching theme voiced by both speakers and attendees was embracing those that do it best. No longer are companies struggling to reinvent the wheel or bring lawsuits to prevent "unauthorized" use. Now, from hackathons to partnerships, smart companies are encouraging innovation no matter where it comes from.
The first guest speaker set the tone for a provocative session. Thomas Goetz, Executive Editor of Wired Magazine, gave a presentation called, "How To Spot The Future: 7 Rules for identifying the trends, technologies, and ideas that will change the world." This was a live presentation of an article by the same name in the most recent edition of Wired.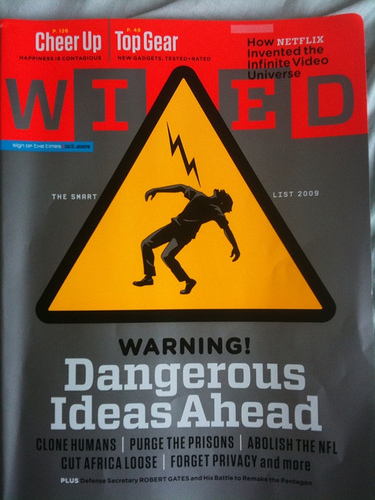 Photo Credit: Ged Carroll
I heartily recommend reading Thomas' article in full, but here is a quick overview of his seven rules:
1. Look for cross-pollinators -- The people who combine ideas across disciplines: bio-technology, cars as technology platforms, etc.
2. Surf the exponentials -- Technologies and systems that create an exponential expansion of existing capabilities. Moore's Law writ large: storage space, battery life. Dropbox, Google.
3. Favor the liberators -- Look for technologies that eliminate artificial scarcities, a notion that hits close to home for music executives.
4. Respect audacity -- Think big, and bet on others who do, too. Google organizing the world's information. Reach for the stars.
5. Bank on openness -- The open source movement is a perfect example. Other examples include companies and organizations with closed systems that recognize the need to open them: Apple realizing the power of the app ecosystem, etc.
6. Demand deep design -- Simplicity and ease of use are the obvious examples, but it goes even deeper than that.
7. Spend time with time wasters -- Creativity requires that people be able to have the time to be creative. Many thought that Bill Gates and Steve Jobs were wasting time...and look where it got them.
Thomas' presentation was a great segue into the next speaker, Sheridan Jones, Director of Business and Strategy for Kinect for Windows, who demonstrated the capabilities and evolution of Microsoft's Kinect platform. She also included instructive insights into how Microsoft, as a company, faced the present (and future) of new technologies.
Particularly echoed in Jones' discussion was Goetz's third rule: favor the liberators. She pointed out numerous ways that users quickly hacked the device to do things that Microsoft hadn't originally intended. She candidly admitted that the company's initial response was akin to what the music industry did when music downloads first became a problem: they threatened to sue users who hacked it.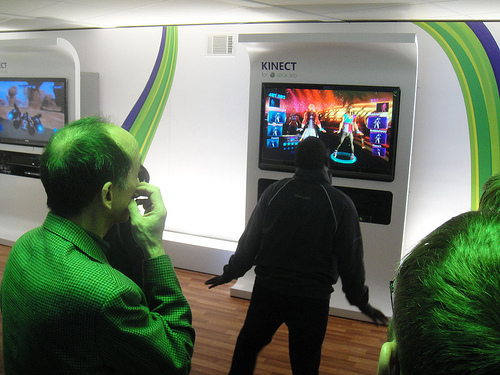 Photo Credit: Pop Culture Geek
But, just as Apple did with its belated recognition of the potential of the mobile app ecosystem in the wake of the iPhone, Microsoft smartly reversed course and embraced the concept. And Microsoft quickly decided to not just embrace the entrepreneurial developers and tinkerers, but to encourage consumer brands such as Nissan, Coca Cola, Bloomingdales, Mattel and others to use it to design marketing programs and engagement. There's even a hospital that has designed rehabilitation programs taking advantage of its capabilities.
The 3rd presenter helped to tie everything back to the music industry. Shannon Connolly, Senior Vice President, Digital Music Strategy for the Viacom Music Group, gave a preview of a new artist-based music initiative by the MTV Networks Music Group called Artists.mtv
She pointed out that Viacom's music channels wanted to create a music destination that took into account the realities of the music business today, especially the fact that fans now have infinite choice and instant access to anything they want. Consequently, with filters and curators more essential than ever, MTV is set to release their new artist initiative, which will bring together content that at present seems to be strewn haphazardly all over the web. Connolly showed the collection of over 20 platforms that exist online for discovering new music, buying concert tickets, watching music videos, sharing with your friends, etc. She said MTV didn't need to do it better than any of these companies, just figure out who's doing it best and work with them.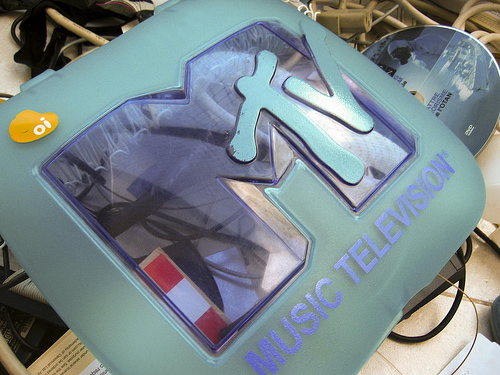 Photo Credit: Blude
The new platform stands out because it will allow the artist to not only curate their own content, but provide a new and highly engaged way for them to work with their fans...all while serving as a one-stop repository of bios, audio, video etc. When finished, the site will host over 1.6 million artist pages. In addition to the artist pages that the network is planning on launching, the site will be open to virtually any artist that wants to participate. Understandably, the presentation got the room buzzing. Many people were keenly interested in the rev share and marketing possibilities. Others were anxious to see how MTV would work with different levels of artist participation.
After Shannon answered a number of questions about the new MTV initiative, the ensuing discussion shifted to an open forum for new ideas and innovations in the music business. Most of these dealt with new forms of partnerships with consumer brands. Collaborations with the corporate world have become the new targets for a business whose old model has been undermined by new technologies.
Everyone present seemed to embrace sponsorships, brands and advertising. In particular, managers present at the forum spoke highly of the mutual benefits for artists, brands, and fans that result from successful partnerships. The realities of the music business have left everyone open minded about innovative solutions and partners with deep pockets and creative ideas. The latter qualification, creativity, is the key. New and creative ideas for these partnerships are what create the comfort level for an artist to green light a specific project.
The artist's interest is in creating something new. If the artist gets involved in the creation of the new entity that comes out of a brand partnership, said one participant with an artist management background, then it feels authentic and legitimate. Let that be the first rule of the future of the music business.
REAL LIFE. REAL NEWS. REAL VOICES.
Help us tell more of the stories that matter from voices that too often remain unheard.