Based on this chart, we'd say that the banks are working a lot harder on financial reform than the reformers.
The result: Not a lot of financial reform.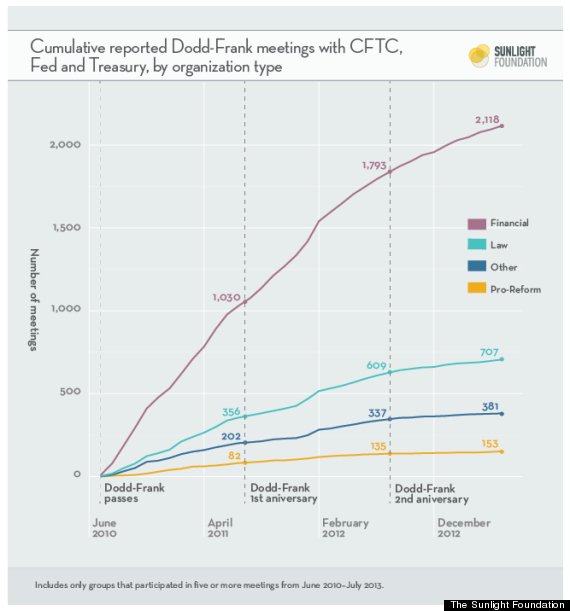 Big banks have met with industry regulators nearly three times a day since Congress passed the Dodd-Frank financial reform bill in 2010, according to a new report from the Sunlight Foundation, a non-profit that focuses on government accountability.
The report is based on an analysis of meeting logs from the Federal Reserve, the Treasury and the Commodities Futures Trading Commission (CFTC).
Goldman Sachs and JPMorgan had the highest number of audiences of any Wall Street institution over the three year period.
Political observers point out that the practical effect of financial industry lobbying has been to water down important provisions of the law before they are implemented. Jesse Eisinger of Propublica says this is especially true for provisions like the Volcker Rule, which separates a bank's consumer lending and proprietary investing divisions.
Meanwhile, implementation of other provisions have been delayed.
You can read the entire report on the Sunlight Foundation's website.
BEFORE YOU GO
PHOTO GALLERY
CEOs Who Look Like Villains