The four biggest banks in the U.S. won't say whether they offer workers the same kind of sales incentives that drove Wells Fargo employees to open millions of accounts for customers without their knowledge.
That scam led to a record-setting fine, congressional hearings and a rare case in which a bank CEO was forced to give up a few million dollars in compensation, with legislators calling for his ouster. California recently announced it would no longer do business with the bank, and Illinois is expected to follow with its own announcement on Monday.
Representatives from Bank of America, Citigroup, JPMorgan Chase and US Bank declined to respond when The Huffington Post asked them if they use the same high-pressure, lofty sales quotas that pushed underpaid Wells Fargo employees to rip off customers in an effort to keep their jobs or earn bonuses to enhance their low hourly pay. Along with Wells Fargo, these banks are the five largest in the country, ranked by total assets.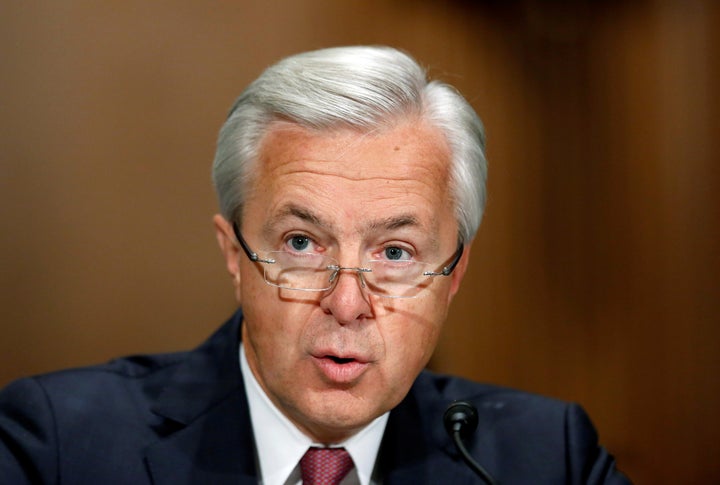 No one has accused these institutions of pulling off a fraud like Wells Fargo's. The bank was fined $185 million for the widespread behavior.
Yet it's notable that none of the banks contacted by HuffPost would be forthcoming about practices within their bank, even as the Consumer Financial Protection Bureau has issued a stern warning to financial institutions to carefully monitor sales practices to prevent a Wells-like debacle. 
JP Morgan Chase, for instance, declined to talk about incentives and instead referred HuffPost to a press release about its plans to raise bank teller pay to $16 an hour in some high-cost cities.
The CFPB has said it's investigating other banks to see if the practice is going on there.
Pressuring bank workers to "cross-sell" customers ― industry jargon for convincing them to sign on for more products like credit cards, bank accounts and loans ― is a common practice at U.S. banks, Christman reported in a detailed analysis NELP released this summer.
Indeed, there are signals that Wells Fargo isn't alone with its fake account problem. Consumers have reported problems with unauthorized credit card openings at other banks since at least 2015. The CFPB has received 638 complaints from people who said they received credit cards they did not ask for since January of that year, according to an analysis the S&P Global Market Intelligence released last week. Just 28 of those complaints were directed at Wells Fargo; 31 were for Bank of America; 59 were about JPMorgan Chase and 83 complaints regarded Citi.
"Those banks that don't do this [sales incentives] are happy to say so," Anastasia Christman, a policy analyst at the National Employment Law Project, told HuffPost.
That none of these banks were willing to talk about their practices is perhaps a sign of extreme caution in the wake of the penalties levied on Wells Fargo. The bank was forced to pay $185 million in fines earlier this month, including a record $100 million penalty levied by the CFPB. 
At the time, CFPB Director Richard Cordray put the banking industry on notice.
"This was outrageous conduct. It was a violation of trust and an abuse of trust. It should not have happened, and I guarantee you that we will be seeing that it does not happen again at any bank," he said in an interview with CNBC. "We will be looking for these types of problems."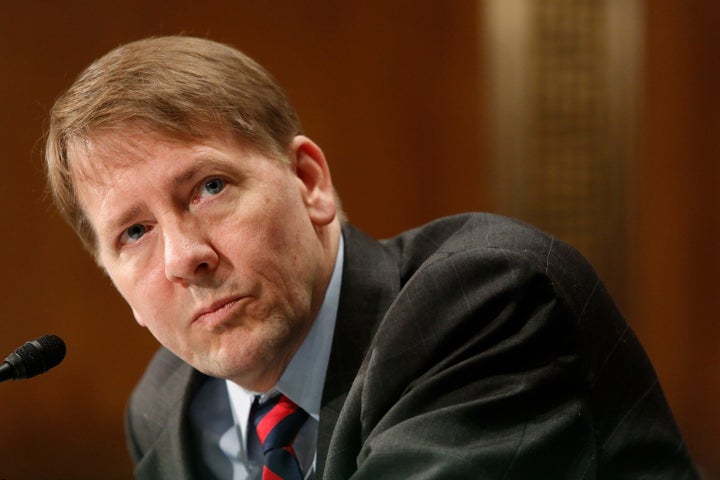 Bank workers interviewed for the NELP report talked about the immense pressure to sell more products to customers, who often not only didn't need a new credit card ― but would likely face financial harm from one.
"If someone's getting married, tell them to get a credit card. Any life event that happened, you were supposed to say, 'Get a credit card for it.' If you heard kids in the background, the answer was a credit card," a Rhode Island Bank of America service specialist told the organization.
The comprehensive analysis was based in part on interviews with 75 workers currently or recently employed by seven major banks ― including Wells Fargo, Bank of America and US Bank. It was released the month before news of Wells Fargo's fine broke.
The pressure on workers is amplified by the fact that they're low-paid. The average wage for a bank teller is around $12 an hour. A stunning 70 percent of the lowest-paid bank workers are women. 
Nearly one-third of bank tellers' families use public benefits ― including food stamps and Medicaid ― according to a 2014 report from the University of California, Berkeley.
One banker reported signing her sister up for a credit card that she didn't really understand. "She maxed it out, and she still has that maxed-out credit card 10 years later," this banker told NELP.
A U.S. Bank collection worker said: "There was a constant battle of how you do right for the customer without sacrificing, you know, not paying a light bill or having shoes for the kids going back to school. You can't make that sacrifice."
Amalgamated Bank, a small New York-based union-owned bank, is one of the few financial institutions to publicly disclose it does not use sales quotas or incentive pay for cross-selling. The bank announced last year it would pay its workers at least $15 an hour.
Until recently, Amalgamated did offer bonuses to branch managers for reaching certain goals in opening accounts, but the bank plans to discontinue the practice at year's end.
"We don't want to have any shred of doubt in our consumers' minds that we are watching out for their best interests," Amalgamated CEO Keith Mestrich told HuffPost. He said tellers at Amalgamated often make far more than $15 an hour.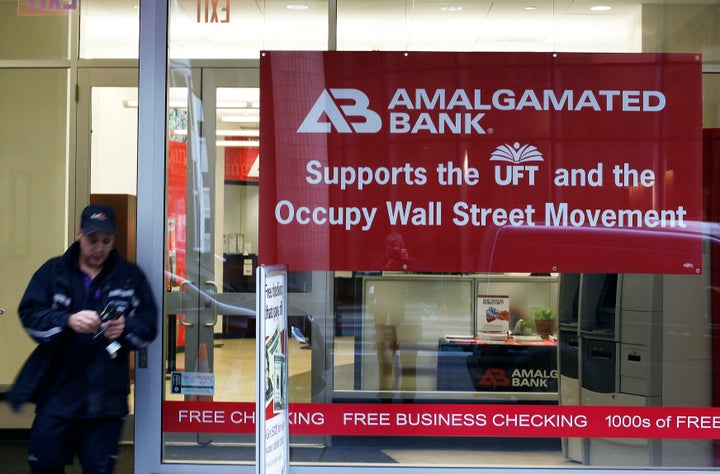 But Mestrich's bank isn't public and under the same pressure to increase its bottom line as the largest banks. In the wake of the financial crisis, the nation's biggest banks have increasingly relied on fees from consumer accounts to keep bringing in money. 
"We don't know if this is going on at other banks," Dennis Kelleher, CEO of Better Markets, told HuffPost. "We do know that cross-selling products at all the banks is both a priority and highly incentivized and must be policed with care and diligence or we will see more scandals like this."
"The banks make massive amounts of money in selling their own products to their customer base," Kelleher said.
For years, low-paid Wells Fargo tellers and customer service representatives were under enormous pressure to cross-sell. These workers, who typically made about $12 an hour, were offered bonuses for reaching their quotas. Some were warned they could be fired for not meeting these aggressive sales goals. The bank said it wanted to sell each customer eight products ― "eight is great!" Wells Fargo said publicly of its cross-selling efforts.
Faced with that kind of pressure, thousands of workers created fake accounts for customers. More than 2 million sham accounts were created, causing all kinds of consternation for customers ― extra fees, lower credit scores, calls from debt collectors on accounts these people did not know existed. And Wells Fargo fired 5,300 bankers for engaging in the practice. It's not known how many other bankers were fired for not meeting the aggressive quotas.
Calling all HuffPost superfans!
Sign up for membership to become a founding member and help shape HuffPost's next chapter