You may not have heard of Big Bend National Park, and it's almost certainly far, far away from where you live, but it's well worth a visit.
Big Bend is one of the least-visited national parks in the United States, receiving fewer than 300,000 visitors a year, but after traveling there once, you'll never stop talking up its charms.
As one park employee told me, Big Bend is special precisely because it's so difficult to get to: people only go there if they intend to. You don't stumble onto Big Bend on your way somewhere else; from Washington, D.C. it took us two flights and four hours of driving to arrive at Chisos Mountains Lodge, the only lodging in the park.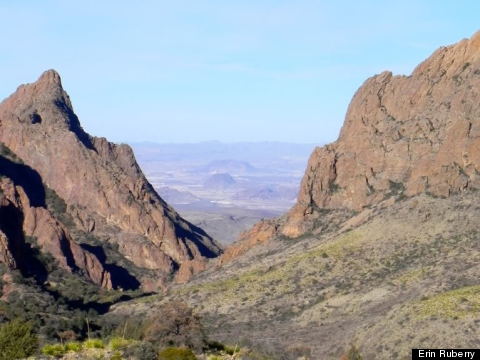 Spanning more than 800,000 acres of desert, mountains and river in southwest Texas, Big Bend boasts stunning views and challenging climbs best experienced on foot or mountain bike. There's not a fancy spa within the park's boundary and you won't run into massive tour buses clogging the roads; it's a park for those who want to get off the paved path and explore.
One of the park's best-known hikes is the Window Trail; classified as "moderate" difficulty by the National Park Service, the 5.6-mile round-trip hike takes you to one of Big Bend's iconic images: a narrow crack through rock providing a picturesque panorama of the vast landscape beyond.
If you're feeling particularly brave, you can scoot to the edge of a steep ledge for an up-close view; if, like me, you'd rather stay away from sheer drops, your view is just as impressive a safe 10 to 15 feet from a seemingly-certain plummet into oblivion.
Coming from a city where I can't see beyond the next apartment building when looking out the window, the seemingly endless views available in west Texas simply boggle the mind. There's a whole lot of nothing out there... and hopefully it stays that way for generations to come.
Other can't-miss hikes include the Lost Mine Trail -- a 4.8-mile roundtrip climb through territory believed by the Spanish to contain silver -- and the Mule Ears Spring Trail, an easy walk through the desert to see a rock formation that looks like, well, the ears of a mule.
Not to be forgotten, the roaring Rio Grande cuts through Big Bend National Park, providing a natural border between the United States and Mexico.
Actually, did I say roaring? The Rio Grande may need to be nicknamed Rio Pequeño due to drought that has left much of the river dry; "less than a fifth of the Rio Grande's historical flow now reaches the Gulf," according to National Geographic. Within the park, the river is shallow and narrow enough to easily ford on foot, although prominently posted signs warn that it's illegal to cross into Mexico at the risk of jail time or fines. (If you'd like to legally travel into Mexico while visiting Big Bend, here's how.)
Walking through Santa Elena Canyon on the borderland, we were so close to two Mexican vaqueros on the opposite shore that we could hear one speaking into his cellphone, then talk to his cattle as he headed back inland.
And then we too headed back inland. Back to the lodge. Eventually back to D.C. Definitely to come back.
See photos from Big Bend National Park: