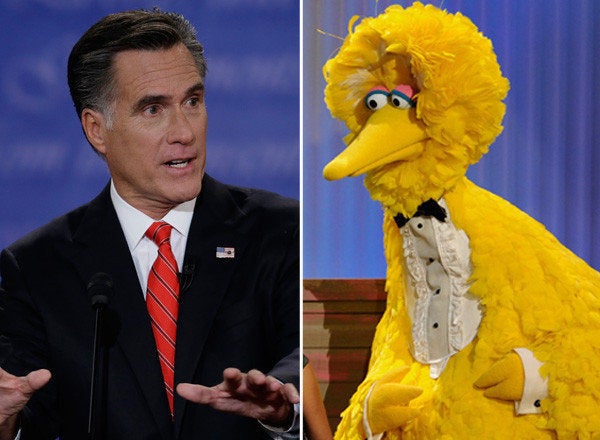 While there are countless reasons to vote for Obama this election season, Romney just gave us one more -- he wants to stop funding to PBS. And everyone knows that PBS means Big Bird, Sesame Street, and educational programing for children and adults.
Big Bird, Oscar the Grouch, Cookie Monster and Elmo are huge public figures that teach us critical lessons as children and remind us of these lessons as adults. These lessons can be about making friends or sharing but there are also about core skills like math and English.
When I was growing up we had a Sesame Street sing-a-long video. My cousins, brother, and I loved the Count (maybe not one of the best-known characters) and would run around singing the counting song. While it seems silly, I think that this was part of my inspiration to count when I am scared- usually when I'm at the dentist and they are about to poke me with that giant needle. Anyway, this is just my own Sesame Street story and how it taught me to deal with life.
Yet, Sesame Street, and PBS in general, also play a critical role in the lives of immigrant youth in particular. Sesame Street and other PBS shows like Word Girl and The Electric Company for today's generation and Wishbone and Reading Rainbow for mine, are key means of learning English.
In my countless conversations with immigrant young adults, most of them talk about negative experiences learning English -- peers who tease them, teachers who have too many students to give them the one-on-one attention they need, parents who struggle to help with homework and reading, not because they don't care but because they simply don't have the language skills. For a vast majority of them, TV was the one place where they could listen to and learn English in the comfort and ridicule-free safety of their own homes. For many, Sesame Street is one of those key shows that connects generations of English language learners.
I'm not just talking about generations of children who have watched Sesame Street but also adults and children who watch together. I remember my dad, who immigrated to the US as a child, telling me how we used to watch Sesame Street together when I was young and how he would continue watching, learning new things, long after I had fallen asleep. I see this now in my extended family- parents, older siblings, and children watching and learning together. It is magical to see how something so simple can bring people together and give them something to talk about long after the program is over.
So if you support Big Bird and immigrant families, vote for Obama. Plus, there are all those other reasons- immigration reform, women's rights, health care, the list can go on and on. But if these are issues that you are afraid to talk about because they are controversial, take five minutes today to talk about Big Bird or your favorite PBS show. Everyone has one and no one can argue with the positive memories of these childhood heroes.
Calling all HuffPost superfans!
Sign up for membership to become a founding member and help shape HuffPost's next chapter