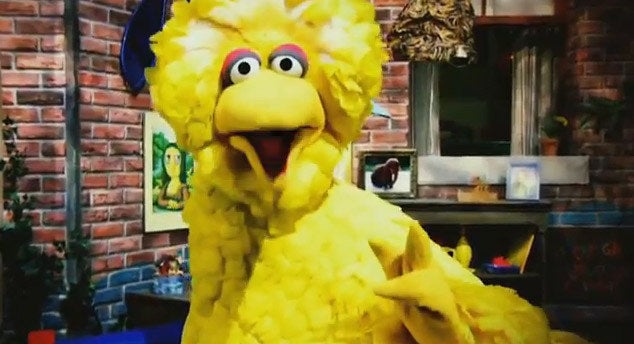 Mitt Romney is not the first Republican to try to kill PBS, Sesame Street and Big Bird; forty years ago Richard Nixon tried to do the same thing. Nixon didn't quite succeed, but he crimped the PBS style and ended my attempt to put PBS stations in the news business. It was 1972, PBS was just completing its nationwide coaxial cable that linked the network to its affiliates and we at United Press Television News (UPITN) were still delivering news film to our clients by air freight.
I called PBS to talk to someone about my idea and ultimately I was put in touch with Jim Lehrer. I offered PBS a swap, we would trade the use of our news film to the network and to all its affiliates if they would let us deliver the news film to our clients over their coaxial cable. Lehrer, a former TV reporter, bought in and I thought that UPITN would finally be able to compete with the networks on an equal basis. In September of '72, Lehrer informed the PBS affiliates at a national meeting that they would shortly be getting daily news film at no cost to them. They were enthusiastic. Unfortunately, the affiliates, nor Lehrer, had the last word.
President Nixon was generally opposed to the existence of PBS, and was particularly outraged by the satyric tone of two PBS network programs, The Great American Dream Machine and WNET's The 51st State. Nixon had just learned that the Corporation for Public Broadcasting (CPB) was producing a news/documentary program named A Public Affair/ Election '72, to be carried on the PBS network. The program was hosted by Robert MacNeil and Sander Vanocur and, according to James Ledbetter in "Made Possible By...: The Death of Public Broadcasting in the United States", the White House believed "that these men were hopelessly biased against Nixon..." He wanted to get PBS entirely out of the news business. It was then that an important Texas Republican, Ralph Rogers, thought that, with the proper leadership, PBS could be saved, and that Lehrer was the man who could rein in what Nixon saw as its liberal leanings.
Lehrer wasn't the only new man to be brought into PBS--Clay Wihitehead had been enlisted as "the White House's point man in the battle against public broadcasting", according to Ledbetter, and Henry Loomis, who named head of the Corporation for Public Broadcasting, both disapproved of the PBS/UPITN deal. Lehrer called me in October. apologized, and said our deal was off. I took one more shot at it with Thomas Curtis, the newly appointed Chairman of CPB, a moderate Republican who had served in Congress for eight years. We met at the Biltmore, I made my pitch, he looked at me with sad eyes and said it couldn't be done. A few months later he resigned.
Later, A Public Affair/Election '72 was killed, so were several other PBS news programs. Sander Vanocur, who President Nixon thought was the most liberal of all, was fired, but PBS and Big Bird were saved. Now, Mitt Romney wants to make President Nixon's dream come true--he announced that if he is elected, he'll fire both Big Bird and Jim Lehrer.
Calling all HuffPost superfans!
Sign up for membership to become a founding member and help shape HuffPost's next chapter