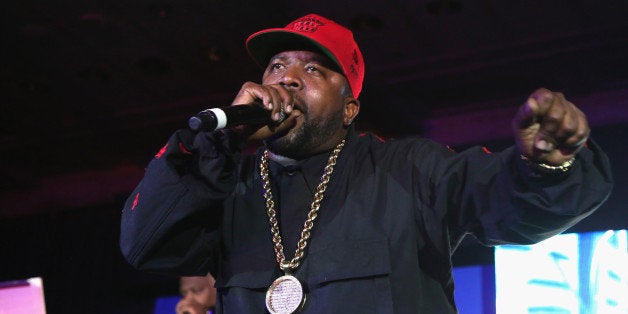 While Big Boi is spending the bulk of his spring and summer months performing Outkast reunion dates, he's also still got his own thing going on. There's a new record contract to prove it.
"I just signed a deal with Epic Records," Big Boi told me last night (May 9), exclusively. "So I'm back with L.A. Reid and Sylvia Rhone. Got a brand new situation. I signed the deal the day after the first Coachella date, that Saturday."
The Atlanta-bred MC was in New York to perform at Grey Goose's Le Melon flavor launch event at the Manhattan Cocktail Classic. Flanked by legendary Organized Noize producer-cum-singer/songwriter Sleepy Brown, and a backing band, Big took the stage at the New York Public Library and spent an hour running through not just his expansive solo catalog, but a collection of Outkast hits as well.
Backstage before the masquerade ball-themed event, Big was visibly excited about his new deal, which sees him reuniting with Antonio "LA" Reid, who signed Outkast to his LaFace Records imprint back in 1992. When Outkast went on hiatus in the mid-aughts, Reid, the then CEO of Island Def Jam, inked Big Boi to a solo deal, where two critically-celebrated albums -- Sir Luscious Left Foot: The Son of Chico Dusty (2010) and Vicious Lies and Dangerous Rumors (2012) -- followed.
"That's my mentor," Big explained. "He understands my music. And one thing about L.A. Reid, there are no creative restraints. He trusts my ear and let's me make the music I want to make. We love being in business together. That's my big brother."
Although a release date isn't set, a new solo album is certainly on the way, and according to Big Boi, material from the forthcoming LP may very well drop while he's on the road with Andre 3000 this summer.
"The album I'm not gonna rush," he said. "I wanted to put something out before the end of the year. It depends, because me and Dre got a lot of work to do from now until the end of October. [But] you're definitely going to get some brand new Big Boi material. Two or three singles before the fall."
Until then, he's focusing on the slew of upcoming Outkast tour dates, as well his own solo shows. And he was particularly eager to celebrate the launch of Le Melon, acknowledging that he was already a fan of the brand, and gracious that he'd been tasked with leading the festivities.
"Grey Goose called and said they wanted someone who was all about creativity, someone who could rock a crowd," he said. "Grey Goose is all about craftsmanship and creativity. I'm serious about my craft, so it was a great fit."
Popular in the Community