DeLaria, who's appeared on shows like "Friends" and "Matlock" and in films like "The First Wives Club," stopped by HuffPost Live this week to chat about her role that almost wasn't (video above).
"I went in for this part [as a correctional officer]. I made the tape. I sent it to them. They got back to us saying, 'Love her [but] we want to look at her somewhere else because the correctional officer was a small role. So then I went in and read for the part that Lin Tucci plays -- she's the cancer survivor [named Anita DeMarco] ... and I didn't look old enough, is what they said," DeLaria recalled. "I remember I was standing in my manager's officer and I lost it. I just went, 'They're making a television show that takes place in a women's prison and there's not a part for me? Then I f***ing quit! I'm out of showbusiness for good.' I got on a plane and I flew back to London, where I lived at the time, and said, 'You know, f*** it. F*** America. F*** it' ... And when I got off the plane and went through customs, there were like 1,000 messages from my manager going, 'They wrote a part for you ... and come back because you're going to start shooting in five days.'"
"I read the pilots every year and ... they're all the same. The ['Orange Is The New Black'] pilot came across my desk and it was unbelievable. It was so different from anything I'd read in so long. I needed to be part of this show," Prepon told O Canada. "I originally auditioned for the role of Piper, which I knew I wasn't right for but I didn't care. I just wanted to be part of it. After I auditioned I went parasailing around a German castle. When I got back, they told me that Taylor [Schilling] had gotten the part, but asked if I'd be willing to read with her for the role of Alex. I was like, 'Wait, the manipulative, drug smuggling lesbian? OK.'"
Kohan told Collider that "a lot of the other characters came out of auditions. Abigail Savage, who plays Gina, in the kitchen, auditioned for Alex. And then, Alysia Reiner, who plays Fig, the assistant warden, auditioned for everything. When the warden part came up, she didn't even audition because I was like, 'The one with the face. Just put her in it.' You remember performances, and there was some mixing and matching from the auditions ... [We] wanted to create more parts for different people that we fell in love with, in casting."
"Orange Is The New Black" Season 1 is currently streaming on Netflix and Season 2 is in production.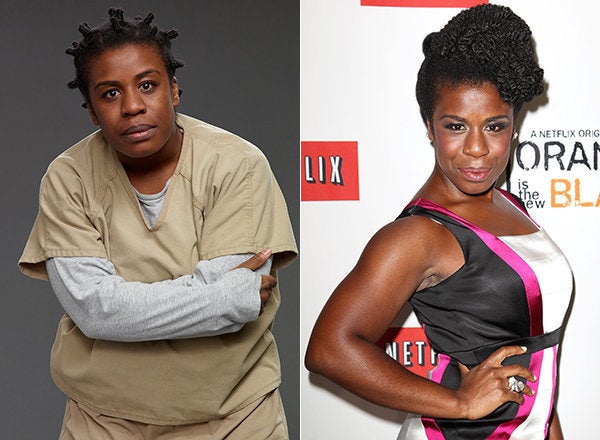 'Orange Is The New Black' Cast On & Off Set
Related
Popular in the Community