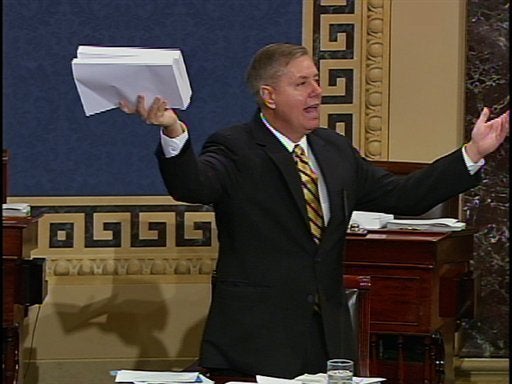 Sen. Lindsey Graham, a South Carolina Republican, joined his close friend John McCain on the Senate floor on Thursday to declare his support for climate-change legislation. The backing of the conservative Graham gives a major boost to the effort and indicates that McCain, after shying away form the issue during the presidential campaign, has returned to it with full force.
Graham and McCain are longtime friends with Sen. Joe Lieberman (I-Conn.), the sponsor of a prior climate-change bill with McCain. In 2008, McCain took his name off the bill and Lieberman wrote it with now-retired-Sen. John Warner (R-Va.). Warner's departure left the possibility of a bipartisan bill in question.
But the answer from Graham and McCain is a clear one.
Graham's support of an effort to reduce greenhouse gases was couched in the same terms that McCain uses: Even if the science is wrong, the argument goes, addressing climate change reduces our dependence on Middle East oil and is therefore a national security issue. "If you're serious about energy independence as a nation, it would be good to get away from fossil fuels coming from the Mideast," Graham said.
"The idea that what we put into the environment can affect our environment--I'm not a scientist, but that's common sense to me," said Graham. "The worst thing that could happen with the climate-change debate is you cleaned up your planet and you passed on a better environment to your grandchildren."
Graham spoke highly of a prior cap-and-trade system that addressed acid rain and which is often cited as a model for future climate-change law. Acid rain is reality. It was a reality. You could see it in the Southeast," said Graham. "And it was a cap-and-trade system, a new technology that solved that problem. So it's not much of a stretch to me that the CO2 carbon emissions that we're putting into our environment from transportation and power production is heating up the planet. But we can have that debate."
Graham and McCain both said their support of bipartisan legislation had several conditions, citing the need for investment in so-called "clean coal" as well as nuclear power. They also insisted that any effort to sidestep a filibuster by using the budget reconciliation process would erode the bipartisan support.
Earlier Thursday, Senate Majority Whip Dick Durbin (D-Ill.) said no decision on whether to use reconciliation had yet been made.
"That's certainly not the change that anybody envisioned. That would be a radical departure in terms of how reconciliation has been used in the past," said Graham. "That would be the politics of the past on steroids."

Calling all HuffPost superfans!
Sign up for membership to become a founding member and help shape HuffPost's next chapter