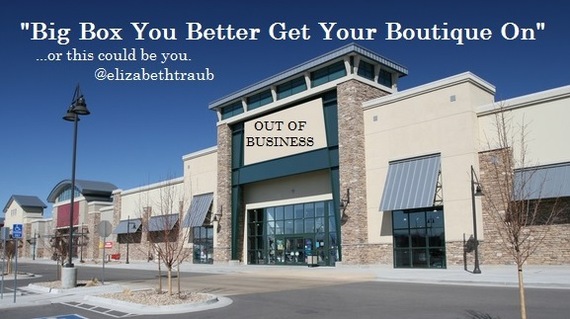 I stood in line at Target to check out. Dozens of people in front of me and I am wishing now I would have taken a picture. There, dozens of customers standing in line with their phones, asking and showing the cashier if they would match this price, discount this that and the other thing. They are going to have to start new service lines that say, "Fast, Easy, No Phone Line" because it took me forever to get through that line.
I decided to spend my afternoon walking through the front doors, and then wandering the isles of the BIG BOX stores to see what these stores are facing daily, hourly and minute by minute. People everywhere with their phones in hand price checking. Customers are picking up the items, looking it over. They will then ask a sales person to help them understand the item. Only to then purchase online or match that online price. I asked one gal, when she put the item down why she was not buying it. She simple said, "I did, off the website I was looking at." It's real people. You may not have ever owned a retail store, or perhaps you are the CEO of one and you are quickly losing this battle.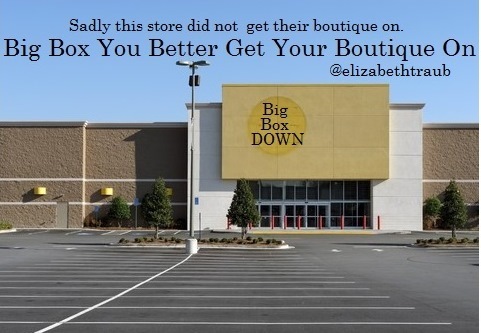 Your big box store is the free showroom for all the online giants eating up your profit margins. But then you already know this. Your staff is the free sales rep that the online giants do not have to pay for, which again eat up your profits. And you know this, too. I would think that after about 3-5 years into this shifting of how business is done, you would have shifted, too. While you were sitting in the boardroom coming up with new gimmicks and ideas to get the consumer in your store, the online giants were making back door deals with the vendors you put in business.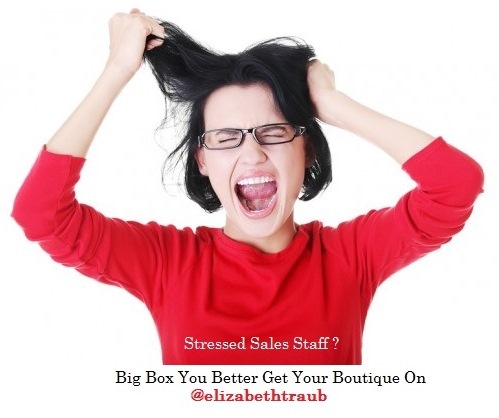 Your sales staff is stressed out, and managers are hardly able to breath before over riding and approving all those discounts. You almost have to hire or have already hired an entire team just to keep up with the online giants to see that your pricing is competitive. Is it worth all this? Are you making your margins?
When online shopping first came out, a very sneaky bedding company was way ahead of the game. They showed their beautiful products at market. They gained the confidence of boutique shop owners and buyers like me. They even had all the retail pricing tags made pretty so all you had to do was buy, display and sell. Their collections were gorgeous and my sales staff was excited to have this bedding in our showroom. One day a customer came in and asked if we would match the online pricing. What? Huh? She proceeded to produce a print out of the manufacture, with their listed retail pricing on all their products 15% lower than those pretty little tickets they sent. Of course we got the sale that day. We also removed all the tags that identified that company and since my store was a "boutique" I could display and cross merchandise with similar products and make the marks we wanted. Sneaky little bedding company ended up in a kids store big box chain. Yet the small boutiques are what got them off the ground. We gave them showroom space, front and center. And every small boutique dropped them within a year. Today that bedding company is bye bye. No more. Why? It's the boutiques who were taking chances on the newest products. We are and were the ones investing in the small little startups. Giving shelf space, only to them be knocked out.
The Big Box stores would wander boutiques and pick out these best selling products and brands. Boutiques were chewed up and spit out. The big online giants are going into the big box stores much like the big box stores use to in the boutique stores. They are fishing for what you have highlighted as your sale or item of the day. They see what you are putting on your shelves and then they bring that product online and knock down their online price. Don't think I did not re-brand and package those special items in my store knowing full well that big box kids store would wander in. And I may have designed my own bedding, painting my own pictures, and sewed some Pinterest worthy decorations.
Bottom line is this. Your bottom line is falling out from under you. Dear Big Box You Better Get Your Boutique On. You are sliding down a slope that is going in one direction if you do not make some changes now.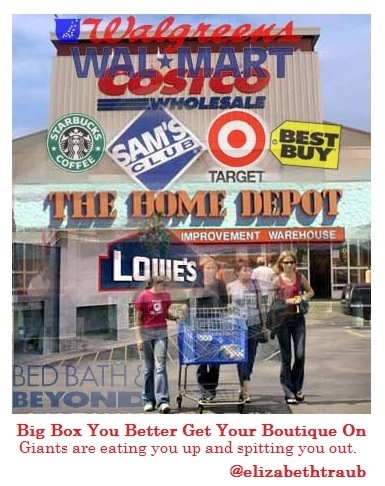 It is time to implement some boutique style business.
Since you have been operating as that fast quick and easy shopping big box that has worked for two decades, here are some tips you can adopt today that are boutique in nature.
1. Train your staff to actually engage with the customer. Develop a customer experience that boutique stores are known for. People are still human and crave human to human contact. I trained ALL my staff to ask the same three questions to get to know each customer who walked in the front door. It built a relationship outside of putting product in their hands.
a. Asking the customer, "Can I help you?" is not going to cut it anymore.
b. Asking the questions that help you get to know your customer and their needs.
c. Inviting the customer to engage in your online and social platforms.
d. Give your hourly sales team members business cards. YES you read that correctly. Handing a customer a business card with the store, their name, and an invitation to come back. And, are you ready......allow your sales team member to write on that card, hand written people! Are you reading this? "10% off the regular price of all items on your next visit.
2. Invite the customers to TOUCH, FEEL, and EXPERIENCE the products they are looking at. Hasn't Apple done a fantastic job of that? Creating an amazing customer experience.
a. Time to unpack those items sitting on your shelves. Open them up and let your customer connect emotions to the very product they came into to look at. Those racks and shelves need to be reinvented NOW.
b. Nurturing the idea of the product with an approachable sales person is a sure win. How do I know this?
I am working part time in a box store. I held off posting this because I wanted to prove this to be true. I took the liberty of taking a product out of it's package, off the shelf, and showing a specific product to a wandering customer. She loved it and bought it. I took that same product and did it again. In this case she was looking for a specific item. I showed her something similar, out of packaging and a second customer bought it. Spread those two items on a spread sheet and you have 100% success in this simple act of TOUCH, FEEL, and EXPERIENCE.
3. Hire nice people who actually love serving others. You might have to pay a bit more, but today more than ever take that friendly, cheery person and give them a reason to stay. Big box stores are known for quick turn over. People want to build relationships. We are all still human. Creating a culture in your company that is a community is important.
a. Build their confidence in service and selling with securing better hours and pay.
b. Update your old branding required uniform shirts. Times are changing, fashion style is important. Help your team look good.
c. Offer in store training in how to serve, assist, and open that package to connect with the product.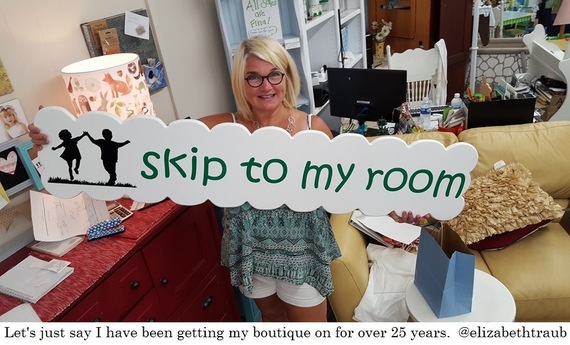 This is the kind of stuff you do when you are a small boutique. Everything in this post is what I have done for almost 25 years. With a staff of over 75 down to one single person running my store. It was running my own retail business that launched my career as a consultant to assist bigger companies and brands. These principles built loyalty with customers and employees who loved the customer. Bottom line is it kept profits in-house and we all like to profit from all this hard work.
Word to the big box stores.....


Calling all HuffPost superfans!
Sign up for membership to become a founding member and help shape HuffPost's next chapter