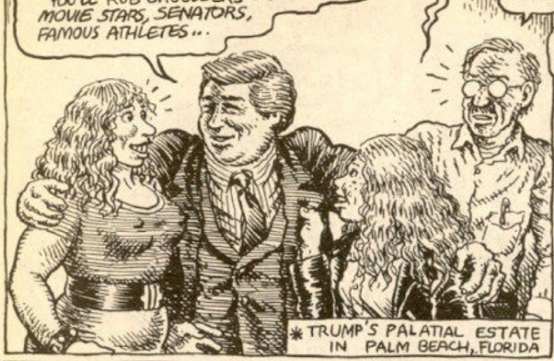 Have you ever wondered what Donald Trump -- that human cheese puff of hate, insecurity and intimidation -- was like back in the day? Did the presumptive Republican presidential nominee take a turn for the worse somewhere on the rough road we call life? Or was he always the same lopsided combo of an oversized ego and undersized hands?
Well, if this Robert Crumb comic "Point the Finger," featured in the first edition of Hup! in 1989, is any indication, Trump was always very ... well, Trump-like.
The comic features a showdown between R. Crumb and D. Trump; the self-deprecating and tortured artist versus the smug and superior business mogul. It's not so surprising that many of Crumb's descriptions of Trump are resoundingly relevant today.
"This crass and venal character is so arrogant he seeks out the spotlight and publicly boasts of his disgusting exploits!" Crumb writes, calling him a "big bully." The fraught relationship between the two ends in a somewhat fantastical and NSFW scenario, in which Trump gets the ultimate karmic retribution -- a big swirly for a big bully. In all fairness, the popular mode of juvenile harassment could only do good things for Trump's hair.
The comic concludes with Crumb commenting on the importance of free speech in this country. He writes: "And isn't this a nutty kinda country were you can draw any irreverent degrading thing you want about the most powerful people and nobody cares! You don't get jailed, you're not persecuted. They just ice you out of the market place!"
The message is both ironic and chilling considering the lengths Trump and his supporters have gone to limit free speech in his country. (Just ask The Washington Post.) A man chanting "Trump 2016!" reportedly attacked artist Illma Gore after her drawing of the presidential candidate with a small penis went viral. And the FBI allegedly visited artist Brian Andrew Whiteley after he installed a Donald Trump gravestone in Central Park.
Although not much about Trump has changed since 1989, the world around him is in danger of losing the ability to say so. Thankfully, we still have Robert Crumb's work, which you can see in full below: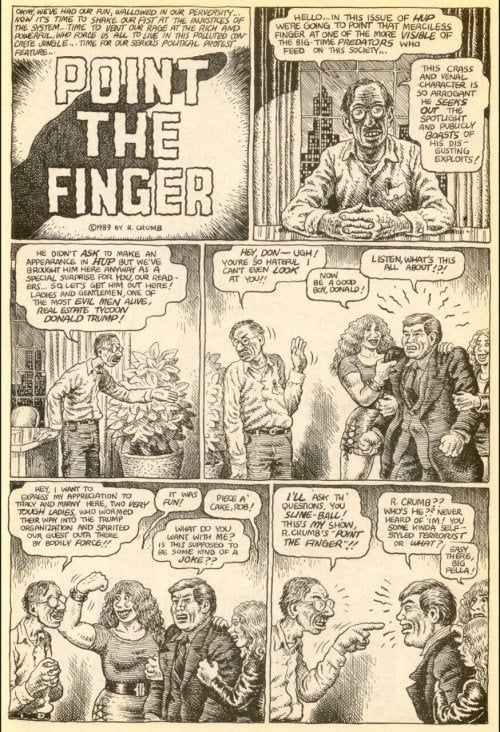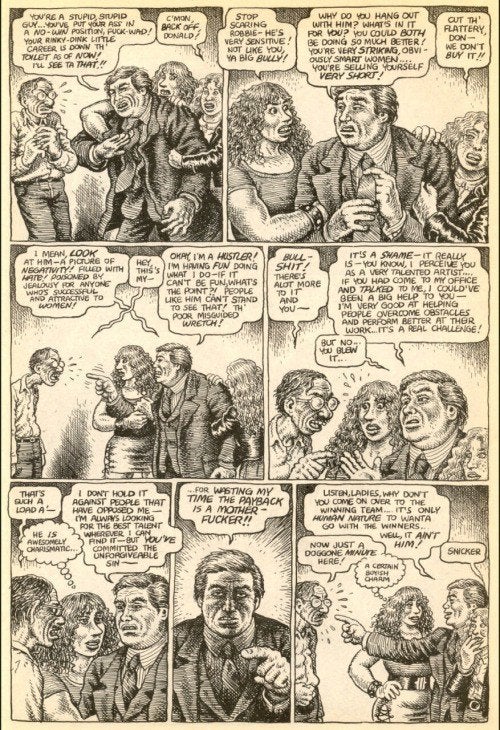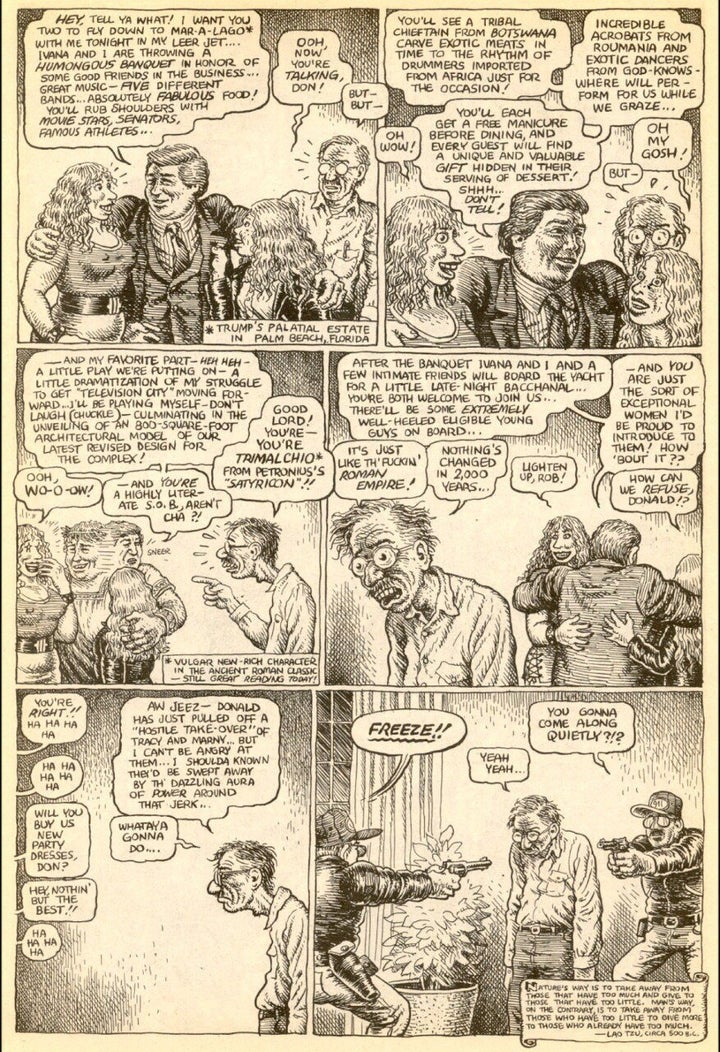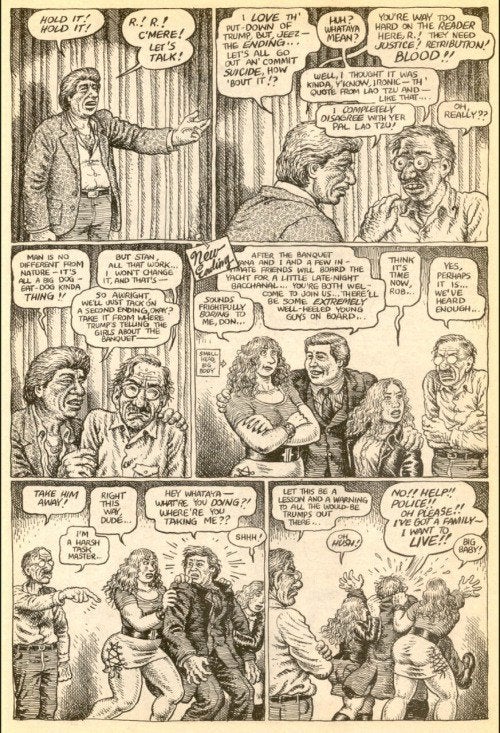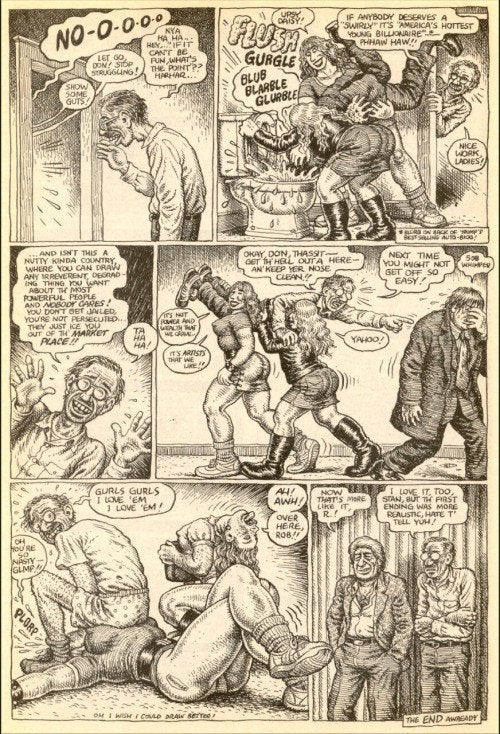 Support HuffPost
The Stakes Have Never Been Higher
Related
Before You Go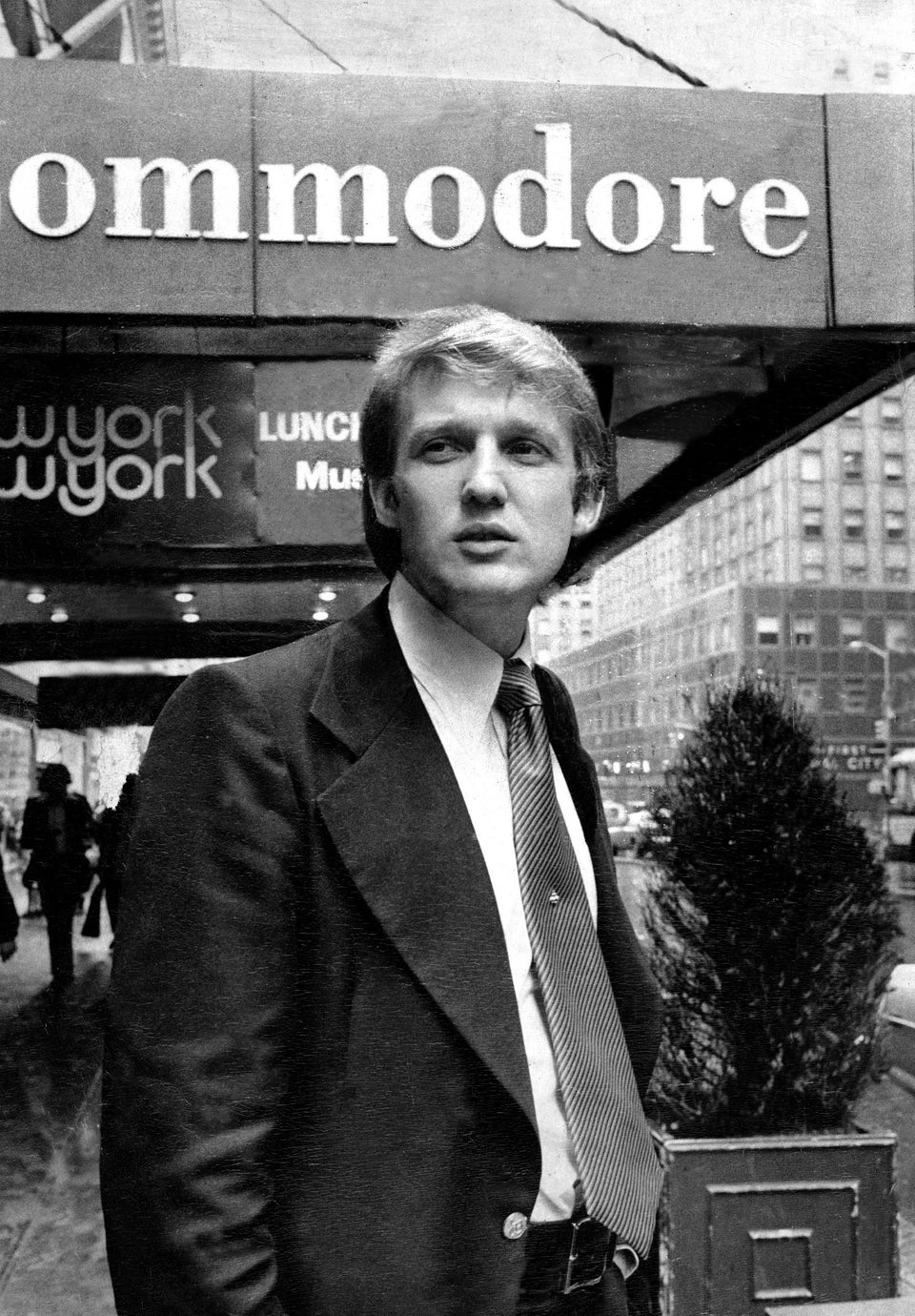 Donald Trump's Hair Evolution
Popular in the Community