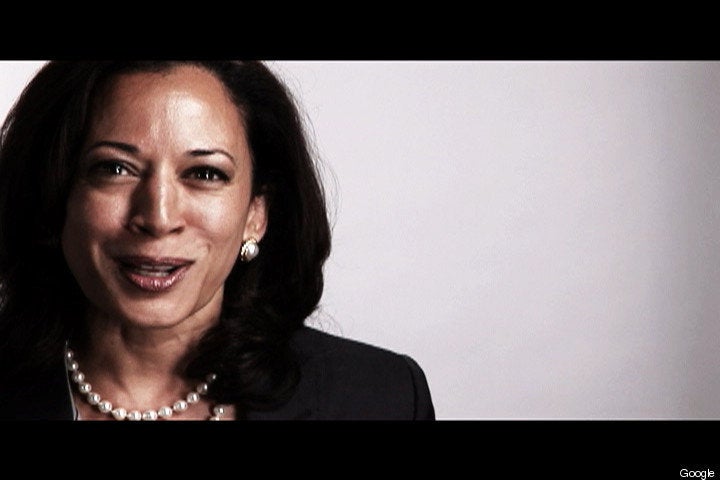 Corporate cash is flooding into the California attorney general's race, a sign both of the growing emphasis that big business is putting on state-level legal action and the particular threat posed by up-and-coming multiracial Democratic candidate Kamala Harris.
So-called "down-ticket" races on state ballots rarely draw big national money, but huge corporate interests are funneling more than $1 million through a Republican campaign committee based in Virginia to buy anti-Harris campaign ads on Los Angeles County television stations.
The ad (see below) from the Republican State Leadership Committee -- one of the many such entities revolving in GOP political guru Karl Rove's orbit -- targets Harris, currently the San Francisco district attorney, for her opposition to the death penalty. But it's not hard to figure what its funders really care about. The committee has lately been getting its biggest contributions from the U.S. Chamber of Commerce, major health insurers, big tobacco and manufacturing interests.
State attorneys general are increasingly at the front lines of major political issues that affect big-business bottom lines. For instance, after last year's passage of President Obama's health care reform bill, the political battle shifted to the state level, where a bevy of conservative attorneys general are suing to block the law.
Edwin Bender, executive director of the National Institute on Money in State Politics, notes that the attorney general races may be attracting a lot of campaign money because of the important role they will play in the future of campaign money.
"In the wake of the Citizens United ruling by the Supreme Court, which overturned laws in 24 states," Bender told HuffPost, "you have a new situation in which I think attorneys general are going to be looking at the campaign finance laws of their states, to try to determine if there's anything they can or need to do."
Republican State Leadership Committee spokesman Adam Temple didn't return HuffPost's calls, but here's how he explained the organization's opposition to Harris in an interview with the Sacramento Bee: "At a time when the federal government is overreaching, attorneys general often are on the front lines."
State attorneys general are also heavily involved in the key social issues of our time. After California voters approved an anti-gay-marriage ban, it was overturned by a federal district court judge. Republican Gov. Arnold Schwarzenegger and Democratic Attorney General Jerry Brown (currently the favorite in the governor's race) both said they would not use state resources to defend the ban. So has Harris. But her opponent, Republican Steve Cooley, currently the Los Angeles County district attorney, has said he would.
And one unique factor in this race is Harris herself, considered by some Democrats to be the "female Obama." At 46, she is a charismatic, telegenic and multi-racial politician who is credited with an ability to connect with people of widely different backgrounds.
If she wins next Tuesday, she'll be the first woman, the first African-American and the first Asian-American (her mother is Indian; her father Jamaican) to be elected California attorney general. And every California attorney general in recent history has used the job as a stepping stone to the governor's race.
Stopping -- or even delaying -- the rise of someone like that is just the kind of thing Rove delights in.
Or, as spokesman Temple told the Bee about the possibility of dampening Harris's political future: "If that is a byproduct of defeating her, we're perfectly happy with that."
Harris is the only Democratic statewide candidate currently trailing in the polls. Seeing an opportunity to make political lemonade, her campaign has called attention to the ad as an example of "out of state ideological interference" which they say is illegal, to boot.
In a Monday conference call with reporters, the Harris campaign charged that the ad violates state rules for an "independent expenditure" political campaign ad, which requires the disclosure -- in the ad itself -- of top contributors.
"What's happening here is absolutely unprecedented in attorney general races in California," Harris's political strategist, Ace Smith, told reporters Monday.
"There's a bunch of people in Washington led by Karl Rove and Ed Gillespie [the former Republican National Committee chairman who now runs the Republican State Leadership Committee] who don't like what the Democratic attorneys general have been up to.
"They are targeting Kamala Harris, but more importantly, they are supporting Steve Cooley.... They know that he is the guy who's going to go easy on the tobacco companies and oil companies."
This is not the first time the group has spent large sums on an attorney general race, however. Its donations to the 2008 campaign in Missouri of a state senator named Mike Gibbons totaled a whopping $1.2 million, or nearly one third of his total take. He lost.
Freed by those Supreme Court campaign finance rulings, the committee no longer needs to donate its money; it can now spend it directly on its own campaign commercials. Since it is a "527" organization, it still must at least conform to some basic reporting requirements, an obligation its new and more opaque "501c(4)" siblings do not share.
*************************
Popular in the Community