Does the word "poutine" mean anything to you? If not, you'd better get with the program stat.
The Canadian comfort food staple -- traditionally made up of french fries topped with gravy and a small mountain of cheese curds -- appears to be on the verge of breaking out in a big way. If Google Trends data are any indication, the poutine trend is "hot right now" and that's music to the ears of Michael Stadnicki, the co-owner of the first U.S. location of Big Cheese Poutinerie, which opened its doors last month in Chicago.
Stadnicki's shop, located just a few blocks south of Wrigley Field, is thought to be the only American restaurant serving up an entirely poutine-centric menu.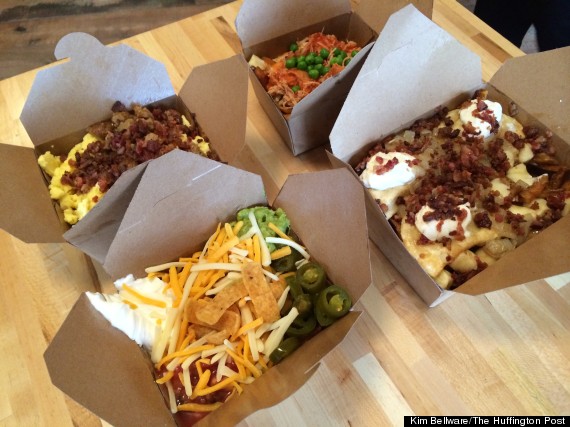 Just four of the dozens of offerings on Big Cheese's menu. Among Stadnicki's personal favorites are the "Notorious P.I.G." poutine, topped with three pork products including a root beer chipotle pulled pork, and a Philly cheesesteak variety.
Big Cheese offers no fewer than 30 different takes on the hearty dish -- including everything from a vegan poutine to an apple cinnamon dessert poutine -- that's said to have been invented by a woman in rural Quebec in the 1950s, delighting decades of Canadians ever since. All the poutines share a base of fresh-cut french fries, squeaky-fresh white cheddar Wisconsin cheese curds sourced from Ellsworth Farms and one of three gravies -- beef-peppercorn gravy, a sweet basil gravy and a vegetarian/vegan gravy -- imported from Canada.
Stadnicki, a Chicago native, said the Windy City was a natural choice for Big Cheese's American debut. The chain already has two successful locations in Calgary, where co-owner and Calgarian Travis Burke first opened shop in 2010.
"To me, it's a 'next,'" Stadnicki told HuffPost. "In Canada, it's the rage. Literally there's poutine shops as you go in neighborhoods and every neighborhood has its own poutine shop. Looking at the food scene in the United States and more specifically in Chicago, I saw that there was a void. Chicago being kind of an epicenter of everything food, I thought it would be a really nice fit."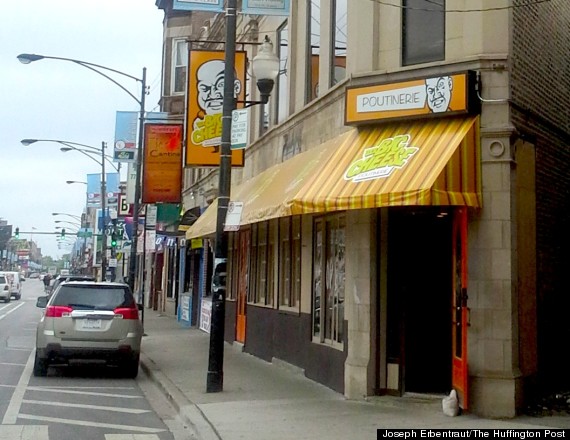 Welcome to the poutine palace, Chicago.
The response to Big Cheese's Chicago debut has been enthusiastic -- once customers give it a go, that is. Stadnicki admitted there is something of a "learning curve" for those who have never tried poutine before, but said it's been a particular hit among the late-night crowd. The next challenge, he said, will be getting more customers to also see the dish as a lunch and dinner option, as it's seen north of the border.
"Gravy and cheese curds over fries kind of leaves a befuddled look on some peoples' faces but when you say the word 'smothered fries' it brings smiles. Instead of meat with a side of fries, it's fries with a side of meat," he said. "The word 'poutine' sometimes is a question mark, so I think it's a matter of educating people and having them try it."
The shop will have a presence at this summer's Taste of Chicago in an effort to introduce more Chicagoans to the brand and is also hoping to offer delivery soon. The brand is also heading overseas -- Stadnicki says the chain will open a shop in Dubai within the next 12 months.
In need of a lesson in poutine ourselves, we recently stopped by Big Cheese Poutinerie to sample some of their dishes. By the time we were done, we'd tried six of the 30-some poutines on the restaurant's menu.
First up was the vegetarian nacho poutine. Loaded up with salsa, cheddar cheese, sour cream, guacamole, jalapeños and Fritos, this poutine packed a punch and its spicy, Mexican-inspired flavor meshed surprisingly well with the vegetarian gravy. This one was a definite hit we'd eat again in a heartbeat.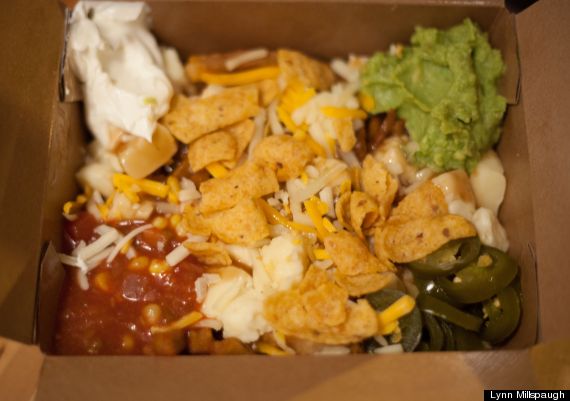 If only we could be eating this right now.
Next on our must-try list was the pierogi poutine. This two-pound bad boy was topped with, naturally, potato pierogis in addition to crispy bacon, sour cream and caramelized onions. The winner of second place at Chicago's Poutine Fest this spring, this one tasted how attending a surprise party where all your favorite friends show up feels.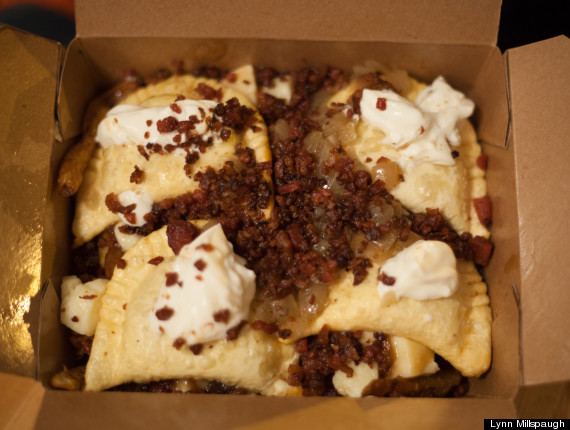 A brilliant, delicious alliance of Canada and Poland. Considering Chicago's deep Polish roots, this one's going to go over well.
Our journey to food coma continued with the breakfast poutine -- topped with bacon, sausage, scrambled eggs and served with a side of maple syrup -- which was another surprisingly happy marriage of flavors recalling an oh-so-satisfying breakfast at a greasy spoon diner the morning after knocking back a few drinks too many. This certainly beats the waffle taco hands down.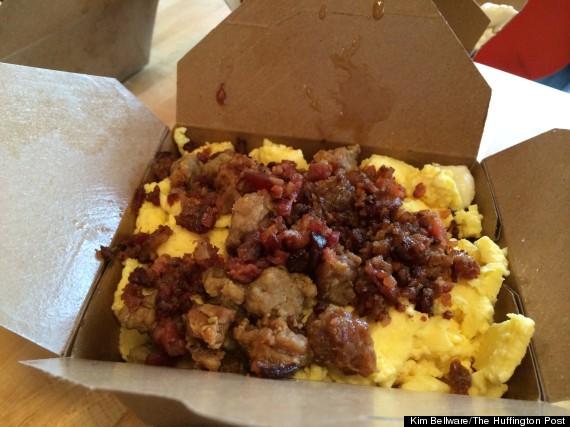 Everything you need to "cure" a hangover in one tidy little box.
Next came the buffalo chicken poutine -- topped with smoked pulled chicken -- and the loaded veggie poutine, which starred caramelized onions and roasted red peppers but was a bit overwhelmed by sautéed mushrooms. These two were less enrapturing than the proceeding three, but still very satisfying.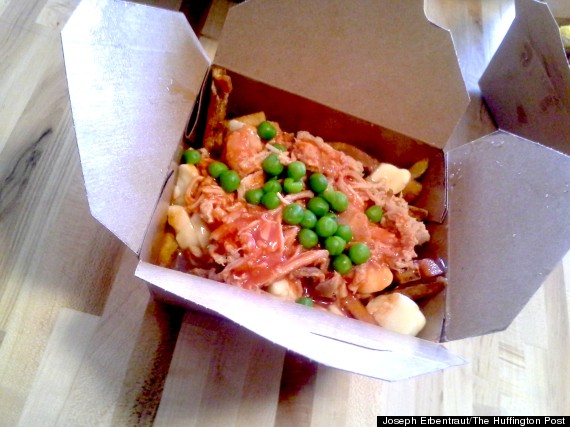 The buffalo chicken poutine had a nice kick but it might make fans of traditional wings miss the true buffalo flavor.
Least successful -- but still tasty in a strange way -- was the off-menu dessert poutine we sampled, which consisted of cinnamon-coated fries topped with an apple-flavored cream cheese sauce. And while several of the poutines above were more photogenic than would be expected, the same cannot be said for this one. Definitely a poutine to split with a dining partner.
While certainly not a dish to be enjoyed on the daily -- these are not the most diet-friendly dishes, of course -- the poutines at Big Cheese are definitely memorable. Thanks to the dozens of varieties available, this is a foodie trend that does not discriminate. We can definitely get onboard with this.
Kim Bellware contributed to both the writing of this story and the eating that preceded it.
Related
Before You Go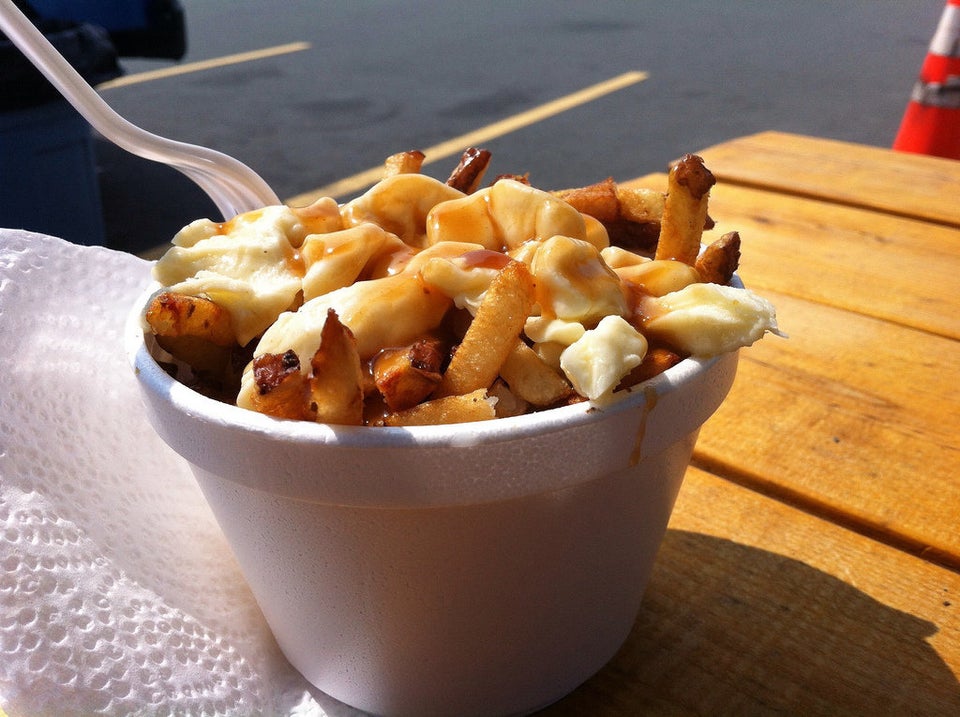 Poutine