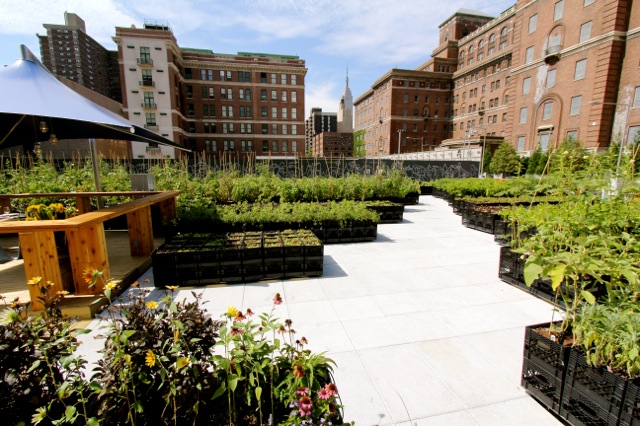 Photo credit-RiverParkFarm, NYC. Ari Nuzzo
I witnessed April Philips help create the Dixie School Rain Garden, in Marin County, California, a few years ago. Philips can build a school garden with her eyes closed and one hand behind her back. That's chump change to her! Her award-winning company, April Philips Design Works, has designed urban ecological landscapes all around the Bay Area; Union Square, Santana Row and Oakland Memorial Park, to name a few. And, now she's put all of this verdant brainpower into a book, (with 300 photos) Designing Urban Agriculture: A Complete Guide to the Planning, Design, Construction, Maintenance, and Management of Edible Landscapes (Wiley Inc.). I spoke with her about her vision to incorporate edibles into urban environments from coast to coast.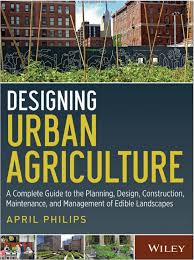 You were a landscape architect and urban designer for many years but it wasn't until the recession hit and you started growing a vegetable garden at home that you wanted to find ways to invite edible gardening into the city. Do you hope all landscape designers will come to that revelation?
Most definitely! There has never been more of a need than now to understand the important connection between food and health. Eat your city - why not! In some ways I see designers like a chef creating a new gumbo - what local ingredients do I have to draw from, what ones do I add for a new twist, what is the key flavor to highlight for this one,... Designers do much the same thing just with different ingredients from the earth, air, fire and water.
The integration of edibles in the city can be more than just a community garden or an urban farm which are great but won't be enough to feed everyone or be able to address food security and food safety on a city-wide scale. Edibles can be in front yards, on city streets, part of an open space infrastructure like the Beacon Hill Food Forest park being built in Seattle, or even as part of building walls and roofs.
You write that people are so disconnected from where their food comes from that '' just thinking about the food system as something they are a part of" becomes the first hurdle to tackle if we are going to create positive change.
Well, if you teach a young child to eat kale, they will eat kale and love it of course! So in schools, teaching basic nutrition education to children and parents, especially in food insecure communities, is one simple way to start. Ecoliteracy is a key component in moving this agenda forward. We are a vastly un-ecoliterate society and this issue must be addressed first. The Center for Ecoliteracy's web site, an educational non-profit organization located in Berkeley is a great resource for this aspect of outreach.
What makes "ecoliteracy" so crucial?
Food can become a platform or layer from which we address other important elements of community, ecology, and livability including the physical, social, economic, cultural, and environmental health of the city. Embracing a system's thinking approach that builds regenerative or lifecycle capabilities into the food system infrastructure is also a paradigm shift that needs to occur on a citywide or even global level.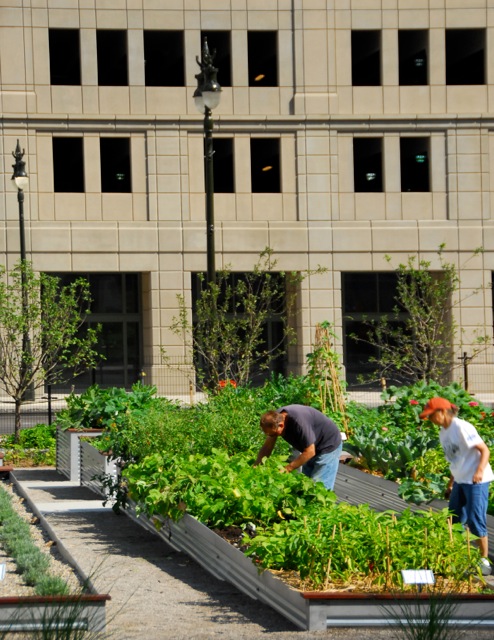 Photo credit:Lafayette Greens, Detroit. Beth Hagenbuch
Seeing the photos in your book of Lafayette Greens, in downtown Detroit, gives me hope for struggling cities. An abandoned city lot was transformed into an urban agricultural oasis. Love that. I vote for kale and a fruit tree on every street corner! How was this achieved?
Compuware envisioned the project as a means to give back to the community by helping to beautify downtown and creating a space where workers, visitors, and residents can relax and recreate. By making the space an edible landscape, instead of just a plaza, the company is helping to educate the public about health, environmental responsibility, and how to grow food. In addition to the custom metal raised beds, elements include garden sheds, a children's garden and learning area, and a dedicated space for public art. Informative signage serves to educate the public about the connections between horticulture and sustainability.
Lafayette Greens is a fantastic example of how a business can give back to the community.
Designed by Kenneth Weikal Landscape Architecture, the three-quarter-acre Lafayette Greens is both an aesthetic and functional success, winning an honor award from the American Society of Landscape Architects in 2012. Currently, the garden is run by a garden manager from Compuserve, and worked by volunteers, many of whom are Compuserve employees. All food is donated to downtown Detroit's local food banks, with the volunteers allowed to take home a little food themselves in gratitude for pitching in.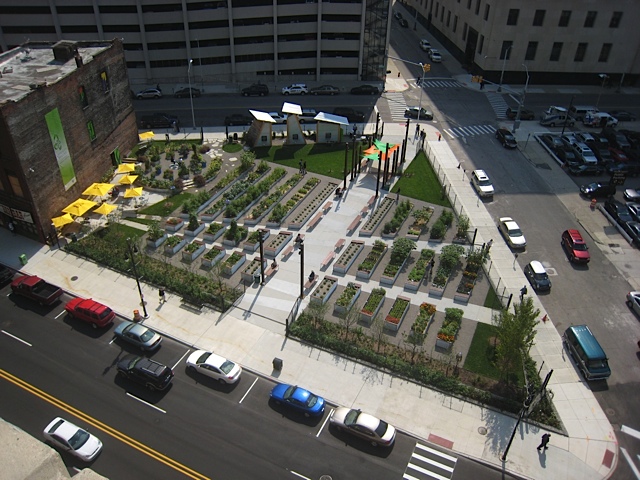 Photo credit:Lafayette Greens, Detroit. Beth Hagenbuch
The story you tell about Cuba and transition towns in your book is fascinating.
Cuba is a great story. As the Soviet Union collapsed in 1991, it lost its close relationship with Cuba, resulting in the discontinuation of subsidized oil supplies to Cuba. When Cuba lost its cheap oil supplies, it entered what is now called the Special Period of decentralization of its infrastructure into a diverse and local infrastructure.
The shipping of products and transportation by car became impossible for most Cubans. In order to cope, the government made important policy choices to ensure the country could create a food system that could feed its people without the use of fossil fuels-based technologies. They also asked the International Permaculture Design community to help in designing the sustainable agriculture, education, and mentoring programs that were now necessary because there were not enough farmers to execute a decentralized system of many small farms throughout the entire country.
How did they deal with the lack of farmers?
Each person who was interested in using land for farming was given some to farm. Synthetic pesticides were also no longer available, so the farming became organic. Waste from communities did not get shipped but was composted in large urban worm bins to recycle the resource for fertilizer. Farmers' markets were set up throughout the cities to ensure that people had a place to exchange goods within walking distance of the homes, farms, and a central location.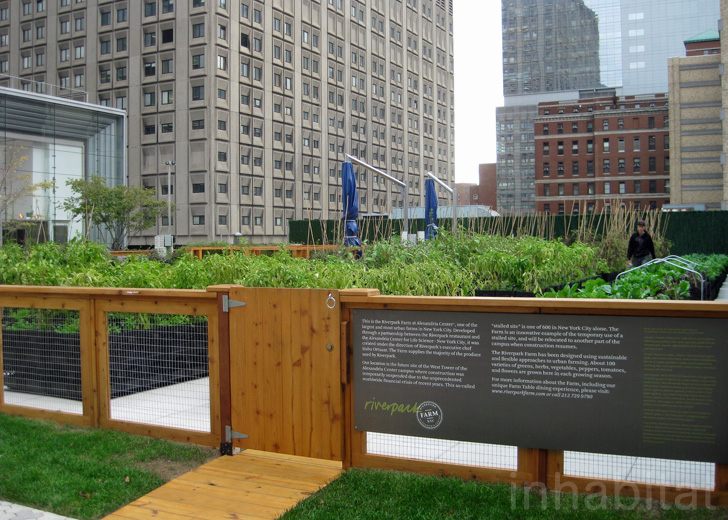 Riverpark Farm, NYC. Photo credit:Ari Nuzzo
How about Riverpark Farm, a portable farm in the center of Manhattan or City Slicker Farm in Oakland, California. Where does one begin if they want to start something like this?
As I mentioned before food is a gateway to conversations so the first step is to engage your idea with other likeminded individuals to build a stakeholder group. City Slicker Farm began on a very humble level through collaborative conversations on a neighborhood scale in 2001 when a group of community members got together to address the issue of being in a food desert by growing their own food in vacant lots, the first one being Willow Rosenthal's donated lot. That initial effort has grown to include over 100 backyard gardens, seven Community Market Farms, weekly farm stands, a greenhouse and urban farming education programs.
But you need money for that.
Wow, the money question is always good one! It seems like there is a Kickstarter backlash going on so that would have been one of my first responses to this question a few months ago! Looking at how benefits can be maximized through partnerships such as a reduction in risk for both urban farmer and a restaurant, providing cheaper access to organic food for local consumers, or adding to the economic resiliency of the local community are all benefits that provide larger outcomes than just to the immediate users. City and Government funding grants are also a good resource. One example is the USDA's National Institute of Food & Agriculture (NIFA) which manages the People's Garden Grant Program (PGGP), with funding from the Agriculture Marketing Service, Animal and Plant Health Inspection Service, Food and Nutrition Service, US Forest Service, and the Natural Resources Conservation Service.
Any tips to fellow landscape designers?
Designers should think of themselves as change agents and not just design but also advocate and educate!
Related