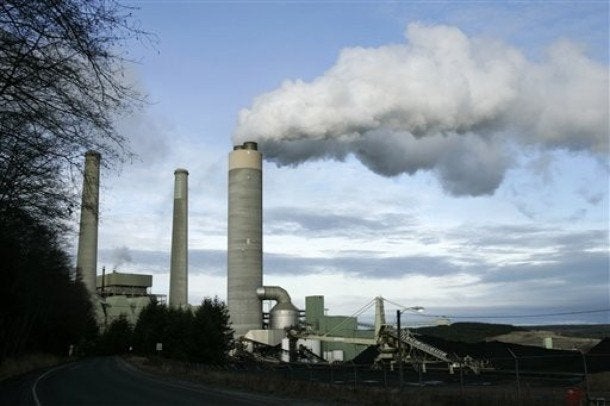 A climate change compromise that erodes provisions of the Clean Air Act has supporters worried Democrats are being too generous to coal companies and undermining their chance to make a real dent in carbon emissions.
The compromise is causing a rift between House Democrats and progressive activists and weakening support for climate change legislation just as it enters a crucial stretch -- perhaps a week away from a vote on the House floor.
Skeptics of the congressional approach to climate change worry that decades of work will be undone by the compromise the House Energy and Commerce Committee made with the coal industry.
MoveOn.org, which drove support for the bill in its early stages, has now shifted its focus. Rather than using its weight to propel it through the House, the group is hammering the bill for gutting the Clean Air Act.
Log onto its homepage and the first message sent your way is a warning that the "current version of the energy bill would repeal a key part of the Clean Air Act -- revoking Obama's authority to crack down on global warming pollution from dirty coal plants."
The language causing the heat comes in section 311 of the bill: "No standard of performance shall be established under section 111" -- the section of the Clean Air Act that regulates coal-fired plants -- "for capped greenhouse gas emissions from a capped source unless the Administrator determines that such standards are appropriate because of effects that do not include climate change effects."
In other words, no carbon regulation.
"We need that authority to go back and clean up these old coal plants and the current bill would repeal, in large measure, that authority," said Josh Dorner, a Sierra Club spokesman.
It's one of the first battles over an often-overlooked, but incredibly important, player in the global warming fight -- coal. The ancient fossil fuel is both cheap and abundant and powers about half of U.S. electricity. It's also responsible for about a third of the globe's warming emissions.
New coal-fired plants come online every day in China. Here in the United States, plants seemingly as old as coal itself continue to chug along, grandfathered in when Congress started passing laws in the '60s and '70s aimed at cleaning them up. If those old, inefficient plants continue to operate as they do, the effort to address climate change will be wasted.
MoveOn, which has called on its members to sign petitions, hold rallies and call Congress about the Clean Air Act repeal, has been particularly critical. "The Clean Air Act has been in place for almost 40 years and most Americans have no idea it's on the verge of being weakened by the current energy bill," said Adam Ruben, the group's political director. "At a time when global warming pollution threatens our health and our security, we have a moral obligation to strengthen laws like the Clean Air Act and not give away their protections in order to make the coal industry happy with the bill."
The coal companies don't see it that way, arguing that it's unfair to hit them with both new and old regulations.
"I'd be curious to know the carbon footprint for these two groups, because they're sure emitting an unnatural amount of hot air," said Lisa Camooso Miller, Vice President of Media Affairs for the American Coalition for Clean Coal Electricity.
Under current law, the Environmental Protection Agency is required to set carbon pollution standards for individual coal-fired plants. If it doesn't, the Sierra Club or other folks can sue the EPA to force it to follow the law.
The compromise with coal companies would remove the requirement that the EPA regulate individual plants and replace that authority with broad power to cap total emissions at all plants. The broad cap would apply to all coal-fired plants in total and would leave no requirement for any individual plant. The industry as a whole would be restricted to a certain emissions level, but each plant could emit as much as it wanted as long as it held the necessary emissions permits or, say, paid landowners in Brazil not to hack down jungle.
That leaves environmentalists without a weapon to attack the oldest and dirtiest plants, roughly 500 of which will chug right along if the bill passes as is. Backers of the compromise argue that the broad cap will motivate technological improvements and upgrades.
Rep. Ed Markey (D-Mass.) is chairman of the Select Committee for Energy Independence and Global Warming and a cosponsor of Waxman-Markey, the dominant climate change bill. He told the Huffington Post that while some old regulations are being removed, the new ones will work better.
"We're trying to put together a comprehensive plan that has a new regulatory scheme that we are using going forward and we're going to be giving all-new authority to EPA in this thousand page bill," he said. "We think that the new regulatory scheme will serve our purpose for regulating the utility industry."
But the utility industry is the only major sector of the economy that gets a cap but a break on specific requirements. Overall emissions from vehicles and buildings, for instance, are capped, but the bill retains current efficiency laws. "You wouldn't then say you no longer need [fuel-efficiency] standards or building codes," said one activist skeptical of the coal compromise.
"To say that in this one part of the bill, just for coal, the price signal alone is sufficient and you shouldn't have plant-by-plant regulation, I just don't agree with it."
Sierra Club lawyers have been highly effective at blocking new coal plants -- 99 stopped in the last few years, said Dorner -- and going after old and dirty plants is the most efficient way to reduce global warming emissions.
"We think that to get where we need to go on global warming and to solve a whole bunch of other problems, that it's fundamentally important that EPA retain the authority it has to go clean up these old coal plants," said Dorner.
But even the Sierra Club is willing to live with the compromise for now. "We think it's really important that the House pass this bill," Dorner said, adding that they'll push for it to be made stronger before it goes to President Obama's desk.
The clock is ticking toward a December climate change summit in Copenhagen. Backers of the bill insist that Congress must get something -- anything -- done before then to show that America is leading on the issue. Otherwise, the world won't follow. And without the rest of the globe, warming can't be fought.
"To avoid dangerous global warming, we must dramatically reduce U.S. carbon emissions and lead the world to an international agreement that cuts emissions worldwide," said a statement attributed to a staffer from the Energy and Commerce Committee. The bill, said the staffer, "mandates a declining economy-wide limit on carbon emissions and gives EPA the authority it needs to enforce those reductions."
Energy and Commerce Committee Chairman Henry Waxman (D-Calif.) responded to concerns first by noting the Sierra Club's ongoing support. "A lot of environmental groups that are supporting our legislation would like to see it strengthened, as would I," he told the Huffington Post. "And there are a lot of industry groups supporting our legislation that would like to see it changed as well. But right now we've got a coalition of environmentalists and the business community -- some of the major industries -- that see the need for the bill. The business community particularly wants to know what the rules are going to be so they can make their investments for the future."
Rep. Rick Boucher (D-Va.) pushed for the compromise in negotiations and dismissed the notion that it repeals a key part of the Clean Air Act. "The law under the Clean Air Act has never allowed individuals to file suit for enforcement unless they can show particularized, individualized harm, apart from the harm to the public. And the public harm can be addressed by enforcement actions taken by public agencies. And the way that the global warming bill is structured, it's not different," he said.
With the projected consequences of climate change so devastating, however, critics of the bill want a fight with the coal industry rather than a backroom compromise that results in regulations no better - or perhaps worse - than laws already in place.
"Judging from the report the White House put out yesterday, we need to do everything possible, otherwise there are going to be some severe consequences. Certainly, one of the things we need to do is go back and clean up or shut down some of these old plants," said Dorner. "This bill would curtail our ability to do that."
Popular in the Community