Every single living thing on this planet needs fresh water in some way. We depend on water for food, energy, health and sanitation, and almost everything we use on any given day. Yet despite our incredible dependence on water, it's largely managed behind closed doors, governed based on scarce or inaccurate information, and out of reach for millions of people. According to the World Health Organization, more than 1.5 million people die from waterborne diseases each year; more than 700 million people lack access to safe drinking water; and 2.5 billion don't have access to improved sanitation facilities.
But with the Sustainable Development Goals (SDGs) being finalized by the UN General Assembly later this month, we're at a turning point. The SDGs have the potential to address some of the most pressing threats facing this precious resource.
While the Millennium Development Goals (MDGs), approved by world governments in 2000, focused on the critical objective of ensuring access to safe drinking water and sanitation, hygiene and ecosystem management of our freshwater resources were wholly neglected. Taps and toilets alone are not enough to secure water for all.
Thankfully, this is rectified in Sustainable Development Goal #6 -- Ensure availability and sustainable management of water and sanitation for all -- with targets that cover water access, sanitation, hygiene, and also integrated water-resources management, ecosystems and trans-boundary cooperation. Now, with this goal, we have the chance to tackle water in a comprehensive manner. We have the potential to do it right.
We will soon have the "what" in place -- it's now time to focus on the "how." Part of the challenge is the data. The lack of data on fresh-water ecosystems leads to uninformed decisions. Even in places where information does exist, it varies widely in quality, is difficult to locate, often expensive to access, and nearly impossible to communicate.
Some places, such as the Chesapeake Bay, have ongoing report cards that have become go-to resources for the media, advocates, businesses and government officials seeking to understand watershed conditions. Armed with clear information, decision-makers can help change behavior and policy to measurably improve basin health.
Unfortunately, current report cards have been carried out in just a small number of basins. This is not because there is a lack of need or interest -- it's largely because there is no process that empowers local stakeholders to create their own credible, scientifically based report cards, nor any standardized approach that development institutions can confidently support. WWF seeks to change this by developing a process for creating basin report cards that can be replicated by local stakeholders around the world.
In partnership with the University of Maryland Center for Environmental Science's Integration and Application Network and our colleagues at WWF-Colombia, we are currently prototyping this locally driven process in the Colombian headwaters of the Orinoco River Basin.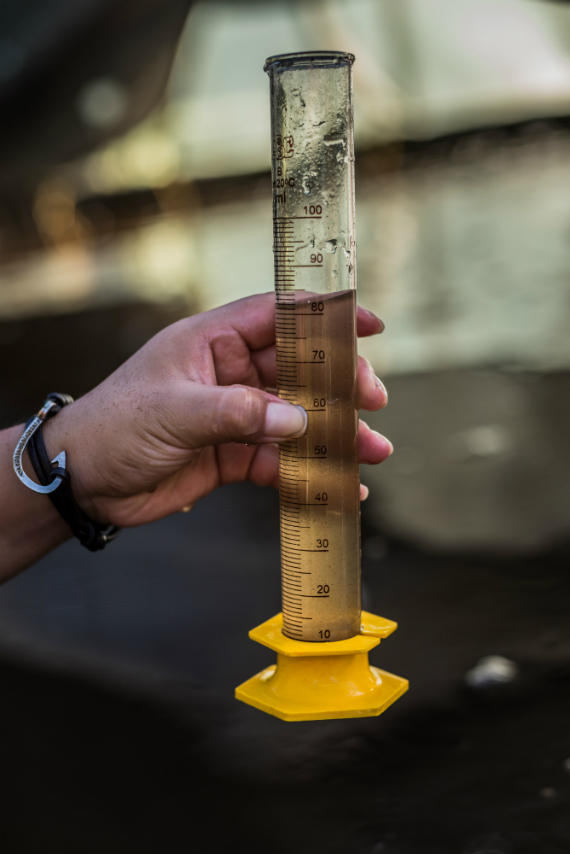 Colombia, Orinoco River. Photo Credit: Meridith Kohut / WWF-US
In determining the grade for the Orinoco basin, we are considering five categories of health: water resources, ecosystems and biodiversity, cultural significance, economic development and governance. For each of these categories, local stakeholders -- ranging from academia and public institutions to NGOs and communities -- came together to identify quantifiable indicators. For example, water resources can be divided into several measurable indicators, such as sediment provision; flow; and an index of water quality.
We are carefully documenting every step and analyzing each to identify ways to streamline; the end product will be a process that is both efficient and replicable. Through partnerships with innovative replication experts, we will ultimately generate a standardized method that empowers basins around the world to create their own, credible report cards. WWF and other organizations can leverage these report cards to understand and improve the health and sustainability of freshwater systems worldwide.
These report cards will not only give us a baseline against which to measure progress toward the Sustainable Development Goals, they will also provide data that is essential to meeting them. Hard data that can be updated regularly will allow WWF and other organizations to quickly determine whether an approach is working or not, granting us the ability to adapt and shift as needed. This data will also assure existing funders that their money is being well-spent, and encourage prospective partners to contribute. Finally, because each report card will be a hyper-local effort, community engagement is a prerequisite.
The wording of the goal on water poses a direct challenge to the conservation and development communities at large: ensure availability and sustainable management of water and sanitation for all. This challenge will give everyone who works on these issues something to coalesce around. Once that challenge is officially issued, and actually before, we will hit the ground running. The basin report card, establishing a system for measuring our progress, will be WWF's first major contribution to implementing the SDG water effort. And this effort won't stop until we have met the challenge and ensured the availability and sustainable management of water for all.
This post is part of a series produced by The Huffington Post, "What's Working: Sustainable Development Goals," in conjunction with the United Nations' Sustainable Development Goals (SDGs). The proposed set of milestones will be the subject of discussion at the UN General Assembly meeting on Sept. 25-27, 2015 in New York. The goals, which will replace the UN's Millennium Development Goals (2000-2015), cover 17 key areas of development -- including poverty, hunger, health, education, and gender equality, among many others. As part of The Huffington Post's commitment to solutions-oriented journalism, this What's Working SDG blog series will focus on one goal every weekday in September. This post addresses Goal 6.
Calling all HuffPost superfans!
Sign up for membership to become a founding member and help shape HuffPost's next chapter