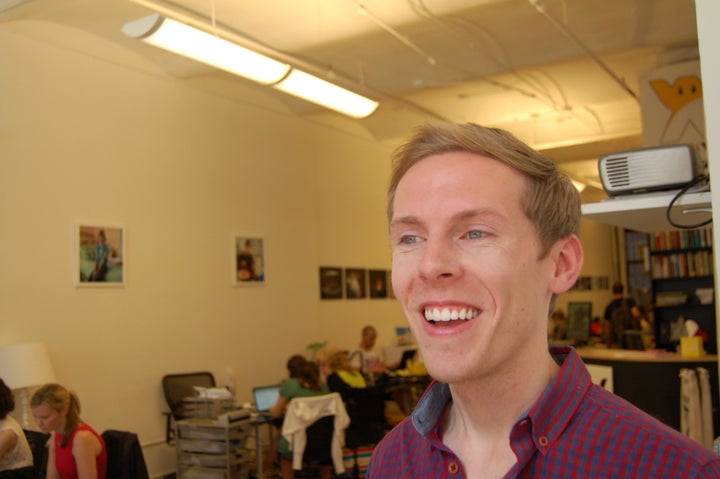 A year ago, Steven Dziedzic was single and going on three dates a week. He wanted to find the perfect restaurant or bar for each one, but that meant spending 30 minutes scouring reviews on Yelp and Foursquare. And many places still turned out to be too loud, or the decor too bland.

So, earlier this year, he launched Hoppit, a startup that analyzes thousands of online reviews in a dozen cities to suggest a place with the right atmosphere for a night out.

Hoppit recommends places based on 10 "vibes" -- like "classy and upscale," "romantic" or "chill and relaxed" -- and six possible companions -- such as a 2-year-old, family member or business colleague. The startup calls itself "your personal dining concierge."

"People don't want to keep reading, reading, reading reviews," said Dziedzic (pronounced DEED-SIK). "They want someone to make relevant all that content."
The digital noise being created by smartphones and social networks keeps getting louder, and Hoppit is one of many startups that are sorting through it to provide new services -- from locating potholes to reducing credit fraud to suggesting the perfect restaurant.

The ability to spot patterns from large amounts of information isn't new. Amazon, Facebook and Google have used data analysis to suggest books or friends or customize search results.
But recently, more startups have embraced the idea, taking advantage of three trends sweeping the tech world.
The emergence of cloud computing has helped startups cheaply store large amounts of data. Hadoop, a free open-source software, has given startups the same analysis tools that were once restricted to Internet giants like Google.
And the amount of global data being generated is growing about 40 percent each year, creating new opportunities for small companies to find a niche.
"What's happening now is there's an acceleration in both the amount of data and the technologies that enable you to do interesting things with it," said Matt Turck, managing director at Bloomberg Ventures.
Some startups are now helping state and local governments capture smartphone signals from drivers to reduce traffic jams and fill potholes they might not otherwise have seen.

But some see limits to the trend. The United States, for example, faces a shortage of more than 140,000 experts with the skills to analyze large data sets, according to McKinsey.

Turck said the term "big data" has become an overused buzzword that some startups use for marketing purposes, and suggested that the market may soon become oversaturated.

"Whenever there is a big opportunity everybody rushes into it," he said. "At some point there will be a glut of companies trying to solve the same problems."
For now, though, venture capitalists are pouring money into the burgeoning market. Big data startups received $2.47 billion in funding last year, compared with $1.53 billion in 2010, according to Reuters.

"We view this as a massive generational multi-decade megatrend," said Ben Siscovick, a partner IA Ventures, a venture capital firm in New York that invests in big-data startups. "Leveraging data intelligently will transform just about every industry on the planet."
One company Siscovick has funded is BillGuard, which scours the Web for complaints about unwanted credit card charges, billing errors, scams and fraud. The company has received $13 million in funding since launching last year, according to BillGuard founder Yaron Samid.
"It turns out that when people get ripped off, they are very emotionally involved with telling the world about it," Samid in an interview. "They tweet and post blogs and tell the Better Business Bureau. They create a lot of content."

BillGuard's technology spots patterns in those online complaints to alert users when a charge on their bill is flagged by someone else. The company monitors up to three consumer credit cards for free. Samid says the service has saved customers $738,510 in its first year.

Hoppit uses a similar approach to grouping the ambiences described in restaurant and bar reviews. The company has just five employees. Without big data technology doing the heavy lifting, Hoppit would not exist, Dziedzic said.

"It would have been physically impossible to get a meaningful database," he said.
The technology isn't perfect, though. Dziedzic sifts through thousands of Hoppit results from 12 cities to make recommendations. If they aren't accurate, one of Hoppit's engineers tweaks the algorithm that searches nearly 100 common phrases in online reviews.

"We just really want to be known as a site that is incredibly accurate," said Dziedzic.

The most romantic restaurant in New York, according to Hoppit, is One if by Land, Two if by Sea, in Manhattan's West Village.
Dziedzic, who now has a girlfriend, hasn't been there yet, but plans to go soon.

"It's on my list for a very special occasion," Dziedzic said.
Calling all HuffPost superfans!
Sign up for membership to become a founding member and help shape HuffPost's next chapter